America has always been a favourite destination for a road trip. There is just something about America that makes it one of the most appealing road trip destinations. Maybe it's the sheer amount of different places you can go and all of the different types of people to meet. Not to mention the famous destinations and iconic landmarks to see! The wide and open roads, the vast and endless, ever-changing and always amazing landscapes.
With such a vast country, it can be difficult to pick where you want to go. This is why it is so important to think about the route you want to take. It's such a large country that you have to be picky and narrow down the places you want to go unless you can take considerable time to tour it.
Here are some of our favourite road trip routes in America.
Las Vegas circular via Route 66 and America's National Parks
There are few roads the world over quite as famous as Route 66. This iconic route takes you through miles and miles of American terrain, near towns, cities and even for long stretches of barren landscapes. This trip doesn't take you along the entire Route 66, but it does take a trip down the famous route as you pass through stunning national Parks.
The route starts and ends in Las Vegas, and you have plenty of time to experience the bright lights and attractions of Las Vegas before heading out on the open road. En route, you can pass by the iconic and magnificent Grand Canyon, visit Monument Valley and enjoy stops in many of America's famous national parks.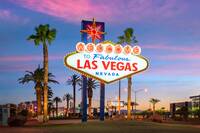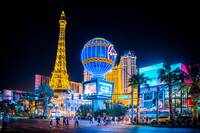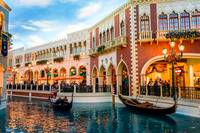 Highlights of the route
Monument Valley is an impressive sight to see, and if you are in the area, it would be a shame to miss out on this iconic trip. Monument Valley is located in the Navajo National Park. These natural rock formations stand impressive against the barren backdrop. While here you can take a guided tour to learn about the area's history.
Zion National Park is considered Utah's first national park. You can still follow the ancient paths that native people and America's first pioneers travelled, carved through colourful cliffs and canyons.
You can experience all this on our America's National Parks independent motorhome holiday.
San Francisco, Los Angeles, Las Vegas and California
This route takes you through California and to some of the most famous cities America has to offer. You start and end your trip in Los Angeles, where you can spend a little time acclimatising to the time zone and changes while exploring the city. Once you head out on your journey, you venture through the famous Joshua Tree National Park and to the Grand Canyon, Monument Valley and more. There are more sights to see as you head towards Las Vegas and the Sequoia National Park before heading off again, this time towards San Francisco.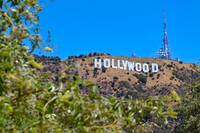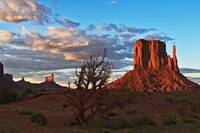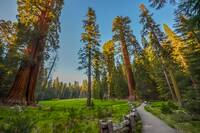 Highlights of the Route
Joshua Tree National Park is an iconic place to visit. It is where two deserts meet, providing an unusual landscape and abundant wildlife. There are few places quite as interesting to look at as Joshua Tree National Park. Its iconic trees and fascinating rock structures are set against an ever-changing weather pattern. Take some time to hike and enjoy the area if you get the chance.
Once you have marvelled at the deserts and national parks, it might be time for something a little different. Moss Landing provides just the change you need. This is a wetland reserve and animal sanctuary. Here you can take a nature and wildlife cruise or see if you can spot sea otters and sea lions.
You can experience all this on our Big One independent motorhome holiday. This is a 38-day tour, but we also offer much of this itinerary on our 25-day California Calling independent motorhome holiday.
New York and New England
New York is one of the worlds most iconic cities. You could spend weeks just in New York and still never see everything the Big Apple has to offer.
Luckily, on this route in New York and New England, you get a little time to spend in the city before picking up your motorhome. While you are here, you can participate in some of the many available excursions.
New England is known for its beautiful waterways, coastal towns, mountains, and lakes. The bright colours of autumn leaves feel even brighter and more vibrant here. This is a region with lots to do. If you plan on making the trip, an autumn motorhome holiday is simply beautiful.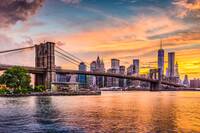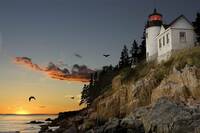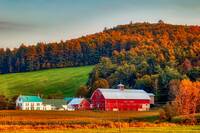 Highlights of the Route
While on your road trip, you might want to visit an attraction that is a little different. Why not head to Salem, the place famous for its witch trials. Museums detail the history of the witch trials and the area. Dead Horse Beach is a sandy beach that is far prettier than its name suggests. Or, for a gentle stroll, take a trip to Salem woods.
Mystic Seaport is not just any museum; it is the largest maritime museum in the USA. Here you can see the collection of sailing ships, explore old maritime crafts and learn the folk tales of the sea.
You can experience all this on our Colours of New England independent motorhome holiday.
A Trip Through the Southern States
Music lovers will want to visit the deep south of America at least once in their lifetime. This is the home of not just any music but three genres! If you love jazz, Blues and Rock 'n' Roll, then head out on a Rhythms of the South Holiday Tour for an experience you won't forget.
This is a shorter road trip than many others, but it packs a lot in the time you do have. The tour starts and ends in Atlanta, and in between, you will tour through Alabama, Mississippi and Louisiana. Along the way, you can visit Elvis country, hit the jazz clubs of New Orleans and enjoy a great night out in Nashville, home of country music.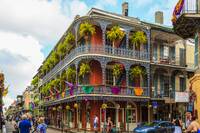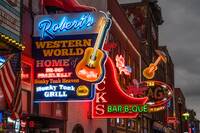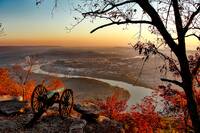 Highlights of the Route
Tupelo is a small town with a big legacy; it is the home town of the iconic Elvis Presley. If you take a trip here, you can visit the birthplace of The King of Rock 'n' Roll and then visit the museum dedicated to his life and music. If you are an Elvis fan, you can also head to Memphis and join the Elvis Experience Excursion. This will take you to Graceland Museum, visit Elvis' Car Museum and more.
For a break from the lively cities and music culture, take a trip to Holly Springs National Forest in Mississippi. The park boasts an abundance of wildlife, and its seemingly endless pine forests are the perfect place for a hike and to experience a quieter pace of life for a little while.
You can experience all this on our Rhythms of the South independent motorhome holiday.
An Alaskan Adventure
Consider this Alaska route if you are looking for a naturally inspired motorhome road trip in America. The route starts in Anchorage and then tours through several national parks and areas that are truly beautiful and abundant in all sorts of wildlife.
The snow-capped mountain landscapes are breathtaking to behold. This is a trip where you won't struggle to find plenty of photo opportunities. Some of the wildlife you may be lucky enough to spot includes bears, caribou, moose wolves and a whole host of birdlife.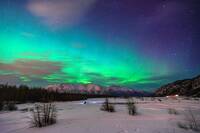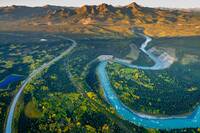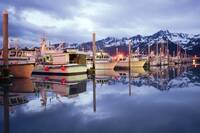 Highlights of the Route
One of the larger national parks you will be travelling to is the nearby Denali National Park. This is the most famous of the Alaskan National Parks and includes America's tallest mountain and beautiful mountain ranges and glaciers.
Fairbanks is the largest city you will encounter in Alaska. Here you can visit museums, tour the city and take in the arts and culture of the region. Perhaps the most famous thing to do here is see the aurora borealis and the midnight sun. However, these phenomena only occur at certain times of the year. If you pick your tour well, you might just get to see this natural wonder of lights.
You can experience all this on our Best of Alaska independent motorhome holiday.
Take some of the difficulties out of your trip by booking one of our fantastic holiday tours. Take a look at our motorhome and caravan holiday tours in the USA or our other destinations: Australia, New Zealand, Southern Africa and Canada. Each one is tailor-made to ensure you have a holiday of a lifetime.
Read our frequently asked questions.

Follow us on Twitter, Facebook and Instagram for inspiration, news and tips.
Request a brochure using the form below or contact our team.
We currently have no special offers for USA holidays but it's always worth asking a member of our team if they can offer any deals.