Must-see places to visit in the Rocky Mountain States of Utah, Nevada, Montana, Arizona and Colorado
Arizona
Arizona's best-known attraction has to be the Grand Canyon National Park; it's one of the Seven Natural Wonders of the World and is the only one located on American soil. There are, however, many more attractions to see and experience; there are parts of the famous and iconic Route 66, American Indian culture and art, the Chiricahua National Monument, the architecture of Tucson and the incredible night skies, to name but a few.

Grand Canyon National Park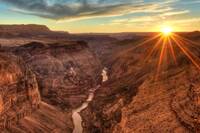 The best-known natural attraction has to be the Grand Canyon, a mind-blowing natural wonder that straddles the border of Nevada and Arizona.
The Grand Canyon has various entry points, with the North Rim open in the summer months, the West Rim that gives you the chance to enjoy the views from the transparent sky deck, and the South Rim, which is furthest from Vegas but where it is often quieter, and where it's a perfect spot to catch a sunset.

Kingman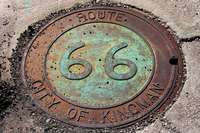 In the late 1800s, Kingman sprang to life when the railways' tracks were first laid, mining and ranches followed before the now famous Route 66 rolled into town, bringing with it a whole new era of travel.
Now a treasure in the Arizona desert, Kingman is at the heart of Route 66 and with its glowing neon signs, it has an overall retro vibe that embraces the city's past. There are regular classic car rallies, and both the Route 66 Museum and the Mohave Museum are worth a visit.
Colorado
Known for its breathtaking natural scenery and outdoor recreation opportunities, Colorado is home to many world-renowned ski resorts, including Vail and Aspen, as well as numerous national parks, such as Rocky Mountain National Park, which offers stunning vistas and diverse wildlife.
Visitors can also explore the vibrant arts and cultural scene in cities like Denver and Boulder or take a scenic drive through the historic mining towns of the Rocky Mountains. In addition to its natural beauty and cultural offerings, Colorado is known for its craft beer industry, with over 400 breweries statewide. Overall, Colorado offers visitors a chance to experience the best of both worlds with exciting outdoor adventures and urban attractions.
Denver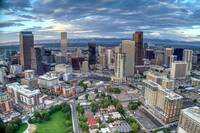 Also known as 'The Mile High City' for its elevation one mile above sea level, Denver is an outdoor-loving city with an easy-going vibe.
Its walkable downtown is filled with cafés, breweries, wine bars, chef-owned restaurants, shops, sport's stadiums, theatres, and museums.
The city is a gateway for Western USA's National Parks, including Mesa Verde in Colorado, Yellowstone in Wyoming, and the Canyonlands in Utah.
Glenwood Springs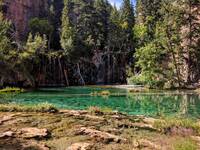 Home to the world's largest hot springs pool, there is no better way to relax after a fun day exploring this town. Learn about the town in the Glenwood Railroad Museum located in the Railroad Station - built in 1904 and houses a large-scale live steam train model.
Take a hike to the cemetery to visit the memorial gravesite of Doc Holliday – the legendary Western gunfighter, gambler and dentist who died in Glenwood Springs in 1887. Whilst you are there, enjoy the views of the beautiful surrounding scenery!
Rocky Mountain National Park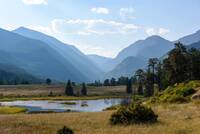 A jewel of the US Park System, this national park is abundant with wildlife and lakes, so it is the perfect place to reconnect with nature. Explore this spectacular section of the southern Rocky Mountains with its myriad of 350 miles (560 km) of hiking trails.
Keep an eye out for bighorn sheep, black bears, coyotes, elk, moose, white-tailed ptarmigan, yellow-bellied marmots, and pika (a small furry creature which lives in the alpine rocks of the national park.
Montana
Montana is known for its rugged natural beauty and wide-open spaces. It is home to many national parks, including Glacier National Park, which boasts over a million acres of pristine wilderness and stunning scenery. Montana also offers numerous opportunities for outdoor recreation, such as skiing, hiking, fishing, and camping.
Visitors can explore historic sites like the Little Bighorn Battlefield National Monument, where General Custer and his troops were defeated by the Sioux and Cheyenne in 1876, or visit the charming town of Virginia City, which has been preserved as a living museum of the Old West. Montana is also known for its cowboy culture, with rodeos and western-style events held throughout the state
Deer Lodge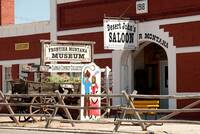 Surrounded to the east and the west by mountain ranges, Deer Lodge Valley is a meadowland with more museums and historical collections than in any other town in America's Northwest.
Deer Lodge's 1,500-acre Grant-Kohrs Ranch National Historic Site illustrates the development of the northern plains cattle industry from the 1850s to recent times.
This was once the headquarters of one of the largest and best-known 19th-century range ranches in the country.

Glacier National Park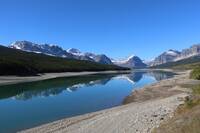 The Glacier National Park in Montana's Rocky Mountains is a 1,583 square mile wilderness area with glacier-carved peaks and valleys running from the Canadian border and is crossed by the mountainous Going-to-the-Sun Road.
There are more than 700 miles of hiking trails and has a route to the stunning Hidden Lake. Other activities include backpacking, cycling and camping and the diverse wildlife ranges from mountain goats to grizzly bears.

Missoula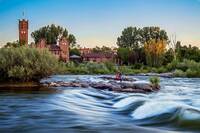 Missoula is known as the "Garden City" because of its dense trees and lush green landscape and is nestled in the heart of the northern Rockies where five valleys converge. It is a regional centre for education, medicine, retail and the arts.
Located at the base of Mount Sentinel and the banks of the Clark Fork River is The University of Montana. The 200-acre campus is one of the most beautiful in the nation and is home to 12,000 students. Fly fishermen, rafters, kayakers, and canoers thrive on the nearby waters.
Salmon / North Fork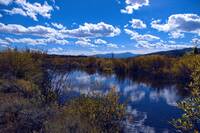 Salmon is surrounded by ranch lands in a broad valley between the Bitterroot and Yellowjacket Mountains. It was best known for its timber and ranching industries but as they have faded, it has turned increasingly to tourism. Rafting and fishing guides will take you out into the wilds, so Salmon is both a good base for exploring the surrounding scenery and a destination in itself.
It's at North Fork where US-93 crosses the Salmon River, which is often called the "River of No Return," because, without a jet boat to help you along, it is only navigable in a downstream direction. Running swiftly for nearly 300 miles west through one of the most extensive wilderness areas left in the lower 48 states, the Salmon River has carved one of the deepest gorges in North America, a full 1,000 feet deeper than the Grand Canyon.
Yellowstone National Park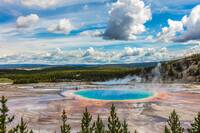 Taking in parts of the States of Idaho, Montana and Wyoming, Yellowstone is the USA's oldest National Park.
Its landscape is dominated by volcanic forces, and you can see spewing geysers, mud pots and hot springs tinged with yellows, oranges and greens. In contrast, there also far-reaching grasslands which are dotted with bison, buffalo and bighorn sheep, and forests where at night-time you can hear wolves howling.

Nevada
Nevada's best know natural attraction has to be the Grand Canyon, a mind-blowing natural wonder that straddles the border of Nevada and Arizona. The Grand Canyon has various entry points, with the North Rim open in the summer months, the West Rim that gives you the chance to enjoy the views from the transparent sky deck, and the South Rim which is furthest from Vegas but where it is often quieter, and where it's a perfect spot to catch a sunset.

Las Vegas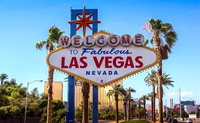 Las Vegas is arguably Nevada's best known attraction, a city surrounded by desert yet the famous strip is lined with giant, themed hotels that boast casinos that operate 24 hours a day.
You can travel the world just by walking a few blocks, you'll be able to see the Eiffel Town in Paris, take a gondola ride in Venice, and see the Statue of Liberty in New York and a pyramid in Ancient Egypt! You could catch a show, visit Fremont Street or for the ultimate adventure, take a Las Vegas Night Flight in a helicopter.

Calico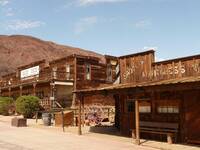 Calico is an old West mining town that was established 1881 but which was abandoned in the mid-1890s after silver lost its value, like many other similar towns that once gave miners a good living, it lost its hustle and became a "ghost town."
Walter Knott purchased Calico in the 1950's architecturally restoring all but the five original buildings to look as they did in the 1880's. Calico received State Historical Landmark 782 and in 2005 was proclaimed by then Governor Arnold Schwarzenegger to be California's Silver Rush Ghost Town.
Calico is now part of the San Bernardino County Regional Parks system and is visited by people from all over the world. Along with its history and attractions, Calico Ghost Town offers shops, restaurants, camping, and hiking.
Valley of Fire State Park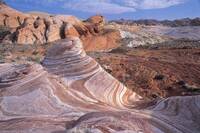 The Valley of Fire State Park is known for its red sandstone formations which, when illuminated by the sun's rays, makes it look like the valley is on fire. Over 40,000 acre's, this sandstone and limestone park contains ancient, petrified trees and rock art dating back more than 2000 years.
Why not include a stop at the Visitor Center to learn more about the geology, ecology and history of the park or choose from one of the hiking trails to explore on foot.
Utah
Utah is home to five national parks, including Zion, Bryce Canyon, and Arches, which attract millions of visitors each year. Utah also boasts world-class skiing and winter sports resorts, such as Park City and Alta Ski Area, as well as numerous opportunities for outdoor adventure, from hiking and biking to river rafting and rock climbing.
In addition to its natural beauty, Utah has a rich cultural heritage, with a thriving arts and music scene, as well as historic sites like Temple Square in Salt Lake City, which is the headquarters of the Church of Jesus Christ of Latter-Day Saints.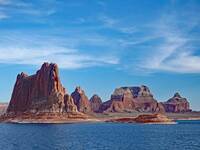 Lake Powell
Lake Powell is the second largest man-made lake in the United States and is home to one of the largest natural bridges in the world, the stunning Rainbow Bridge Monument.
More than two million people visit Lake Powell each year, come for its iconic landscape of sandstone arches, canyons and winding waterways that are home to every water sport imaginable.
Monument Valley
Located on the Arizona-Utah border, the Monument Valley is best known for the towering sandstone buttes of the Monument Valley Navajo Tribal Park and has frequently been used as a filming location for Western movies as well as for Forrest Gump and Mission Impossible 2.
It's best seen from the looping, 17-mile Valley Drive where the steeply sloped Mittens buttes can be viewed either from the road or from viewpoints such as John Ford's Point.
Moab and Arches National Park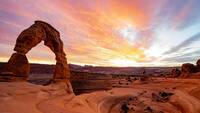 Situated only 5 miles north of Moab you will find Arches National Park which contains the largest concentration of natural sandstone arches in the world. There are over 2,000 arches located within the park along with an astounding variety of other geological formations including colossal sandstone fins, massive balanced rocks, soaring pinnacles, and spires.
A scenic drive will take you to many of the major viewpoints within the park and there are many easy trails that lead right up to the larger arches as well as more adventurous hikes to lesser seen areas.
Capitol Reef National Park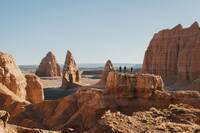 Located in Utah's south-central desert Capitol Reef National Park surrounds a long wrinkle in the earth's crust known as the Waterpocket Fold which is highlighted by layers of golden sandstone, canyons, and striking rock formations.
The park's most popular sites include the Chimney Rock Pillar, the Hickman Bridge Arch, and Capitol Reef, known for its white sandstone domes, while in the north the towering monoliths of Cathedral Valley can be found.
Bryce Canyon National Park
Bryce Canyon is a series of natural amphitheatres or bowls that have been carved into the edge of a high plateau. The most famous of these is the Bryce Amphitheatre which is filled with irregular spires of eroded rocks called hoodoos. All the main viewpoints can all found within the first few miles of the parks 18 mile main road including Bryce Point, Inspiration Point, Sunset Point, and Sunrise Point.
Other viewpoints are found all along the park's 18-mile main road which travels from park's only entrance in the north along the plateau rim to its highest elevations in the south
Zion National Park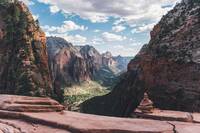 Located in southwest Utah, Zion National Park is a nature preserve best known for the Zion Canyon's steep red cliffs. The Zion Canyon Scenic Drive cuts through its main section, leading to forest trails along the Virgin River where the river flows to the Emerald Pools, which have waterfalls and a hanging garden.