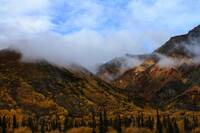 Alaska, the 49th state of the United States, offers a plethora of tourist attractions for visitors to explore.
One of the most popular destinations is Anchorage, the largest city in Alaska. Anchorage offers a wide range of activities and attractions, including the Alaska Native Heritage Center.
Denali National Park is another must-see destination in Alaska. Located about 240 miles north of Anchorage, this park offers visitors breathtaking views of Mount Denali, the highest peak in North America.