Must-see places to visit in California, USA.
Los Angeles
Los Angeles is sandwiched between the glitz of the Hollywood Hills and the laid-back ocean-front communities of Santa Monica and Venice Beach. Whilst you are there, visit Muscle Beach, located near the boardwalk; this is an outdoor gym where visitors can watch bodybuilders and fitness enthusiasts work out.
L.A. offers a wealth of tourist attractions, including the iconic Hollywood sign, the Walk of Fame, and the Chinese Theatre.
Other attractions include a host of studio tours (think Universal Studios, Warner Bros and Paramount) and theme parks such as Disneyland, Disney California Adventure, Six Flags Magic Mountain and Knott's Berry Farm.
Joshua Tree National Park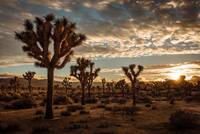 Nicknamed "J-Tree" by the locals, the Joshua Tree National Park lies at an ecological crossroads where the high Mojave Desert meets the low Colorado Desert; the result is an amazing desert flora, including those namesake trees which are actually a type of yucca.
Joshua Tree is beautiful throughout the day, but its sunsets are stunning, as are the nights when the skies are filled with stars. With its remote location and clear night skies, Joshua Tree is a great place for stargazing.
The park is also rich in cultural and historical significance, with evidence of human habitation dating back thousands of years. Visitors can explore historic sites like Keys Ranch and learn about the Native American tribes who have called this area home for generations.
Sequoia National Park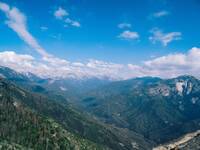 Sequoia and Kings Canyon National Parks are best known for their giant sequoias, soaring mountains, deep canyons, and roaring rivers.
Within their borders are Mount Whitney, the highest point in the contiguous United States at 14,494 feet, and the Kings River Canyon, one of the deepest canyons in North America and part of the larger John Muir Wilderness, which encompasses over 500,000 acres of pristine wilderness in the Sierra Nevada mountains.
However, the parks are still most revered for their super-size sequoias trees, thanks to the General Sherman Tree, estimated to be over 2,000 years old, making it one of the oldest living organisms on Earth and the world's largest living thing by volume.
Yosemite National Park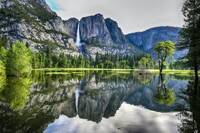 California's Yosemite National Park is an icon of America's incredible natural beauty and welcomes millions of visitors each year.
Highlights include its dramatic waterfalls, the giant sequoias, its abundant wildlife, and awe-inspiring cliffs, like Half Dome and El Capitan.
Yosemite is a paradise for outdoor enthusiasts, with activities such as hiking, rock climbing, camping, fishing, cycling, and horseback riding available throughout the park. The park offers over 800 miles of trails, ranging from easy walks to challenging hikes, and is home to some of the best rock climbing in the world.
The park is home to a wide variety of wildlife, including black bears, mountain lions, deer, coyotes, and many species of birds. Visitors can take guided wildlife tours or explore the park on their own to see these creatures in their natural habitat.
San Francisco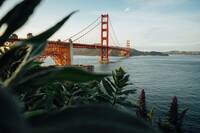 The waterfront city of 'San Fran' is best known for the Golden Gate Bridge which you can cycle across as well as Alcatraz Prison, which is a short boat ride from Fisherman's Wharf, which is a tourist attraction in its own right.
The city has something to offer everyone, from its iconic landmarks to its world-class museums, eclectic neighbourhoods, and delicious food scene..
Alcatraz Island is home to the infamous Alcatraz Federal Penitentiary, which once housed some of the country's most notorious criminals. Visitors can take a ferry to the island and explore the prison, as well as learn about the island's history and significance.
Fisherman's Wharf is well known for its fresh seafood, street performers, and souvenir shops. Visitors can also take a boat tour of the bay or visit the famous sea lions who make their home at Pier 39.
San Francisco's cable cars are a unique form of transportation and a symbol of the city's history. Visitors can ride the cable cars up and down the steep hills of the city, taking in the stunning views along the way.
San Francisco's Chinatown is the oldest and largest Chinatown in the United States and a must-visit destination for anyone interested in Chinese culture and cuisine. Visitors can explore the neighbourhood's narrow streets and alleys, shop for souvenirs, and enjoy authentic Chinese food.
Moss Landing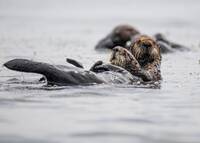 Halfway between Monterey and Santa, located at the mouth of Elkhorn Slough, is Moss Landing; one of California's largest wetland areas and home to hundreds of species.
An inland cruise is an ideal way to learn about this unique ecosystem and is a perfect way to see the hundreds of species of waterfowl and migratory shorebirds that call Elkhorn Slough home.
The sheltered Elkhorn Slough, with its calm waters, is the perfect place to take a kayak tour where you will get the chance to get up close and personal with the seals, sea otters, sea lions, herons, egrets and other wildlife that also call this area home.
Morro Bay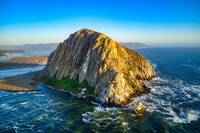 With Morro Rock rising 576 feet from the ocean, it's impossible to mistake Morro Bay for any other California seaside town. Fishermen plied their trade in the shadow of Morro Rock for decades, and today, the town in San Luis Obispo Country maintains its sea-faring charm with a number of great beaches that stretch north and south of town as well as the Embarcadero, a waterfront street with shops and restaurants.
Morro Bay has been dubbed one of the country's best places for bird watchers, and although you can't climb Morro Rock, you can look for the peregrine falcons that nest there.
Of course, nature lives in the water, too, and you can check it out by taking a whale-watching cruise or stopping by the Estuary Nature Centre, a popular hangout for otters and other sea creatures.
Santa Barbara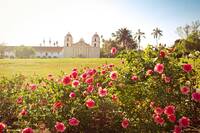 Known as 'The American Riviera', Santa Barbara, with its bougainvillaea-covered red-tiled rooftops, is a small but charming beachside city located just 90 miles north of Los Angeles. Lookout Park, with its views of Channel Islands Nation Parks, is definitely worth a visit, as are Refugio State Beach and Butterfly Beach. Away from the coast, the city is comprised of Spanish-style architecture characterised by the Old Mission Santa Barbara, and further inland, you can see the rolling hills that stretch east into the Santa Ynez Mountains and wine country.
Santa Barbara is the perfect place for a picnic, you can find seafood at Stearns Wharf, and there's plenty of local ingredients available at the city's farmers markets and the Santa Barbara Public Market.