Must-see places to visit in Florida & The Keys, USA.
Orlando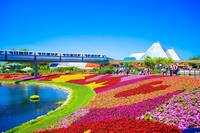 If theme parks aren't your thing then Orlando has many other attractions to keep you entertained.
There are a number of parks and lakes that are great for relaxing, exercise and adventure where you can rent a paddleboard or paddleboat.
You could soar over the city in a hot air balloon, have a picnic under an old oak, spot dolphins on a boat trip, swim with manatees or pet a sloth at the Exotic Animal Experience.
Juno Beach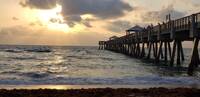 Juno Beach is best known for the Loggerhead Marinelife Centre, a non-profit sea turtle research, rehabilitation and educational institution that promotes the conservation of ocean ecosystems with a focus on threatened and endangered sea turtles. The Centre features an on-site hospital, research laboratory, educational exhibits, and aquariums and also operates the Juno Beach Pier, which hosts world-class angling and sightseeing.
Situated on one of the world's most important sea turtle nesting beaches, Loggerhead Marinelife Centre is open daily and hosts over 350,000 guests free of charge each year. The Centre's conservation team works with 90 local and international organizations across six continents to form partnerships and share conservation initiatives and best practices that are core to its mission of ocean conservation.
Dania Beach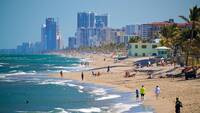 With its award-winning "Blue Wave Beaches," nature activities and proximity to Fort Lauderdale and Hollywood, Dania Beach is a great place to stop on your tour.
If you like antiques then Dania Beach will be perfect for you as there are plenty of antique stores along the Federal Highway, both north and south of Dania Beach Boulevard.
Afterward, stop for some cool refreshment at Jaxson's Ice Cream Parlor and Restaurant on South Federal Highway in Dania Beach for some of the best homemade ice cream you ever will taste.
Grassy Key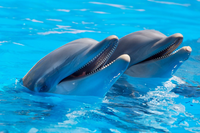 Grassy Key is best known for its Dolphin Research Centre which has been providing sanctuary and a Forever Home to dolphins since 1984.
At this non-profit education and research facility you can experience teaching, learning, and caring for marine mammals and the environment as you enjoy exciting, fun, narrated behaviour sessions and other educational presentations. If you would like to meet a dolphin up-close they offer a variety of interactive programs including the Dolphin Encounter Swim and an Ultimate Trainer for a Day Experience.
Key West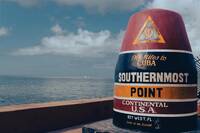 Key West is situated at the most southerly point of Florida and is closer to Cuba than it is to Miami! Although best known for its beaches and sunsets, it also has a unique history, stunning architecture, a natural beauty, cultural diversity, and a romantic appeal.
Attracted by the palm-lined streets with gingerbread mansions and tin-roofed conch houses, famous names such as Ernest Hemingway, Tennessee Williams, Elizabeth Bishop, Robert Frost and Jimmy Buffett have made Key West their home.
Make sure you try the famous Key Lime Pie and on a hot day you might want to try a Key Lime Pie Ice Cream!
Pennekamp National Park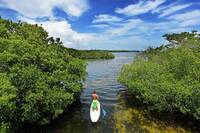 Pennekamp National Park is renowned for being the first undersea park in the United States and encompasses an impressive 70 nautical square miles.
While many visitors view the park's colourful coral reefs and teeming marine life on a glass-bottom boat tour, you can get an even closer look by scuba diving, snorkelling, canoeing, or kayaking through the park's waters.
Visitors can also enjoy walking on short trails through tropical hammocks, picnicking or swimming at the beach and the visitor centre features several large saltwater aquariums filled with sea creatures.
Everglades National Park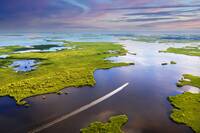 There are so many things that you can do in the Everglades National Park, you can take a short walk on the Anhinga Trail to spot the abundant wildlife such as turtles, herons, and alligators!
You could climb the Shark Valley's 65-foot observation tower for a bird's eye view of the glades. Glide over Florida Bay by tour boat or kayak for a chance to glimpse a crocodile, manatee, or dolphin. Watch as the sun sets over Flamingo, the southernmost point in mainland Florida. Explore the pinelands by bike, paddle amongst the mangroves on Nine-Mile Pond, or tour the historic Nike Hercules missile base or perhaps join a ranger on a slough slog deep into the heart of a cypress dome.
Sanibel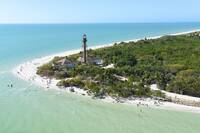 Located along the Gulf of Mexico and just a short drive from Fort Myers, Sanibel Island is justly famed for its lighthouse and stunning sunsets.
The most popular activity on Sanibel Island is shelling and you barely can walk a step on the beach without indulging in the so-called "Sanibel Stoop" to search for shells. There is so much else to do on Sanibel Island, there's delicious dining (seafood, of course!), fishing, boating, and just plain relaxation, a chance to get away from the hurly burly, a chance to draw closer to nature.
Fort De Soto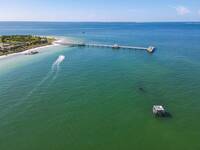 Whether you are sitting on the beach or kayaking near the still water's edge at Fort De Soto, you find yourself absorbed in the abundance of natural beauty for as far as the eye can see.
The largest park within the Pinellas County Park System, Fort De Soto park consists of 1,136 acres made up of five interconnected islands. These islands are home to beach plants, mangroves, wetlands, palm hammocks, hardwoods, and scores of native plants.