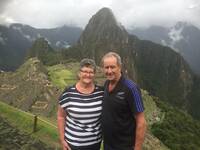 About Us
We are pleased to introduce ourselves, Doug and Linda Bice.

Linda was born in Helensville and Doug born in Kawakawa, in the far north, and moved to Helensville when he was 11. We were both educated at Kaipara College Helensville as were our Kiwi colleagues. Upon leaving school we both moved to Auckland where Doug commenced a Plumbing apprenticeship, a job he enjoyed and remained employed with the same employer for seven years. Linda trained as a primary school teacher and taught until leaving New Zealand.
We were married in 1971 and in 1973 we moved to Australia, along with our seven month old son, and settled in Nowra, a small city 2 hours south of Sydney. Doug then had the opportunity to become a builder and did so for the next forty years, successfully running our own business. During this time we expanded our building knowledge into the steel house framing industry where we purpose built a factory for the production and sales of steel frames and associated components. Linda at this time was also employed as administration manager, a valuable link in the chain. In 2013 we retired and handed over our business to our two sons who have successfully carried on the business. We have since built a Caravan and Boat storage facility, so we are in constant contact with those who travel around Australia.
Our Caravan
We presently own a small fifth wheeler in which we have travelled extensively around Australia covering over 40,000kms from north to south and east to west and through the centre. We have also travelled through Europe, on two four months self drive adventures, in a small two berth motorhome. We did a self drive holiday in USA and Canada and recently an organised trip to South America. We have also previously organised an Australian group to travel in motorhomes throughout New Zealand. We have been accompanied on these trips by other travellers, up to four couples, and always organised the itinerary and planning for these adventures.
A Typical Day on Tour
On our travelling days we start early so that we can maximise our day and leave plenty of time to see our sights along the way. If we are travelling with others, we always arrange our evening stopover prior to leaving camp in the morning and carefully check our maps. We try not to drive for more than two hours without having a break and aim to be in camp by 4:00pm each afternoon. We like to explore "back roads" and find new experiences and points of interest. When touring with CAMC members we expect them to experience new adventures including vastly differing scenery, hiking, sampling different Australian wines & beers and socialising with other Australian travellers. We hope to help CAMC members to obtain the maximum out of their visit to this country and will endeavour to do all that we can to this end. We are really excited about being tour leaders and showing others this great contrasting country.
Our Recommendations
There are so many places to visit it is hard to single out one. However, we are both partial to inland Australia and places like Kakadu and the Kimberly's are outstanding. When in Canberra we would suggest a visit to the War Memorial, it is an outstanding experience. Going on an escorted tour means being able to share your experiences at the end of the day and perhaps being taken to places that you would not normally visit. There will be optional excursions which we feel should be undertaken by all, as each will provide a special experience. A visit to The Great Barrier Reef should not be missed and if you are able to, you should take the opportunity to snorkel... even if you are a beginner! It's an amazing experience.
Weather in Australia
Travelling in Australia is dependent on weather. The Northern Territory & Far North Queensland have a wet season and cyclones are not uncommon from November to April, which gives hot humid weather and difficult driving conditions due to flash flooding. While South Australia has a Mediterranean climate and you are able to enjoy it anytime.
Australia Driving Tips
Our advice for driving in Australia is to be patient and always consider trucks, especially in Queensland and Northern Territory where Road Trains are used (They do appreciate your road courtesy!). Always leave reasonable distances, especially if you are travelling in groups, as you must consider those who wish to overtake.
What to Bring With You
When coming to Australia, aside from the essentials like travel insurance, drivers license & necessary medications, bring along a sense of adventure and it's almost guaranteed you will have a great time! Don't forget to communicate with Australians as they have a great sense of humour and will generally give you heaps about your accents.