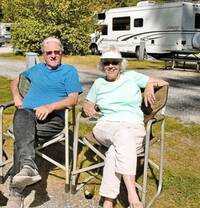 Let us be the first to welcome you to Beautiful British Columbia! Kevin and I are thrilled at the prospects of being your hosts during your visit to our beautiful province.
We have been involved in the Tourism Industry and RVing for over 40 years and look forward to sharing many wonderful experiences with you. Our travels both personal and on tours have prepared us to ensure your adventure is memorable.
Travel has been in my blood from a very young age as my parents owned and operated a very successful travel agency. My travels have taken me to over 30 countries and 16 states with the US. I have opened and managed 2 travel agencies, worked as a tour director, travel consultant, and then entered into the educational side of the industry as an instructor, from there moved into sales and marketing within the college. Upon retirement from the college, Kevin and I were able to pursue more of our travel and RVing dreams. We head south in our motor home, along with our dog, to California and Arizona for 2 months in the winter to soak up the sun and warmth along with our many Snowbird friends.
A few years ago, we had a call from a local tour company. They had received a request for local tour directors who had both a Tourism background and RVing experience, who better to fill that request than Kevin and I. Before we knew it, we were on the road again, this time travelling with a group of 21 motor homes throughout British Columbia and Alberta. The following summer we again had the wonderful opportunity to repeat the experience this time with 16 motor homes.
Kevin's experience and interests range from winning championships in motorsport racing, owning and operating a successful graphic arts company, RVing and photography. He is a very handy guy to have along on a tour as he can find a solution to just about any situation that might arise. Just as travel is in my blood, racing is in Kevin's. He has held many executive positions within the motorsport community, which also included being President of the International Conference of Sports Car Clubs and President of the Sports Car Club of British Columbia. Today, we are still actively involved in the racing community as our son manages a racing team which requires us to tow race cars to various tracks within the Pacific Northwest. Our other son, organizes Track Days, were he rents a race track, has qualified instructors who teach the drivers of high performance cars how to handle their cars at speed on a race track. Oh yes, we are also avid Formula One fans!
In addition to racing, we are members of the Dogwood Roamers which is a club that arranges 4 to 5 day motor home outings within the Province during the summer months. The outings are great as they give members an opportunity to really explore first hand different destinations within the province. When we really want to escape and the weather is good, we head down to Lake Tyee, Washington, where we have recreational property and a travel trailer. Great place to swim, soak in the hot pools, walk the dog, read and relax. Needless to say, we are not home very much!
There is so much to see, explore and do here in British Columbia, and with that I mind, we will try to ensure you will have the most memorable experience possible. We look forward to meeting you and sharing with you what our beautiful provinces have to offer.