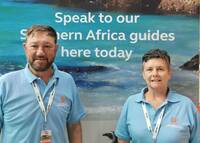 About us: Kobus

Travelling is a great passion of mine. I have travelled extensively throughout South Africa and its neighbouring countries such as Namibia, Botswana, Zimbabwe, Lesotho, Zambia and Swaziland.
My overseas travelling includes Belgium, Dubai and Abu Dhabi. I am an avid bird watcher and have a passion for fauna and flora. Hiking, painting and cycling are my hobbies. I have completed numerous Argus Cycle Tours (109km) and various other pedal power cycling events.
I have been a freelance tour guide since 2007 and guiding for numerous tour operators in Southern Africa. Over the years I have also compiled and executed over 30 tailor-made itineraries through South Africa and its neighbouring countries. I have worked with many travels from various countries including, Dutch, British, Indian, German, USA and Emirates.
I am passionate about the true magic and beauty that South Africa and her neighbouring countries have to offer. My guests always have an unforgettable experience that is intimate, educational, informative and full of fun!
About us: Deidre
My wife, Deidre and I have been married for 30 years and we both enjoy the outdoor life immensely. Deidre has been working for a wine distributor for the past 14 years and enjoys her job as credit manager immensely. She is passionate about people and loves entertaining and travelling.
We love camping and enjoy motorcycle rides exploring our beautiful countryside. The countryside of South Africa has a very special place in both our hearts. We love and support each other through everything, that is the success recipe for our marriage. Meeting new people and showing them the wonders and beauty that our country has to offer, is something we both pride ourselves on, especially tourists that come to have the true African experience, because Africa is so unique in so many ways. As a couple our passions includes wildlife, history of Southern Africa, touring and travelling in Southern Africa and hosting international guests.
Travelling with us, you are guaranteed to have the holiday of a lifetime! We are both passionate about people and have excellent people skills and have years of extensive travelling experience. We enjoy sitting around a campfire under the stars and exchanging stories of the places we have been fortunate to visit. For Kobus & Deidre there is nothing better than sitting around the "Bushmen TV" (campfire) and sharing tales and stories.