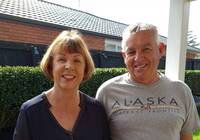 About us:
Our Background

We have been married for fourteen years and have both travelled to many destinations around the world including Europe, the USA, China, Asia, the Pacific Islands and Australia.

Eric is third generation New Zealander who was born in Northland, a subtropical region on the North Island that is framed by the Pacific Ocean and the Tasman Sea. Originally a grocer, he has also co-owned a livestock business and for the past 32 years he has spent his time retailing and wholesaling farm machinery.

Lynne also comes from the North Island and was born in Auckland, apart from a 2 ½ year spell living in Australia, she has spent her life living and breathing her beloved New Zealand. She has spent her working life in banks and in administration roles where she gained many skills that will come in useful while on tour.

Where do we live?
We live in beautiful Orewa which is a half hour drive north of Auckland and are lucky that we are only a ten minute walk to our lovely sandy beach, the shops, and cafes.

What motorhome do you own?
We have a German made Burstner 740 Motorhome on a Fiat chassis which we love and are away most weekends in it.

How many tours have you done with the Club?
This will be our first year leading tours for the Caravan and Motorhome Club, but we are looking forward to meeting you.

What does a typical day look like for us?
Most mornings we will have an early start, so we are ready to assist our guests in planning their days touring and suggesting places to stop along the way. During the day we follow the itinerary the same as our guests, and in the evening, we like to organise a few social functions for our groups.
What can you expect on tour?

Everything that our itinerary has included plus anything else that is of interest to you that our beautiful country has to offer.

What are the benefits of going on an escorted tour?
Having local guides to tell you about hidden treasures.
Safety in numbers.
Help with sorting out problems.
Touring with like-minded travellers.

Our favourite places in New Zealand?
The Bay of Islands on the North Island, especially the Hole in the Rock Cruise and the chance to see dolphins.
On the South Island it has to be the magnificent rugged West Coast and also the beauty of Wanaka.

Which optional excursions do you recommend?
A helicopter flight over Mount Cook or over the Franz Josef Glacier.
The Shot Over Jetboat in Queenstown.
A Gondola ride in Queenstown and Rotorua.
One of the many wine tours that are available.

When is the best time to tour New Zealand?
The best time to tour New Zealand is between November and April but bear in mind that summer school holidays in New Zealand are in January.

What size Motorhome?
We recommend a 4 berth motorhome as there's more room for you to move around and to store your suitcases.
Our tips for Motorhoming in New Zealand
Watch your speed.
Pull over and let cars pass.
Don't travel in convoy.

What should you bring with you?
Your UK Driving Licence and a variety of clothes to accommodate weather changes.