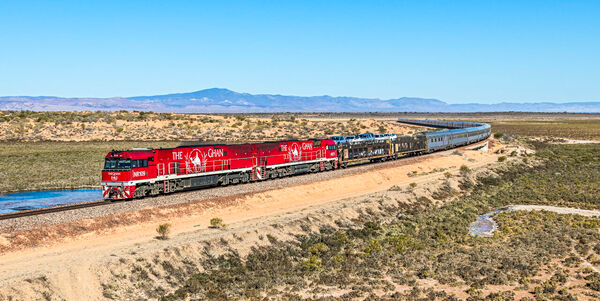 The trip was organised very efficiently by Jo, and Hans and I appreciated her attention to detail which enabled us to enjoy this wonderful holiday thoroughly. So - thank you, Jo.
We flew from Manchester Airport via Singapore to Darwin and stayed for six nights at the Vibe Hotel Darwin Waterfront. The hotel was comfortable, and the buffet breakfast was exceptionally tasty and well-presented. The many cafes, bars, and restaurants served good food and drinks and were located along the hotel's waterfront, which made for very easy access. The weather was terrific, and many Australian families were enjoying the hotel and its excellent family-orientated facilities; there was plenty to occupy young and old alike.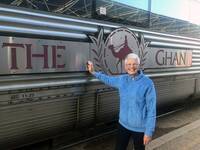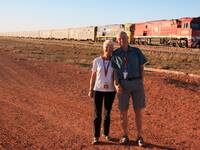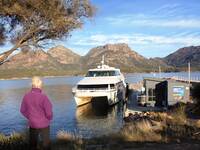 Clockwise from top left: Kathleen with The Ghan, Kathleen & Hans with The Ghan, Banquet at Telegraph station, Alice Springs, Kathleen looking out over Wineglass Bay
On arrival in Darwin we were keen to explore, so set out walking around the city and its outskirts, which had much to offer regarding its history and beauty. Asides from the flora and fauna of Darwin, our visits to the underground oil storage tunnels, open air theatre, Bicentennial Park, Chinese temple, fishing harbour, and many cathedrals were of great interest to us. We embarked on a Katherine River cruise which included close but safe encounters with crocodiles which our guide attracted to the boat with the aid of chicken carcasses as snacks for these fascinating predators. A huge croc named Dominator was a celebrity within his watery world, famous with the people of Darwin. Along the way, we also saw wallabies and a variety of native bird life. A Harmony Soiree Community Group provided an entertaining evening at the Vibe Hotel showcasing their traditional dancing and music, which the late Jenni Milne had organised from our home town of Clitheroe in Lancashire.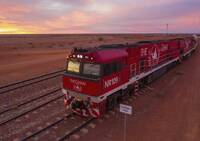 The next part of our journey was rather unique; our taxi arrived at the hotel to transfer us to the Darwin Berrimah Rail Terminal to begin the Ghan Train Expedition. The four-day, three-night journey from Darwin through the Outback to Adelaide was everything we could wish for. Our Gold Twin cabin was compact but well-appointed and we met many like-minded, interesting people. We dined in the lovely Queen Adelaide dining room and made use of the well-stocked bar and cosy lounge area of the Ghan. The 'all-inclusive' package and daily adventures gave a real feeling of luxury as no wallets were required for those few precious days and nights!
The train travelled during the nights, and the choices of off-train experiences during the day were exceptional. The options included a Nitmiluk Gorge Cruise, Katherine Outback Experience, Cutta Cutta Caves, Nitmiluk Gorge Helicopter Flight (extra charge), Simpsons Gap Discovery Walk, Alice Explorer, Alice Springs Desert Park, Standley Chasm Cultural Walk, Alice To Off-Road, Uluru Fixed Wing Scenic Flight (extra charge), Explore Coober Pedy, Opal Experience and The Painted Hills & Lake Eyre Scenic Flight (additional cost). Options were selected but were not always guaranteed to be available, and an alternative choice occasionally needed to be made. This had been made clear to passengers via the Ghan train stewards, and we found any alternative options were quite acceptable. We particularly enjoyed the evening Banquet at Telegraph Station, attended by everyone from the train. We travelled by coach to visit Breakaways, Salt and Pepper (or Two Dogs), the Dingo Proof Fence, an underground Serbian Orthodox Church and an underground living home. Following a day out at Manguri, we were all treated to a canapé and drinks reception around a bonfire before reboarding the train for dinner and onward travel.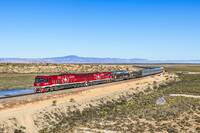 On 3 June, we disembarked the Ghan and were transferred to the Majestic Roof Garden Hotel in Adelaide. The five days and four nights we spent in Adelaide were interesting, and we spent time exploring a city we had never visited previously; the local zoo was home to a variety of indigenous animals who lived in as natural environment as was possible for a zoo. The parks and shopping malls of the city were good to see, and we had a pleasant few days before continuing our journey to Tasmania. Once again, the taxi pick-up from the Adelaide Hotel to Adelaide Airport by private car went without a hitch.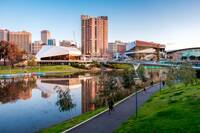 Upon arriving at Hobart in Tasmania, we were met and taken to the Rydges Hotel for a three-night stay. The hotel had a fascinating history, functioning as a holding station for female convicts, male invalids, and immigrants and later as an institute for the Blind, Deaf and Dumb. The antiquated use of language and attitudes to people in times gone by is now a thing of the past, and the hotel, although not altered structurally, is beautifully presented and consists of forty-four modern suites and twenty executive antique suites. Rydges was situated a couple of miles out of the central area of the city, and as walkers, we didn't mind this, although there were bus or taxi options. We took guided tours of the now-defunct male and female penitentiaries and a road trip to the summit of Mount Wellington. The view could have been better, but one can't alter the weather! A morning tour held our interest, but once out of the bustling city of Hobart, we quickly discovered what a fabulous Island Tasmania is. Just beautiful!

Once again taken by taxi, we arrived on 10 June at the Maui Motorhome Depot close to the Hobart Airport. There we were warmly greeted by friendly staff who acquainted us with our hired Cascade 4-Berth Maui motorhome, which was to be our living and travelling accommodation for the next 18 days. The vehicle was clean and well-presented and, thankfully, was equipped with automatic transmission, which we were to learn was a blessing on all the very steep, narrow and winding country roads around the island.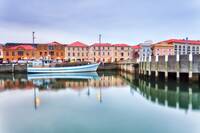 Over the next 18 days, we stayed on pre-booked campsites for two or three nights, making the whole trip leisurely and enabling us to explore our new environments in a relaxed fashion. All the sites were of a good standard and were run by knowledgeable staff - much like what we are used to here at home. Our days were packed with new experiences, and we marvelled at the abundant wildlife of Australia, which was one of the highlights of the tour. Too many events to mention here, but in this last section of our trip, we specifically loved the boat trips to Wineglass Bay and the cruise on the Gordon River. Cradle Mountain was fascinating but icy conditions prevented us from walking as far as we would have liked.
Nevertheless, the scenery was beautiful, and the wombats were very amusing. The hop-on, hop-off bus up the mountain was very handy, allowing us to see much more of the area. The information centre was informative and a warm place to catch a break from the cold. Though we missed the extreme highs of Britain's unseasonably warm summer, we loved every minute of our journey and would recommend it to travellers who like something a little different.
This was a tailor-made tour with itineraries taken from multiple holidays. Choose a standard itinerary or opt for a tailor-made tour, designed by you with help from our expert team.
This blog was written by Kathleen & Hans van Dijk, who booked a tailor-made tour of Australia. If you want to share your experience with us, contact our team.