Must-see places to visit in South Australia.
Adelaide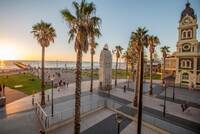 The wine and festival capital of Australia, Adelaide is a vibrant and stylish city. It's a place to experience a big city's buzz, culture and convenience without the frustrations.

The Adelaide city centre, surrounded by parklands, is a charming blend of historic buildings, wide streets, groovy shops, street cafes and restaurants. And because Adelaide is known as the 20-minute city, you can experience it all on a series of easy short walks.

Travel to Adelaide for some of Australia's most vivid holiday experiences. Taste and buy the best of South Australia at the Adelaide Central Market, the largest undercover market in the southern hemisphere. Then catch a tram from Victoria Square in the city centre to beachside Glenelg, with its gentle surf, lively shops, cafes and restaurants. Or head to historic Port Adelaide for a dolphin cruise and maritime history, then to nearby Semaphore to soak up the atmosphere of the seaside village.

The Adelaide Botanic Garden, in the city centre, has native and exotic flora displays and 5000 roses at the International Rose Garden. Stroll through the tropical rainforest in the Bicentennial Conservatory, the biggest glasshouse in the southern hemisphere. Around the corner, visit the National Wine Centre, a great place to start your journey through South Australia's wine country.

You can explore the world's largest collection of indigenous artefacts in the Australian Aboriginal Cultures Gallery, an award-winning exhibition in the South Australian Museum. And for contemporary Aboriginal culture, head a few blocks away to Tandanya, the National Aboriginal Cultural Institute.

The Art Gallery of South Australia has one of the best Australian colonial art collections in the world, renowned dot paintings of the Western Desert and works of some of Australia's much-loved artists.

Adelaide hosts exciting festivals and events including the Adelaide Festival of Arts, the Tour Down Under pro cycling event, the Clipsal 500 V8 race, Adelaide Fringe, WOMADelaide - a weekend of international music - and much more. It's your gateway to a thrilling Australian holiday.
Mount Gambier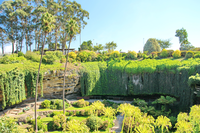 Described as the city of 'craters, lakes and caves', Mount Gambier was built on the slopes of an extinct volcano. See the remarkable Blue Lake, which has filled the largest of three volcanic craters and puts on a real show from November, when the water becomes a brilliant turquoise blue.
Begin your visit at 'The Lady Nelson' Visitor and Discovery Centre where staff will provide you with all the information you require for your holiday and help you choose the most suitable activities for yourself and your family. Be sure to take a self-guided tour of the Discovery Centre which presents the history and geology of the area using a series of exciting interactive displays.
Mount Gambier is an ideal family holiday destination, with many free-of-charge fun attractions. Walk to the Centenary Tower for a remarkable view; picnic at the Valley Lake Crater with its wildlife park and boardwalk; stroll among the beautiful roses in the Cave Gardens or marvel as the possums come out for an evening feed at the Umpherston Sinkhole, or take the City Centre Walk and discover an impressive array of heritage buildings and catch a glimpse into the history behind Mount Gambier. On your journey stop and explore the many art galleries, studios and markets, and sample local wines and cheese.
Boasting a wide range of accommodation types, extensive and modern shopping precincts, a variety of restaurants, pubs and cafes, adventure playgrounds, mini golf, boat and canoe hire and more Mount Gambier truly is a splendid family destination and an ideal base for your next holiday to the Limestone Coast.
Naracoorte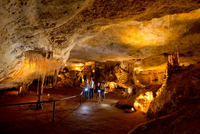 Located in the heart of the Limestone Coast, Naracoorte is home to the famous World Heritage Listed Fossil Site, Bool Lagoon and wetlands, museums, galleries, playgrounds and parks, a unique swimming lake and a variety of shops and accommodation properties.
Many caves and sinkholes surround Naracoorte, including the incredible World Heritage Listed Naracoorte Caves Fossil Site. Inscribed in the World Heritage List in 1994 for its rich deposits of fossil mammals, it is the only natural World Heritage Site in South Australia. Guests can experience the fossil site in a range of ways. The Wayamba Fossil Centre recreates the environment and landscape from approximately 200,000 years ago. Inside visitors step back in time and experience what it may have been like and what the Megafauna may have looked like. Fully guided interpretative cave tours allow visitors to view the spectacular cave formations, bats and real fossil sites. The more adventurous can explore the remote areas of the cave system that house many other fossil sites by booking an adventure caving tour.
Visit Bool Lagoon and the surrounding wetlands, home to a vast array of birdlife. Boardwalks and bird hides allow visitors to get up close and see more than 150 species of birds in their natural habitat. The lagoon has one of the largest populations of Brolgas in South Australia, with 47 of the 75 recorded water bird species known to breed in the surrounding wetlands. In years of high water up to 10,000 Ibis breed. Entry to the Lagoon is via a self-registration permit at the gate.
Naracoorte is a rich agricultural centre that produces fine wines, outstanding meat and livestock produce. Local produce can be sampled in many of the local restaurants and cafes. Cellar doors allow you to sample some of the fine Wrattonbully wine produce. The award-winning Sheep Back Museum is located in the heritage listed 1870s Simpson Flour Mill. It is also home to the town's Visitor Information Centre and gives a great insight into the region's development and outstanding local production.
Naracoorte proves an ideal base for your next holiday. It is surrounded by three premium wine-growing regions and central to the coastal beaches and inland attractions. It is home to many fine bed and breakfasts and self-contained accommodation houses. Supported by a range of motels, hotels, caravan parks and campgrounds travellers are sure to have a great stay in the heart of the Limestone Coast.
Robe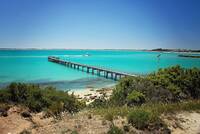 The historic seaside resort of Robe lies at the southern end of Guichen Bay. Experience this year-round holiday destination's charm and fine hospitality amidst the stunning beaches, rugged cliffs, tranquil lakes, and mountainous sand dunes. Laze on Long Beach or indulge in the distinctive local wines, fresh seafood, and regional produce.
Explore the diverse coast or encounter Robe's seafaring past, its heritage buildings, and its legends, or take some time to join in activities for all ages, interests, and weather conditions. A fantastic shopping strip features friendly pubs, groovy cafes, trendy homewares, tasteful galleries and clothing outlets oozing coastal chic. While a range of museums, cottages and historic walking trails bring to life the local maritime culture. Be sure to visit the Obelisk shipping marker on Cape Dombey, the Old Goal, and the Chinese Gold Trail monument.
Everyone knows Robe for its crayfish, and you can purchase the best catch from local outlets or order it at local hotels and restaurants. Thrill your palate with the distinctive flavours of Mount Benson and Robe regional wines. Savour succulent Robe barramundi, Atlantic salmon, spring lamb, high-grade beef, and the region's olives, almonds, berries, and herbs. Feast in a summer courtyard, by the beach, or bask in front of a raging winter fire. Anglers will delight in the quality and choice of fishing locations. Rock fishing in Guichen Bay, surf fishing at Long Gully through West Beach and Wrights Bay, wharf fishing at Lake Butler Boat Haven Channel, off the new jetty, or try our luck at boat fishing. Be sure to ask the local Visitor Information Centre for the best locations.
Nature lovers are well catered for as Robe is surrounded by conservation parks and offers outstanding off-road experiences. Drive along the famous 17-kilometre Long Beach, a fantastic spot for fishing, swimming, and surfing. Explore the many four-wheel drive vehicle tracks through Little Dip Conservation Park, another popular spot for anglers, walkers, four-wheel drive vehicle enthusiasts and bird watchers, proving peace, solitude, and a truly Australian escape allowing visitors the opportunity to see the beautiful, rugged environment up-close. Stay in the tracks to avoid damage to the sensitive coastal ecosystem.
Take some time and play a round of golf at the 14-hole Robe Public Golf Course; go surfing at Third Ramp off Long Beach or try Stoney's Rise for large ocean surf. Take the kids down to the local skate ramp for some outdoor fun or visit Lake Fellmongery for a picnic and various water sports including water skiing, canoeing, and sailing. Robe offers a wide variety of accommodation offerings providing an ideal spot to base yourself. Take a couple of days and discover the boundless attractions of the Limestone Coast.
Port Willunga
Port Willunga is a coastal village on Fleurieu Peninsula, home to ancient shipwrecks and sea view restaurants. See more of the Fleurieu Peninsula: a coastal playground famed for its laidback lifestyle, beach breaks for surfers of all levels of experience, and top fishing spots. It's a paradise for divers and snorkellers, with dramatic shipwrecks and stunning marine life, including the famed Leafy Seadragon.
Enjoy some of the best produce and vineyards in Australia. The Fleurieu Peninsula is home to some prestigious winemaking regions, including McLaren Vale. The history of winemaking in this region goes all the way back to 1842, and it consistently produces some of the best drops you'll ever taste. There are also national parks, golf courses, top-quality cuisine and more.