Must-see places to visit in Tasmania.
Cradle Mountain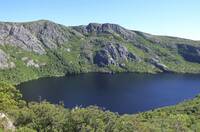 Cradle Mountain's jagged peaks are one of the most recognisable images of Tasmania's wilderness. Cradle Mountain is at the northern end of the 161,000-hectare (397,840-acre) Cradle Mountain-Lake St Clair national park, part of the Tasmanian Wilderness World Heritage Area. The Park is 2.5 hours west of Launceston (144 kilometres/90 miles) and 90 minutes from Devonport (83 kilometres/52 miles).
The sheer magnificence of Cradle Mountain inspired Austrian-born Gustav Weindorfer to build a chalet of King Billy pine here in 1912 and work tirelessly to have the area declared a national park 'for the people for all time'. His dream was realised in 1922, and today a quarter of all visitors to the state travel here to share his vision. You can take one of many short walks in the area to fully appreciate Cradle's magic. Stroll from cascading rivers to the dense, old-growth rainforest in just 20 minutes on the Enchanted Walk, walk the two-hour circuit of Dove Lake, or spend the day tackling Cradle Mountain's summit. Cradle Mountain is the starting point of the 65-kilometre (40-mile) Overland Track, a six-day walk finishing at the northern end of Lake St Clair. Guided walks are available, some staying in catered huts along the way.
Cradle Mountain is surrounded by smooth glacial lakes, ancient rainforests, and distinctive alpine vegetation. Australia's only deciduous tree abounds here. Fagus, also known as deciduous beech (Nothofagus gunnii), is endemic to Tasmania and has a magnificent autumn display, ranging from gold to deep red from late April to May.
The history of the Weindorfers' devotion to Cradle Mountain and their successful efforts to ensure its preservation as a national park is told in Weindorfer's Chalet, just off the road to Dove Lake. The park's natural history is detailed in displays and interpretation at the Visitor Centre, which you pass as you travel towards Dove Lake. A shuttle bus to Dove Lake departs from here daily throughout the year. Cradle Mountain's alpine location means the weather can be extremely changeable. Pack warm clothes, rain gear, a map and good walking boots for your visit.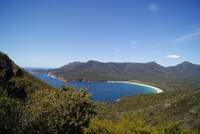 Freycinet National Park
The natural jewel of the east coast, Freycinet National Park has wonderful coastal and mountain walking, wildlife, wildflowers, sea kayaking, climbing, abseiling, offshore cruising to observe marine life and sea birds or just relaxing on the beach in the shade of she-oaks. Coles Bay offers a range of accommodation and camping options, and there's also a camping area with basic facilities just inside the National Park boundary. Don't miss the short walk to the Wineglass Bay lookout, Outside Magazine rates this as one of the world's ten best beaches.
To reach Freycinet, turn off the A3 11 km south of Bicheno and take a good sealed road 27 km south to Coles Bay. Watch for wildlife, especially at dusk or early morning.
Hobart
Tasmania's capital lies in the state's southeast, near the mouth of the Derwent River at the foot of Mount Wellington. The 19th-century waterfront warehouses for which the city is famous once bustled with whalers, soldiers, petty bureaucrats and opportunist businessmen. Now they house cafes, restaurants and studios and bustle with shoppers and visitors. Polished glass winks in the windows of settlers' cottages in nearby Battery Point, and brass doorknobs gleam in the lofty porches of colonial edifices.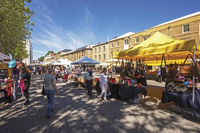 Hobart is a city of warm sandstone, bright spinnakers on the water, fish punts at the docks, the slap of halyards on masts, and coffee under the striped sun umbrellas of Salamanca where the famous Salamanca Market is held every Saturday. Square riggers still put out on the River, tacking among the yachts and fishing boats. Parliament House looks out on its lawns, once the market garden for old Hobart Town and historic Government House sits serenely in its park on the city's northern fringe, where the Governor's cows graze as they always have in their city-centre paddock.
Hobart's busy arts scene takes in art, craft, music and theatre at Salamanca Arts Centre and the surrounding warehouses. You can hang out to the sounds of South American flutes, pub rock, street buskers and string quartets, and classic and contemporary theatrical performances. In galleries and studios, our artists and craftspeople make bold and beautiful statements in pigments, glass, pottery and fabrics.

The city was settled in 1804 by Lieutenant Governor Collins and grew rapidly as the clearing house for British and Irish convicts. Its place on the Derwent River became the perfect protected deep water harbour, and now every December and January it welcomes weary and exultant contenders from the Sydney to Hobart Yacht Race.
Launceston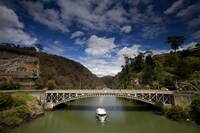 Launceston is Tasmania's second-largest city and sits at the junction of the North and South Esk Rivers. From here, the broad Tamar River valley opens north to the Bass Strait 58 kilometres (36 miles) away. Elegant historic streetscapes and century-old parks and gardens sit beside revitalised areas such as Launceston Seaport with its restaurants and cafes. A boardwalk links the Seaport to Inveresk, where you can visit one of Australia's best regional galleries, the Queen Victoria Museum at Inveresk.
With a population of 68,000, the city has a strong sense of identity. The boardwalk also takes you to the Home Point rowing course, skirting Royal Park and King's Park, passing Ritchie's Mill, with its galleries and restaurants, before zig-zagging into Cataract Gorge, a place of mystical beauty. Its steep, rugged cliffs and wild areas attract climbers.
Launceston is a good base for exploring the cool-climate vineyards of the Tamar Valley. From Launceston, you can also explore national parks such as Narawntapu (known for wildlife spotting) and Cradle Mountain-Lake St Clair, or the historic villages of Evandale and Longford with their grand old farms and mansions and Woolmers, Brickendon, Panshangar, and Clarendon.
The city was established in 1806, after the collapse of Port Dalrymple (now George Town) at the mouth of the Tamar. It was the Island's northern military base and a trading centre for wheat and wool farmers and over time as their wealth grew the city developed its grand vision.
Launceston's weather is temperate like most of Tasmania, averaging 24 degrees Celcius (75 degrees Fahrenheit) during the summer and 6 degrees Celcius (42 degrees Fahrenheit) on winter days. It is a major gateway to Tasmania and is 198 kilometres (123 miles) or 2.5 hours drive north of Hobart.
Port Arthur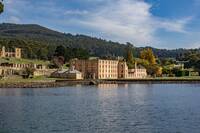 The village of Port Arthur is often missed because of the significance of the Historic Site, but there is so much to experience in the area that you may want to consider staying overnight, particularly as entry passes to the Site are valid for two days. Surfing, sea kayaking and bushwalking are popular, and the coastline is spectacular.
A short drive south of Port Arthur is Remarkable Cave, so called because its opening is said to resemble a map of Tasmania. From here you can walk to Crescent Bay, a secluded curve of striking beauty backed by huge sand dunes. Just 20 kilometres (12.5 miles) northwest is the Coal Mines Historic Site, where interpretive signs explain the harsh lives and working conditions of repeat offenders from Port Arthur who worked underground extracting coal.
Look out for DooTown, a quirky shack community devoted to homes with a theme: 'GunnaDo', 'She'll Doo', 'Humpty Doo' and many more. The settlement began life in 1830 as a timber station. In the years that followed, convicts created a small town of 1,100 inmates at its peak in the early 1840s.
Port Arthur's maximum average daily temperature is 18.5 degrees Celsius (65.5 degrees Fahrenheit) in January and 11.5 degrees (52 degrees Fahrenheit) in June.
Strahan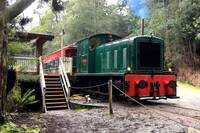 Strahan; for many, this name evokes a place with the true spirit of independence and of 19th-century pioners and miners and 20th-century protesters who stopped the damming of the wild Franklin River. Strahan is the major harbour town on Tasmania's west coast and the place to go if you want to explore the wild and beautiful World Heritage Area. It has a permanent population of about 900 and sits on the harbour's northern edge.
From Strahan, you can take a cruise across the 50-kilometre (31-mile) length of Macquarie Harbour and along the wide Gordon River. The West Coast Wilderness Railway takes you across a mountain range to Queenstown. Or board a seaplane to search out some of the remaining 1,000-year-old Huon pine and myrtle trees. Another way to explore the area is by four-wheel drive or jet boat on the King River. You can kayak the rivers and waterways, walk the long expanse of Ocean Beach, slide down a sand dune, or explore the forests by all-terrain vehicle.
Huon pine is probably the prime reason the area was opened up, and in the local craft shops, you can see elegant artefacts made from this resilient aromatic buttery yellow timber. In 1815, Captain James Kelly was the first European to navigate the 200-metre opening to Macquarie Harbour, named Hell's Gates by Sarah Island convicts. By 1822, Sarah Island was operating as a convict station. While it operated until 1833, it had a dubious reputation as being the worst convict prison in Australia. Strahan was founded in 1877.
Be prepared with all-weather gear because Strahan is all about wild weather. Strahan is about a 4.5-hour drive from Hobart along the Lyell Highway (A 10), or three hours from Devonport.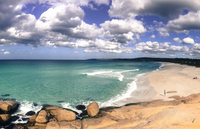 St Helens
St Helens is the largest town on the northeast coast with a population of about 2,000. The town is known as the game fishing capital of Tasmania, and each March the St Helens Game Fishing Classic is the highlight of the year for locals and an increasing number of interstate visitors. You can explore Binalong Bay and Bay of Fires from St Helens, which extend to Eddystone Point. The Bay of Fires (named by British Captain Tobias Furneaux who only saw the smoke from the fires of the local Kunnara Kuna tribe), has white sandy beaches and giant granite boulders and the area is popular with divers because of its kelp forests and underwater caves.
St Helens is a fishing port sheltered by Georges Bay and St Helens Point, a long headland with 1,066 hectares (2,500 acres) reserved as a public conservation area. The other side of the bay - Humbug Point - is also protected. The town was established in the 1830s when tin was discovered in the Blue Tier mountains. The history of the town and the region is told in displays in the St Helens History Room.