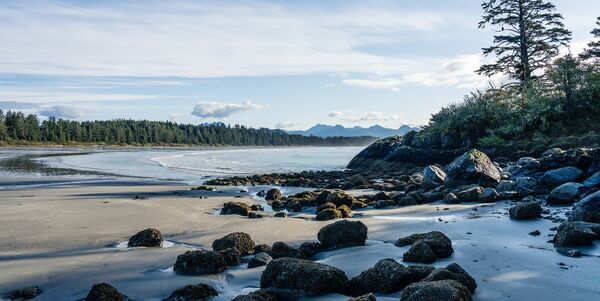 Bear Watching in a Covered Boat
Every day at low tide, black bears can be seen wandering out of the temperate rainforest and onto the rocky shores of Barkley Sound to forage for food. This natural behaviour provides an excellent opportunity to view black bears, often seen with their cubs, turning massive rocks is search of Rock Crabs and clams. Travelling along the stunning shoreline of the Sound provides a chance to see sea lions, seals, herons, eagles and lots of other wildlife in their natural environment. Approximately 2-3 hours.
Hot Springs Cove Tour
Learn about the areas fascinating ecosystems and rich history on the way to common feeding areas of whales, near Long beach or through the Broken Group Islands. Catch sight of whales spouting and experience first-hand, the innate characteristics of these mammals within their natural habitat. Travelling past the inspirational coastline of the sound presents many opportunities to view the sealions, harbour seals, pelagic birds, and lots of other wildlife offering something for everyone. Approximately 6 – 6 ½ hours.
Whale Watching in a Covered Boat or Zodiac
In this area you can most often view pacific grey whales. Humpback whales are seen throughout the season, with the heaviest sightings between June and September. Also see orcas (killer whales), approximately every 2-3 weeks, and enjoy views of sealions, sea otters, and other amazing wildlife while on the water. Approximately 2-3 hours.