One of the most unforgettable wildlife adventures to experience is whale watching. South Africa is a prime destination for whale watching, and the reason is simple - it's an absolute whale and dolphin haven!
Over thirty species have been identified off the South African coast, so you will undoubtedly encounter at least some of these magnificent creatures.
Whether you prefer to watch from land, sea, or air, there's a whale-watching experience tailored to everyone's bucket list. So why wait? Book your whale-watching adventure today on one of our South Africa motorhome holidays and be amazed by the beauty of these gentle giants of the ocean.
Hermanus, Western Cape
Hermanus, located in the Western Cape of South Africa, is a premier destination for whale watching. Just 2.5 hours from Cape Town, Hermanus is your ultimate destination for land-based and boat whale-watching, offering unmatched views of these majestic creatures.
Hermanus is a prime location for whales to visit and play because the deep water runs almost to the shoreline. This unique characteristic of the area provides an exceptional opportunity for whale watching and creates a truly unforgettable experience.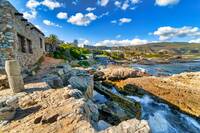 On a whale-watching tour, You'll have the chance to observe Southern Right Whales, Humpback Whales, and Bryde's Whales in all their glory, and with expert guides on hand, you'll learn all about these fascinating creatures.
Stunning coastline, crystal-clear waters and an abundance of whales, it's no wonder why it's known as one of the best whale-watching spots in the world. Imagine watching as these magnificent creatures breach, tail slap, and play just a stone's throw away from you. As well as whale-watching, the area has sandy beaches such as Grotto Beach with cliff-top walks. Plenty of food and drink facilities can be found in the area.
Other attractions include the whale museum, country market and a walk along the cliff path.
Available on:
Gansbaai, Western Cape
Further south, near Van Dyks Bay, is Gansabaai. This area is a popular fishing town with great white shark activity. Also to be seen is the population of Southern Right whales which congregate and give birth here.

Heading out from the cliffs of De Keldar and you may even see the Marine Big 5 in a single trip. These are whales, sharks, sea lions, dolphins, and penguins.
Gansabaai offers the best chance of seeing all these incredible creatures, perfect for wildlife and photography enthusiasts.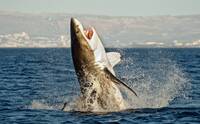 You can visit the Lomond Vineyards back on dry land for wine tasting. With a tasting room overlooking the Lomond Dam, you can enjoy food and wine whilst looking at the stunning scenery.
If that wasn't enough, how about a bike ride across the trails? Various routes depending on fitness, are available, but try these before you have any wine!
Available on:
De Hoop Nature Reserve, Western Cape
De Hoop Nature Reserve is a popular destination known for its incredible landscape and pristine coastline. Bordered by the Indian Ocean to the south and the Breede River to the northeast, the reserve enjoys a large number - some 40% - of Southern Right whales between June and November.

Home to 78 different species of mammal, they include; Cape Mountain Zebra, Common Eland, Bontebok, Steenbok, Cape Grysbok and Klipspringer.
For the ultimate whale experience, take the Whale Trail. Stretching over 55 kilometres, you'll spend six days hiking the unspoilt natural coastline (it is recommended that you are of at least moderate fitness to undertake this trail). Accommodation is provided en route, and your luggage is transported to the next cottage for you.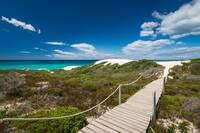 If that sounds too much, how about taking a guided marine tour and exploring the coastal rock pools, dunes, sandy beaches, and rocky shores? Your guide will show you an underwater world, showcasing the vibrant marine life that call these tropical shores home.
From orange starfish and mysterious purple sea urchins to the Southern Boubou or rare Malachite Sunbird, there is plenty of native wildlife to observe. Even flamingos are viewable.
Unesco-listed Cape Floristic Region boasts around 20% of all flora found in Africa, with half of these found nowhere else on earth. It is the smallest of the six floristic regions worldwide and is truly a wildlife spectacle and should be factored into your itinerary if time allows.
Whale-watching anywhere in the world is a fantastic experience, but South Africa is the go-to destination for the activity. Our tour experts can help you book a suitable tour for you in line with your schedule. With incredible scenery at almost every turn, you'll have an unforgettable experience.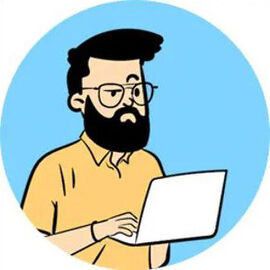 Peter Stannett
Content Writer
Peter is our content writer and SEO specialist, helping keep our content current and monitoring website traffic.
His content covers all four corners of the globe, across topics like activities, advice, food, culture and history.
More by Peter Stannett