New Zealand is one of those places that many people dream of visiting at least once in their lifetime and we can understand why.
It isn't just the breath-taking scenery, the many natural wonders to see and experience or the fantastic people and culture, New Zealand is a place to discover and adventure in, a place to make memories to treasure for a lifetime and somewhere that once visited will never be forgotten. With a host of must-see places in New Zealand, there is sure to be something for everyone to enjoy and explore.
The best way to see all that this beautiful country has to offer is on the open road. With wide-open roads, a straightforward travel system through the beautiful countryside there is no better option! Choosing a motorhome or caravan holiday offers you the freedom to see more of the best places New Zealand has to offer while ensuring you see as much of the impressive landscape and scenery as you can while there.
With such a high number of places to visit it can be challenging to choose the perfect itinerary but we have created some of the best guided and non-guided tours and routes for you to choose from and tailor to your needs. These are some of our favourites places that are must-see destinations in New Zealand.
The Beautiful Southern Alps
Running along the Western side of the South Island is where you can see the impressive mountain range the Southern Alps. Snow-covered mountain tips and glacial lakes are just some of the sights to see in this stunning area. As you traverse through the ever-changing scenery of New Zealand, this impressive mountain range is a must-see. With 500km of stunning mountain range to explore it would be hard to miss on your travels!
High peaks tower above you covered in snow giving way to valleys with tumbling streams, mossy banks and woodland. The trip through mountain valleys are interspersed with glacial lakes, and you can see it all from the open road with the odd stop here and there. Make sure you take the time to plan in a stop or two along the way to explore and take photographs. There are plenty of places to choose from, so stopping won't be a hardship at all. Take some time to explore Mount Cook National Park and take a tour of the glacial lakes for experiences never to forget.
Most of our New Zealand motorhome and caravan itineraries take in this impressive area with time to stop and explore along the way. Our itineraries have been created to ensure that you get to see the best must-see places in New Zealand, so take a look and start planning your next holiday.
Pancake Rocks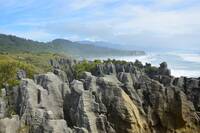 Along the west coast of New Zealand, you can find Punakaiki, a small community with an impressive claim to fame. This is a place like no other, formed over time by nature and the sea, Pancake Rocks is an area of natural wonder created over millions of years. These oddly shaped limestone rocks are made from layers of limestone that form the unique 'pancake layers' that give it the name Pancake Rocks. This interesting structure has been created by erosion over time where to sea bursts through geysers at certain times and tides to give an impressive display. There are lots of natural walkways created for you to walk through and explore the fantastic array of natural limestone structure and bursts of water gushing from blowholes.
While you are in the area, there is more to explore. The local area, Punakaiki is a small community, but it has much to offer a visitor including a beautiful coastline, rivers, lagoons and even a lush sub-tropical forest.
It is no wonder that this area of New Zealand has become a high priority for visitors to experience! You can take in the sights of this beautiful area as you travel through our New Zealand Discovery Tour.
Fox & Franz Josef Glaciers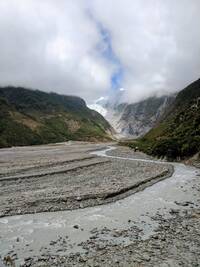 Witness on our New Zealand Discovery tour, as well as our South Island Discovery and Wonders Of New Zealand tours, the unique sights of the Fox and Franz Josef Glaciers. These are a sight to behold. Twin rivers of glacial ice make their slow journey down the mountains and to the sea, an unusual thing to witness in today's climate but in New Zealand, the conditions in this area are perfect for the glaciers to still flow almost to the sea.
The majestic glacial beauty of the rivers snaking their way through ancient river valleys is not something you are likely to see anywhere else. The best way to see these is by guided tour. Which allows you to make the most out of this unusual and natural wonder and explore the wonders of ice and snow by foot or in some cases even by helicopter ride! This is an experience you won't want to miss.
The City Of Sails - Auckland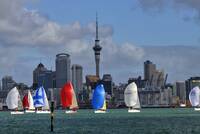 No trip to New Zealand should miss this bustling city, the largest that New Zealand has to offer. This city is full of exciting sights to see, people to talk to, places to go and stay and food to taste.
Nicknamed 'The City Of Sails' because of the popularity of sailing in the area with many people choosing this area as their sailing and yachting home. This is the perfect opportunity to book a tour and take a look at the island from the sea and explore some of the surrounding areas and islands.
Despite its status as a city, Auckland has much to offer for scenery. Hiking, beaches and even trips across to the islands surrounding the coastline are available in this wonderful area. If you want to spend some time exploring the city you can take a journey through the tourist sights and do some shopping too.
There is more to Auckland than sailing, scenery and shopping, and it is ideally situated for a relaxed city exploration as you unwind after a long flight. That is why this is the start of our Wonders Of New Zealand Tour. You have the opportunity to spend some leisure time exploring the coastline and urban areas before beginning your road trip through New Zealand.
Abel Tasman National Park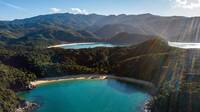 Along the journey of our Grand New Zealand tour, you can stop by the smallest national park in New Zealand - the Abel Tasman National Park. It might be small, but it is perfectly formed and one of the best places in New Zealand for a leisurely time discovering the delights on offer in the area.
With beautiful ocean with inviting sandy beaches leading up to stunning mossy valleys and native woodland, this is the perfect area for a leisurely walk to take in the scenery and diverse natural wonders this impressive country has to offer.
If history and culture are among your interests, then this stunning, scenic area has you covered! You can start your hike at the beautiful sands of Te Pukatea Bay and walk through the landscape to Pitt Head which is an ancient fort site where you can explore the area and see the signs of an ancient culture living and defending this spot.
Waitomo Caves - The Glowworm Caves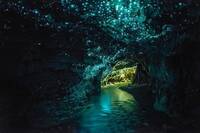 Situated on the North Island, you can find the village of Waitomo which is most famous for an underground cave system, naturally formed over time. Feel the wonder and magic as you take a pre-booked boat ride that tours some of the most famous of underground areas in New Zealand. The naturally hollowed out caves are a sight to see on their own, with interesting and uniquely formed shapes and hollows, but when they are lit up by glowworms, they are transformed into something truly magical.
Take your pick of caves that boast waterfalls, lakes and natural limestone structures formed over millions of years to create this natural wonder. There are plenty of guided tours on offer from slow, leisurely boat rides, the walks and even more exciting watersport options. This area is a must-see on your New Zealand Adventure.
Image credit: 2il org/CC BY 2.0.
Hobbiton and Waitomo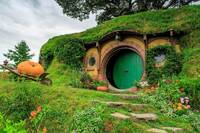 Not far south of Auckland hidden away in the rural area of Waitomo is the place famous for housing the hobbits in the popular Lord Of The Rings and Hobbit Movies.
Visit the Shire with a visit to sets from the movies, have pictures taken in front of Bilbo Baggins' front door and even visit The Green Dragon for an ale or two! A fantastic opportunity to see some of the sights made famous by these movies against the backdrop of the beautiful and majestic New Zealand scenery these movies featured.
Waitomo has many wonders and attractions to see in addition to Hobbiton, including the glowworm caves already mentioned and the historic places important in Maori culture. You can visit and explore this ancient culture while enjoying the stunning scenery and landscape of the area. All of these sights are available to see on our Grand New Zealand Caravan tour, the perfect way to see the best that New Zealand has to offer.
Whale Watching In Kaikoura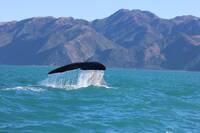 If you are looking for an area abundant in wildlife and are hoping to catch a glimpse of a majestic whale or two, then Kaikoura is the place to go. This East Coast community is the perfect place to see spectacular sea life with its population of sperm whales, fur seals and birds close by.
There are many tour operators in the area offering different options for catching sight of the wildlife or exploring the stunning scenery this wildlife hotspot is famous for. This is the perfect place to spend a day or two hiking or hiring a mountain bike to leisurely explore the local surroundings.
If you prefer a more active adventure, this is the place to explore many an outdoor pursuit with kayaking, helicopter rides, seal swimming and more available.
Take a look at our New Zealand Grand Caravan tour for information on an itinerary that includes Kaikoura.
The Capital Of New Zealand - Wellington

As you travel through New Zealand on our Wonders Of New Zealand tour take a stop in Wellington, the nations capital city. This is a compact city full of life with many things to see and do. Visit the waterfront promenade, explore the sandy beaches and view the stunning hills that surround the city.
For a tourist destination, this city has a lot to offer and is the perfect place to stop and enjoy one of the urban areas that New Zealand has to offer. You can take a cable car from the quay to the Wellington Botanic Gardens and see the city from above on the way!
For a small, compact city, Wellington has a lot to offer. A day or two in this area provides the perfect opportunity to take a rest from driving and with so much to see and do you will be spoilt for choice.
Tour New Zealand by Motorhome Or Caravan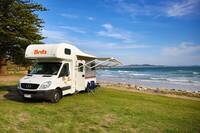 These are just a few of the wonderful places you can visit in this majestic country and there is no doubt about it that the best place to take in all of these sights and more is by hitting the open road. This gives you the freedom to explore all that this stunning and diverse country has to offer and make stops at the must see attractions and beauty spots along the way!
Alan Rogers has over 40 years experience developing and creating the best holidays and experiences. Our worldwide tours have a variety of options and destinations to choose from, You can choose to tour New Zealand by caravan or motorhome on your own using one of our preplanned and booked itineraries or by choosing to have the support of a tour host with one of our guided tours. The choice is yours and we are on hand to help plan your perfect holiday so you can have the trip of a lifetime full of memories to cherish forever.
Take a look at our New Zealand caravan and motorhome holidays here or take a look at the other amazing destinations and holidays we have on offer here.
Make sure to check out part 2 of must see places in New Zealand.