For an unforgettable motorhome holiday with a variety of amazing experiences, stunning landscapes and wonderful people, there is no destination quite like Australia.
This continent has a rich history and culture to explore in a beautiful setting that makes it the perfect destination for a holiday of a lifetime.
With so much to see and do it can be tricky to know where to start! You want to pack in as much as you can on your holiday, and there are so many choices to make. An urban holiday taking in some of the rare city treasures this continent has to offer? Or an exploration of rainforests or stunning coastline?
The vast and varied array of things to see and do is why choosing a guided motorhome holiday is a perfect choice. You can pick from our selection of Australian motorhome holidays that offer the type of sights you want to experience the most and hit the road with a luxurious motorhome. This allows you the freedom to traverse and explore the varied landscapes and scenery as you drive from destination to destination but ensures you have plenty of stops in between to make sure you see the best sights that Australia has to offer.
The benefits of a guided motorhome holiday in Australia are many! So, whatever it is that you choose to do, make sure you get the most out of your holiday.
A Guided Motorhome Holiday Is The Best Way To See All That Australia Has To Offer

Australia is a stunning continent with a host of natural wonders to see, spread over its 7,692,024 square kilometres. With such a vast landscape, there are so many different experiences and adventures to have that it is impossible to see the best Australia has to offer if you stay in one place for the entire duration of your holiday!
The best way (and in our opinion, the only way) to see as much of this beautiful continent is by hitting the open road. Even by choosing a guided tour, there are some choices to make about what you want to see and do, but it is by far the best option for packing the most into your holiday of a lifetime.
A motorhome guided holiday offers you the chance to pick out the places you most want to see and then choose a guided tour with an itinerary to match! For example, travel through an impressive range of ever-changing scenery that stops at some of the best places to see on on of our Australian motorhome holidays. A very different experience than a beach holiday where you stay in once place. With a Worldwide Tour, you can easily choose the holiday of a lifetime to suit you and the things you want to see on your big adventure, but that is just the start!
Having plenty of opportunities to stop to take in the sights and tourist spots are just the highlights of a guided tour. There is so much more a guided tour has to offer than an itinerary of must-see places. The real beauty of this style of holiday is the bits in between the stops where you are travelling through the hidden spots and scenery that people often miss on a traditional trip to Australia. With a guided tour, you have the benefit of a wonderful itinerary created for you, support of a host and you still have the freedom to stop and explore when you find a hidden treasure!
There is no better way to see Australia than on a road trip with a guide to help you find the best places and offering support when you need it. Here are just a few of the reasons why we believe a motorhome guided tour through Australia is the best option to choose.
You Get The Support Of Experienced and Knowledgeable Tour Hosts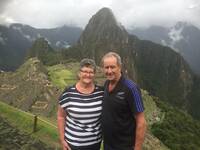 Going somewhere new can be daunting, especially if it is somewhere you haven't experienced before. Australia is a huge place, with a lot of different cultures, climates and road systems to work out. By choosing a guided tour, you have the best of all worlds. Freedom to explore this beautiful country while always knowing you have the support of a guide tour host on hand to give you information about the places you are going or want to go. They are also there to offer a helping hand and support when needed.
Each tour guide has a unique way of running the tour, but all are experienced in hosting tours and have a host of knowledge to offer for you on your holiday. Read more here about our knowledgeable hosts who make our tours so unique.
The support of a tour host is invaluable, especially when you are driving through terrain and on roads different to those back home. Hosts are ready to help with support when needed; this includes anything from offering advice on any issues you may have, to fixing or arranging for help on the rare occasion that any minor motorhome repairs need carrying out. They are the go-to person when you need some advice and can chat with you about the places they plan to take you to and can often show you those hidden gems in areas that many tourists never get to see.
Our hosts who help deliver our fantastic tours have bags of experience hosting tours. They are knowledgeable about the route they provide and can give recommendations and advice on your guided holiday.
Peace Of Mind - Everything Is Organised For You
With so many options to choose from, booking a motorhome tour can be a complicated task. With a guided tour, these stresses and strains are taken care of for you. Here at Alan Rogers Worldwide, we have a dedicated team ready to offer advice and help you as you plan your motorhome holiday.
You can pick out a fantastic pre-planned holiday to the perfect destination of your choice that offers you to see the sights you want to experience the most and the itinerary will be all planned out for you in advance. This gives you the time to do any research and planning you want to for each stop on the journey to make it a memorable stop tailored to the things you like to do. You won't have to to worry about the more challenging aspects such as where to stay, pick up supplies and how to get there as our team have already sorted everything out.
With all the guided tours we provide, your flights, transfers, hotels and campsites can be arranged and booked for you too. The perfect way to explore somewhere new without the hassle that organising a holiday can bring.
Alan Rogers Australian Guided Tours offers all these as standard for a hassle-free holiday and has a few extras to make an excellent holiday perfect. As part of the package, we also provide some additional excursions with local guides as well as some tours with lunch included. We also include a welcome and farewell dinner so that you can spend some time with like-minded people who are likely to become friends for life as you experience this big adventure together.
You Meet Some Amazing People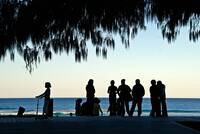 A guided tour offers you the opportunity to meet like-minded people from all kinds of places and backgrounds. The people you meet all have a love of the same places and interests as you. They chose the same holiday, after all! Experiencing a once in a lifetime trip together is the perfect way to make new friends for life. Many people want to remain in contact with their new friends and even continue to go on fantastic holidays together for years after their first trip.
It won't just be your fellow adventurers that you meet and form friendships with. Your tour hosts are friendly, knowledgeable and will soon feel like part of the family to you too! Not to mention the amazing people you will meet along the way. From local tour guides showing you around some of the best sights that Australia has to offer, to the people you meet as you chat to the friendly locals. You will meet plenty of interesting characters that will leave a lasting impression on you.
Australia has a diverse range of culture and people for you to meet and make friends with. Many of them will love to spend a little of their day chatting to you about the local area and offering you the best tidbits of advice about the best places to go, things to see or foods to eat.
Travel In Comfort and Style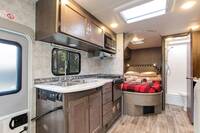 Perhaps one of the most important aspects of a motorhome guided tour holiday is the motorhome itself. Your motorhome will be your constant companion throughout the time you spend in Australia. It gives you a comfortable place to sleep and relax in. It also ensures you a robust, safe and comfortable trip whenever you hit the road and travel to your next destination. It will be where spend most of your time travelling, eating, sleeping and relaxing on your holiday.
At Alan Rogers Worldwide we arrange a choice of motorhomes for you to book and have ready and waiting for you when you reach the start of your road trip. There is no worrying about getting your motorhome over to Australia or trying to find the perfect motorhome to hire - we have taken the hard work out of this for you. For some guided holidays we have chosen the best option for the journey and terrain, but for other holidays you can choose from a variety of options.
We have a variety of motorhomes available for our Australian guided tours, and all of them come with fantastic features for your comfort and to make your journey as pleasant as possible. Each has its unique style and options, so when choosing your holiday take a look at each option to decide what works best for you.
You are going to be spending a lot of time in your motorhome, and this is taken into account with the choice available. Many include air conditioning, washing and toilet facilities, DVD players, solar electricity and even wifi and GPS! All the comforts at home in a compact space you can take with you wherever your Australian adventure takes you.
A Fully Supported Trip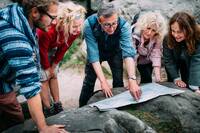 One of the reasons that a guided tour is the best way to see Australia is just how much support you receive right from the planning stages up till the last flight home from your trip.
Not only do you have the helping hands of your host tours but our dedicated team are experienced in the holiday and travel industry and are here to help you with any questions you have about your trip. They can help you to plan out the perfect holiday to your dream destination for you to remember forever.
We select our motorhomes and caravans with the trip you will be taking in mind. Designed for both comfort and your safety and can include hire, insurance, unlimited kilometres and admin fees, decreased liability and equipment in the price. All designed to make your journey more comfortable. Your trip is fully supported by hiring the perfect motorhome chosen from our selection.
We work hard to ensure that our guided holidays will be experiences that will never be forgotten. You are fully supported throughout the experience, and with all the hassle and worry taken away, you are free to make memories to treasure for a lifetime.