The twentieth century was one of the most influential periods in music history, turning out hundreds of iconic cultural figures and changing the face of the industry forever. But one name stands out more than the rest...
We all have favourite music artists, favourite genres and favourite tunes so its always difficult to put together a list of your absolute favourites but some musicians are so big, so successful and, in turn, so iconic that they become legends.
After WWll, the US became the hub for music, dance and teenage culture. Names such as Jonny Cash, Chuck Berry and Bing Crosby exploded on to the scene but none were quite as big, quite as legendary as Elvis Presley, a young, energised singer from Tupelo, Mississippi.
Our Rhythms of the South Independent motorhome tour allows you to visit these iconic and historic attractions. Hardcore fan? Let us know and we can tailor your holiday with this in mind!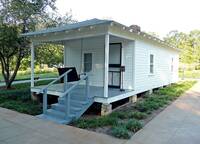 First steps
Anticipating the arrival of his two sons, Vernon Presley built a small two-room house at 306 Old Satillo Drive in Tupelo, Mississippi. Elvis was born on 8 January 1935, his identical twin brother Jesse was delivered 35 minutes prior, stillborn.
The house, now located on the aptly-named Elvis Presley Drive, remains in-situ, despite a category 5 tornado sweeping through the area in 1936, and being nearly a century old. It forms part of the Elvis Presley Birthplace historic museum site together with a chapel, museum and Assembly of God Church where the family worshipped, and he found his musical Inspiration.
The site, including the house, is open to the public. Find out more at elvispresleybirthplace.com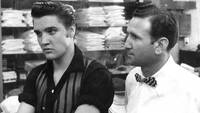 Old stomping grounds
Lansky Brothers is a clothier in Memphis that rose to prominence as being the outfitter of the King, creating Elvis' signature style and becoming his go-to stylist for much of his career. The store, established in the late 1940s, is still open and sells men's and women's clothes as well as Elvis merchandise and reproductions of Elvis outfits.
Coletta's Italian Restaurant, Memphis' oldest restaurant, established in 1923, was frequented by Elvis who loved their BBQ pizza! You can still dine here, surrounded by photos of the King himself.
1034 Audubon Drive After his number one hit "Heartbreak Hotel", Elvis purchased a home for his family in leafy East Memphis. An upgrade from his primitive childhood home, the house had four bedrooms and he had a pool installed in the backyard. Just 13 months after moving in, Elvis was forced to relocate due to the constant crush of fans and photographers. The house is now a private residence but one can drive by or catch a tour of the area.
Sun Studio In 1954, a young Elvis Presley walked into this studio and recorded "That's All Right". It changed the way the world listened to music. Sales went through the roof and it was soon realised that a national record label would be needed to fulfil Elvis' full potential. Colonel Tom Parker acquired the contract from Sun Studio for $35,000, a sum that at the time, was unheard of for a yet unproven artist.
A palace fit for a king
In 1957, with his newfound fame and increasing worth, Elvis gave his parents a budget of $100,000 to find a suitable property that would allow him to escape the crowds. They found a plot located several miles south of Memphis, in a then undeveloped area called Old Hickory Hills. The property, build in the Colonial Revival style in 1939, had a substantial buffer space around it and was surrounded by rolling pastures and a grove of oak trees. Elvis purchased the property and moved in not long after.
Prior to Elvis' wedding to wife Priscilla, the couple lived at Graceland for five years. A little under a year after the marriage, Lisa Marie was born and spent her early childhood on the estate.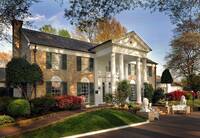 Visitors to the estate today can tour the house, getting a glimpse of the famous Jungle Room, discover Elvis' custom jets and car collection and get full access to the Memphis Entertainment Complex.
The tour of Graceland Mansion includes the living room, his parents' bedroom, the kitchen, TV room, pool room, the famous Jungle Room, his father's office, the Trophy Building, the Racquetball Building – newly-restored to how it looked in 1977, and Meditation Garden. Find out more at graceland.com.

Elvis died at the property in 1977. He is buried in the Meditation Garden alongside his parents, grandmother, twin brother and his grandson, Benjamin Keough, who died in 2020 aged just 27.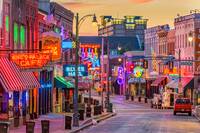 Pay tribute
Memphis Rock 'n' Soul Museum Located in Beale Street, this music museum tells the story of "the musical pioneers who overcame racial and socio-economic obstacles to create the music that changed the cultural complexion of the world". Curated by the Smithsonian Institute, it features artefacts from Elvis' life as well as many other artists from Tennessee.
Elvis statue on Beale Street One of Memphis' biggest attractions, Beale Street is a significant location in the city due to its history. From the 1920s, a new musical style called Memphis Blues started to emerge with artists such as Louis Armstrong, Muddy Waters, Albert King, Memphis Minnie and many other blues and jazz singers performing in the bars that line the street. Nowadays, the street is full of bars, restaurants, stores and museums, as well as live music and a statue of the King of Rock and Roll.
Memphis Music Hall of Fame Just off Beale Street in the Historic District, the Memphis Music Hall of Fame commemorates and honours musicians for their lifetime achievements in music. Inducted alongside Elvis are performers such as Al Green, Otis Redding, Memphis Minnie, ZZ Top, Johnny Cash, Albert King, Justin Timberlake, Roy Orbison, Aretha Franklin, Eddie Floyd, Tina Turner and Dee Dee Bridgewater.
In the meantime...
Why not watch Baz Luhrmann's new biopic titled 'Elvis' chronicling the life and legacy that the King lived and left, featuring Austin Butler and Tom Hanks. Watch the trailer below...
A tailor-made Southern States motorhome holiday for music lovers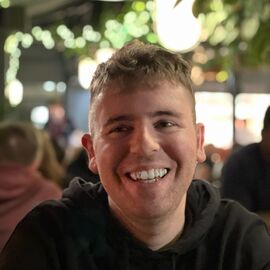 Ben Tully
Visual Design & Content Creation
Ben deals with all things design, working on the visual design of our annual guides, Destinations magazine, information leaflets, social media and email campaigns, and much more across the Alan Rogers, Rallies and Worldwide brands. He also produces written content for our blogs alongside our other contributors.
More by Ben Tully