America's incredible diversity is best explored on a motorhome holiday, choose where you want to stop, how long you want to stay for and travel at your own pace.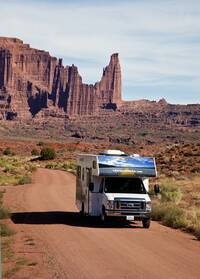 Driving Licence
The type of licence you are required to carry will depend on which state(s) you are driving in. Some will allow you to present your foreign licence only, while others require that you also present an 'International Driving Permit'. You will definitely need an International Driving Permit if your licence is not written in the English. We recommend that you research each state's requirements before you leave home and start your U.S. motorhome holiday. If in doubt, get an International Driving Permit!

Vehicle Pick-Up
Like in many countries it is not possible for you to collect your motorhome on the day that you arrive into the USA; so you will need to spend a minimum of one night in a hotel before your rental can start and in order to get some rest before your adventure begins. We recommend that on the first day of your hire that you do not plan to drive too far as by the time you pick-up the motorhome, have had a demonstration of how it works and have picked up some groceries, the afternoon will normally be well under way.
Fuel
Fuel prices in the USA vary from state to state. Please click here to view current fuel prices.
Traffic
Federal law requires all vehicles to be equipped with seatbelts, but the rules surrounding seat belt usage are slightly different in each state. In some states, it is a secondary offense to travel without a seatbelt, while in others, it is a primary offense. In addition, some states require all passengers to wear a seatbelt, while other states only require passengers in the front seat to do so, if in doubt wear it!
Americans drive on the opposite side of the UK so please remember to take extra care particularly on the first few days of your trip.
Restrictions apply to driving while using a mobile phone but again these vary from state to state. To be safe, we recommend pulling over in your USA motorhome to answer or make any calls, or use a hands-free system.