Planning your holiday in Canada is an exciting time. Deciding where to go and where you will be staying is just the start, and it can be a little tricky to narrow it down - there are just so many great options! But don't panic; there's a way you can see just as much and have a great adventure - opt for a motorhome road trip.
Canada has a network of about 900,000km of wide and open roads. Even if you aren't experienced in driving in other countries, you will soon find that the beautiful scenery and easy-to-navigate roads are nothing to be apprehensive about.
For a holiday of a lifetime, you can't beat a Canadian road trip adventure. It is the only way to see and do everything you want. So instead of choosing a holiday in one place, head out onto the open road. Along the way, you can stop and view the best sights, add in some thrilling activities, and experience everything Canada offers.

Once you have decided that a road trip is the holiday choice for you, you need to decide on your route, itineraries, and what you want to see the most. We can help narrow down your options, so take a look at these three awesome Canada road trip adventures and start planning your next holiday.
A rocky adventure
If adventure is your priority, there is plenty available in this stunning mountain range. Whatever your choice of activity, whether it's a hike through magnificent scenery or something a little more exhilarating, you will find it in the Rocky Mountains.
On your road trip, you can not only marvel at the spectacular mountain peaks and valleys, but you can stop at some unique places and enjoy the local culture, tourism and wonderful things to do. Why not consider including some of these options?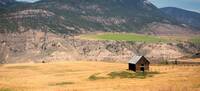 Cache Creek
Cache Creek was once the place to go if fur was your trade. This was the perfect stopping place for traders as they travelled, and it is thought that the name Cache comes from the fact that it was used as a storage place. This was also the perfect place for gold diggers to gather, and although it was inhabited mainly by Canada's First Nations, this is a place with a fascinating history and culture to explore.
Although the industry has changed, this is still a place worth experiencing. To get here, you travel through desert-like terrain (complete with tumbleweeds) until you get to the Oasis town. Once here, wander through the market or explore the wonders of the gold rush days.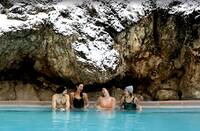 Radium Hot Springs and the Glacier National Park
If you are heading through Mount Revelstoke National Park, not too far from Banff, take a quick detour to the Radium Hot Springs. These are a tremendous experience and are situated in Glacier National park.
There are plenty of opportunities for amazing hikes through sublime scenery. If you are looking for something a little more adventurous, you could take the opportunity to bike, ski, or find an adventure tour to experience a little excitement in the great outdoors.
One thing you can't miss is a visit to the Radium Hot Springs. These thermal springs are naturally heated underground to up to 44 Celcius - perfect for soaking and relaxing those muscles after a long hike or day spent skiing.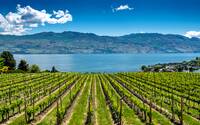 The Okanagan Valley
For a change of pace, you can visit the Okanagan Valley in British Columbia. This area is famous for its fruit orchards and the wine produced here.
The Okanagan Valley is a beautiful, lushly green area with a mountainous backdrop and beautiful blue lakes and waters. It is the perfect place to visit for a relaxing afternoon. Park your motorhome in one of the fantastic campsites and head to Oliver, the wine capital of Canada and enjoy a glass of wine (or three)!
We have three incredible itineraries you can choose from that take you on an out-of-this-world trip through the best that the Rocky Mountains offer.
Our Canadian Rockies Tour is an escorted motorhome tour that takes you on a circuit that begins and ends in Calgary. On the way, you will see heavenly scenery and astonishing mountain peaks. Spend your days exploring the best this beautiful area offers.
The Road to the Rockies Tour offers you an awesome itinerary and plenty of opportunities for adventure as you travel through the heart of the Rocky Mountains. On this holiday you can choose your own adventure and explore it at your leisure.
Want to see as much of the Rockies as you possibly can? We recommend choosing our Best of the Canadian and American Rockies holiday. You start and end in Calgary, but in between, you travel through both Canada and America on your mountain adventure.
Canada's Sunshine Coast
The Sunshine Coast is a beautiful area that offers you a slightly different view of Canada. Tucked into a 180km stretch of beautiful scenery, rainforest and beaches in British Columbia, it is certainly something you won't want to miss.
This area of Canada doesn't experience the weather and climate we think of as iconically Canadian. Instead of blistering winters and lots of snow, you can experience mild winters and dry, warm summers. It truly is a little slice of paradise.
Don't miss out! Take a look at these fantastic places on Canada's Sunshine Coast.
Ucluelet
Ucluelet is a natural paradise. The name means 'safe harbour', which is the perfect description of this gorgeous area. While you are here, why not take the opportunity to go whale watching? Or, for something a little different, try your hand at bear watching.
Whilst Ucluelet is the perfect place for rest, relaxation and recuperation, there is plenty more on offer. Go surfing, take a hike, get on a bike or boat, or even try your hand at zip-lining. Fantastic to keep even the most adventurous at heart occupied.
Lund
To experience a seal life adventure you will never forget, head to Lund. This might seem like a small town, but it is a superb seaside town that acts as a base for exploring the seas and wildlife in this area and the beautiful Desolation Sound National Park.
You can stop for a cosy meal in Lund and then head out on a whale-watching cruise! You might see sea lions, seals, porpoises, and plenty of marine birds if you are lucky.

We have a holiday motorhome tour that is perfect if you want to explore these and everything else that Vancouver Island and the Sunshine Coast offer. This is an escorted tour that ensures you have the best holiday possible. You can take in the awe-inspiring scenery in comfort as you head out on your Canadian road trip.
A Maritime Adventure
A lesser-known area of Canada is the Maritime Provinces of Nova Scotia. If you want to head to somewhere a little different and experience something new, then this hidden gem of a holiday road trip has something for everyone.
You can marvel at the dramatic scenery with its rugged cliffs and coastlines as you travel around the island. If you fancy a break, stop at one of the attractive sandy white beaches, head to one of the national parks or detour to some of these must-see places.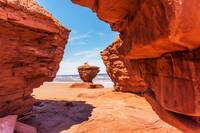 Prince Edward Island
Prince Edward Island is a short trip from the mainland via a ferry and is well worth exploring. This easy-to-explore maritime island is a lush green paradise, perfect for an easy and relaxing trek. While here, you can take a trip to flowerpot rocks and get a selfie with these fascinating rock formations.
Lover of literature? Explore Cavendish, the inspiration behind the classic novel Anne of Green Gables. While here, learn about some of the heritage that helped shape the famous children's book.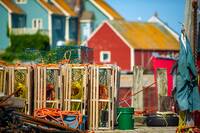 Peggy's Cove and its lighthouse
No visit to Nova Scotia would be complete without a trip to the most photographed spot in Canada. The famous lighthouse is situated on St. Margarets Bay.
Peggy's Cove is a small but picturesque rural community with a thriving fishing community. This is the perfect place for a quiet stop to snap a picture of the lighthouse and explore the rugged shorelines but make sure to take care; the seas can be dangerous.
Want to explore Nova Scotia and experience this hidden gem? Travel through magnificent mountain passes, luscious forests and along the dazzling coastline. Please take a look at our Maritimes motorhome holiday.
Take some of the difficulties out of your trip by booking one of our fantastic holiday tours. You will still need to be aware of the rules of the road, but where you will stay, and your itinerary will already be planned out for you. Take a look at our motorhome and caravan holiday tours in Australia, New Zealand, Southern Africa, USA and Canada. Each one is tailor-made to ensure you have a holiday of a lifetime.
Other useful information

Read our frequently asked questions.

Follow us on Twitter, Facebook and Instagram for inspiration, news and tips.
Request a brochure using the form below or contact our team.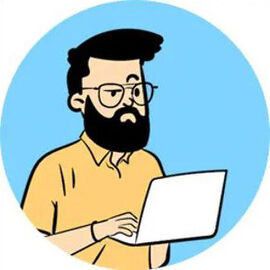 Peter Stannett
Content Writer
Peter is our content writer and SEO specialist, helping keep our content current and monitoring website traffic.
His content covers all four corners of the globe, across topics like activities, advice, food, culture and history.
More by Peter Stannett