Must-see places to visit in British Columbia, Canada.
Vancouver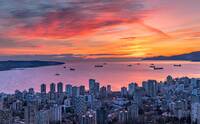 Vancouver is a bustling west coast seaport in British Columbia and is one of the densest and most ethnically diverse cities in Canada. Being surrounded by mountains, it's a popular filming location and also has thriving art, theatre and music scenes. The Vancouver Art Gallery is known for its works by regional artists, while the Museum of Anthropology houses pre-eminent First Nations collections.
Stanley Park has 1,000 acres of forest, trails, playgrounds, pools, beaches and the Vancouver Aquarium, all ringed by a pedestrian seawall. Its neighbourhoods range from vibrant ethnic centres such as Chinatown and Punjabi Market to historic Gastown, with its famous steam clock, and Granville Island, known for its shops, bars, theatres and big public market.
Across Burrard Inlet in the North Shore is the 70m-high Capilano Suspension Bridge, dating to 1889, and the ski-and-snowboard destination Grouse Mountain, whose Skyride gondola offers panoramic views of the entire region.
Victoria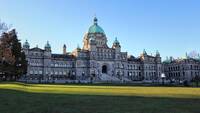 Victoria is the capital of British Columbia and is located at the southern end of Vancouver Island. The city's British colonial past shows in its Victorian architecture, including stately Craigdarroch Castle mansion. Butchart Gardens, with 55 acres of vivid floral displays, plus statuary, water features and a carousel, is one of many formal gardens in the city.
Victoria's boat-lined Inner Harbour is flanked by the imposing, domed Parliament Buildings, Royal British Columbia Museum and the grande dame Fairmont Empress Hotel, famed for its traditional afternoon tea. Parks scattered throughout the city include historic Thunderbird, site of First Nations totem poles, and the sprawling, amusement-filled Beacon Hill.
The city's mild climate makes it a popular destination for biking, hiking, diving, surfing and kayaking. It's also home to contemporary restaurants emphasizing local ingredients.
Kamloops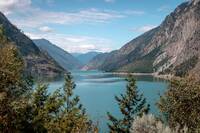 Kamloops is one of Canada's sunniest destinations and boasts over 2000 hours of glorious sunshine a year. In the summer months, it opens up for spectacular hiking and biking trails through the rugged sandstone canyons, forests, and rivers, while the city's leafy downtown has a wealth of shops, restaurants, and bars to explore.
Kamloops is also home to more than 100 lakes, so exploring the shimmering waters on canoes, kayaks or river-rafts is something readily available for visitors. If you prefer to stay on dry ground, as well as the many hiking and biking trails, you can also head off into the hills on horseback for a real Canadian adventure. Although not traditionally known as a prime wine-producing area, Kamloops is slowly making its name known and now has several successful wineries in its region which you can take a leisurely tour around, and of course stop to sample the delicious produce.
Revelstoke
The city of Revelstoke is located to the west of Calgary in Alberta on the banks of the Columbia River just south of the Revelstoke Dam and near the confluence with the Illecillewaet River. East of Revelstoke are the Selkirk Mountains and Glacier National Park, penetrated by Rogers Pass used by the Trans-Canada Highway and the Canadian Pacific Railway. South of the community down the Columbia River are the Arrow Lakes and the Kootenays. West of the city is Eagle Pass through the Monashee Mountains and the route to Shuswap Lake.
Manning Provincial Park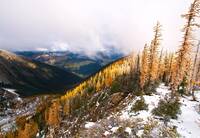 Named after E. C. Manning, the chief forester of British Columbia from 1935 to 1940, Manning Provincial Park has rain forests on its west side and grassland slopes on its east side and between the two extremes lies a land of wild rivers, crystal lakes, towering peaks, and alpine meadows.
Manning Provincial Park features tremendously diverse landscapes and plentiful flora and fauna. Hiking trails are its chief draw, but the park also offers horseback riding, swimming, canoeing, fishing, mountain biking, and, in winter, cross-country and downhill skiing.
Lying between the moist coast and the dry interior, Manning contains examples of 5 of British Columbia's 14 biogeoclimatic zones. Lush coastal growth gives way to dryland stands of pine and, near the timberline, stands of alpine larch. One of the most spectacular is on Mount Frosty's eastern shoulder, where some of the trees are nearly a metre in diameter. Conifers such as Douglas fir, western red cedar, western hemlock, subalpine fir, Englemann spruce, and lodgepole pine may be seen in the park, as well as aspen and cottonwood.
Harrison Hot Springs
The Village of Harrison Hot Springs is located at the southern end of Harrison Lake in the Fraser Valley of British Columbia and was named after Benjamin Harrison, a former deputy governor for the Hudson's Bay Company. It has a population of just over 1500 and is best known for its hot springs.
Nanaimo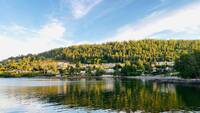 Nanaimo is a city and ferry port on the east coast of Vancouver Island. At its heart, the Nanaimo Museum displays exhibits on the city's industries and indigenous peoples. Near the Harbourfront Walkway, the Bastion is an 1853 wooden tower with cannon firings in summer. Shops and cafes fill the Old City Quarter. Offshore, on Newcastle Island, trails lead to beaches and First Nations sites.
Ucluelet
Ucluelet is a district municipality on the Ucluelet Peninsula on the west coast of Vancouver Island in British Columbia, Canada. Ucluelet means "people of the safe harbour" in the indigenous Nuu-chah-nulth language.
Parksville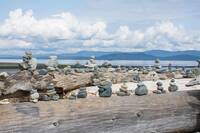 The city of Parksville is located on Vancouver Island and the majority of Parksville's land base lies between Englishman River and French Creek, although a substantial portion of the city lies east of Englishman River, along the western shores of Craig Bay. It is well known for its large, sandy beaches at Parksville Bay and Craig Bay and the city's best-known annual event since 1982 is a sandcastle-building competition held from mid-July to mid-August, dubbed 'Parksville Beachfest'.
Don't Miss...British Columbia
Lund
The beautiful and charming seaside village of Lund in British Columbia is situated on the west coast of Canada on Canada's Sunshine Coast and is the gateway to Desolation Sound Provincial Park, the Copeland Islands, Okeover Inlet, Savary Island, and the Sunshine Coast Trail.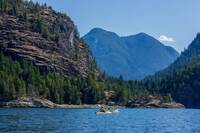 North of Lund Harbour, the pristine Copeland Islands Marine Park (Ragged Islands) hugs the shoreline towards world-renowned Desolation Sound. Another route to Desolation Sound is along Okeover Inlet past the oyster farms and through Malaspina Inlet.
Both popular waterways are happily shared by sport fishers, pleasure boaters, kayakers and avid scuba divers who enjoy the excellent underwater visibility and abundant sea life.

Sightseeing boats and kayak tour operators offer easy access to the area's ocean playground to experience curious seasonal sealions, seals, dolphins, humpback whales, and pods of orca whales.
Wells Gray Provincial Park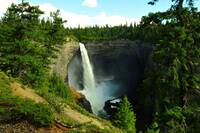 Renowned for its wildlife viewing and its many waterfalls, Wells Gray Provincial Park is one of Canada's most beautiful parks.
It is located in the Caribou Mountains about halfway between Kamloops and Jasper, the park was established in 1939 and covers an enormous 541,000 hectares.
In May and June Black bears are commonly seen as they visit the valley floors to feed on new shoots while deer, moose and wolves are also regularly seen during the summer.
Whistler
Whistler is a located north of Vancouver and in winter is one of the largest ski resorts in North America. The hub of Whistler is a compact, chalet-style pedestrian village at the base of Whistler and Blackcomb mountains.

The village only dates to the 1970's but has already become a destination in its own right and has high-end international restaurants, shops, hotels and bars lining its main, stone-cobbled walking avenue.

While it's most crowded in winter, Whistler is also a summer destination with lush, forested hills for mountain biking and hiking, white water rivers for rafting and a number of golf courses.
Don't forget to take a ride on the Peak 2 Peak gondola which is among the longest and highest lifts in the world and that stretches horizontally between the tops of Whistler and Blackcomb mountains.
Sun Peaks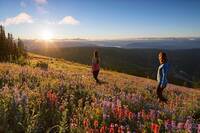 Summer in Sun Peaks brings warm temperatures and stunning mountain views. Sun Peaks is best known as a winter ski resort but the summer it comes alive colourful alpine blossoms, a plethora of outdoor activities, festivals, free outdoor concerts, and sporting events.
Join one of the famous free outdoor summer concerts, take a Voyageur Canoe Tour, explore the resort on horseback, or for the more adventurous try North America's first Mountain Cross Cart Course and surround yourself with music, arts, culture, sporting competitions and so much more.
Sechelt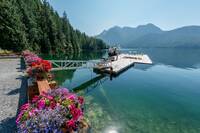 Sechelt is the name of a town, a peninsula, an inlet, and a people. The town is a small community sitting on a sandbar; the narrow Sechelt isthmus which separates Sechelt Inlet from the Salish Sea and is named after the original First Nations people of the region – the Shíshálh.
This charming seaside town serves as a central hub for exploring the southern Sunshine Coast, where it's easy to go sightseeing and take day trips to the neighbouring communities of Halfmoon Bay, Roberts Creek, Pender Harbour, or Egmont. It's also the perfect launching point for boating & paddling excursions to the surrounding fjords, including Narrows, Salmon, and Sechelt Inlet.
Okanagan Valley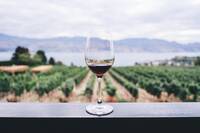 The Okanagan is a region in the province of British Columbia and is best known for its wineries and fruit orchards. The main city of Kelowna, on the shore of huge Okanagan Lake, is surrounded by pine forests and provincial parks while Kelowna's downtown area incorporates the waterfront City Park and a lakeside cultural district.
Kettle Valley Rail Trail is a long-distance hiking and biking path crossing a series of trestle bridges high above Myra Canyon. In the city of Penticton, the SS Sicamous is a paddle steamer that houses a museum. In the arid southern part of the region, the town of Osoyoos is home to the Osoyoos Desert Centre. The centre has displays on the area's desert ecosystem, plus a boardwalk through grasslands.
Lac La Hache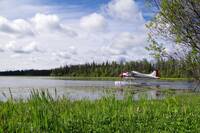 Lac La Hache is a stunning lake well known for its kokanee fishing as well as its trophy size lake trout. Located in the Cariboo region, the Lac La Hache area, including Lac La Hache Provincial Park, attracts many anglers, boaters, swimmers, and water skiers during the summer months.
When a French Canadian fur trader dropped his axe into a remote Cariboo Lake while ice fishing, he never would have imagined that he was making history. The name Lac La Hache translated into English means" Lake of the Axe" and has remained the name to represent this beautiful lakeshore destination.
This area is rich in tales of fur traders, gold seekers and cattle ranchers. By the 1860s, gold fever was running high, as miners searched for the jackpot first near Likely, and later at Barkerville. With teams of horses, mules and oxen, the fortune-seekers plodded north along the Cariboo Waggon Road skirting the eastern shores of the lake.
Burnaby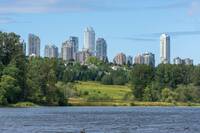 Burnaby is a city situated to the east of Vancouver and by population is the third-largest city in British Columbia, surpassed only by nearby Surrey and Vancouver. Burnaby was incorporated in 1892 and achieved City status in 1992, one hundred years after incorporation and is the seat of Metro Vancouver's regional government.
Lillooet
Lillooet is a nature lovers dream as it is surrounded by spectacular scenery and offers incredible wildlife. For history buffs, Lillooet is a must-see as back in 1860, the town was the 2nd largest North American centre west of Chicago, behind San Francisco.
For the more active, the recreational potential of Lillooet is unlimited as there are large unspoiled mountains, deep valleys and glistening lakes that offer breath-taking scenery all at your doorstep and waiting to be explored.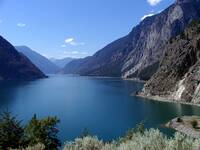 Radium Hot Springs
The village of Radium Hot Springs has a population of 776 and is situated in the East Kootenay region of British Columbia. The village is named for the hot springs located in the nearby Kootenay National Park.
Nelson
Nelson is a city in the Southern Interior of British Columbia and is located in the Selkirk Mountains on the extreme West Arm of Kootenay Lake. It is known as "The Queen City" and acknowledged for its impressive collection of restored heritage buildings from its glory days in a regional silver rush. Nelson is one of the three cities forming the commercial and population core of the West Kootenay region, the others being Castlegar and Trail.
Christina Lake
Christina Lake is located just north of the British Columbia-Washington border and is nestled between the Okanagan Valley and West Kootenay Valley regions and is defined by the Kettle River Valley and the Monashee Mountains.
The main attractions are its clear mountain-fed streams, clean lakes and its hectares of wilderness that create plentiful opportunities for spotting wildlife. With plenty of sunshine, mild temperatures and four full seasons, Christina Lake an ideal environment for those who love the outdoors.
Campbell River
Campbell River is located on the east coast of Vancouver Island at the south end of Discovery Passage, which lies alongside the Inside Passage shipping route. Campbell River has a population of just over 35,000 and is best known as "the Salmon Capital of the World". Campbell River and Region is in close proximity to the adjacent communities of Quadra and the Discovery Islands, Sayward, Oyster River, Gold River, Tahsis and Zeballos.
Cache Creek
Cache Creek is a town that celebrates the 50's and 60's and is a great place to stop by and indulge in a freshly baked pastries, an ice cream and to enjoy the Farmer's Market. There's swimming, golfing, hiking, biking and other outdoor activities and Juniper Beach Provincial Park offers a place to cool off and explore the waters by kayak or canoe, to do a spot of fishing or some wildlife viewing.