From towering redwoods, breath-taking canyons, iconic routes and dazzling cities – there are few places that can deliver the variety and excitement that a US trip holds. The USA is a tourer's dream destination; the wide open roads comfortably carry you to some of the most extraordinary great-outdoors you can imagine. With National Parks to die for, blissful beaches to unwind on and thrilling cities to excite the senses, nowhere offers quite the same mix of sublime and ridiculous experiences.

We've chosen some of our favourite drives and the holidays which feature them, so you can experience them yourself.
Route 66 (Tulsa to Santa Monica)
As the most famous drive in the world, Route 66 is quite simply the ultimate road trip adventure.
Stretching over 3,900 kilometres, the road travels through eight states and guides travellers through the heart of America. It originally linked Chicago, Illinois, in the East with Santa Monica, Los Angeles in the West.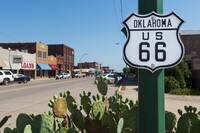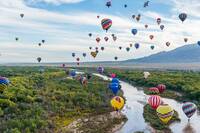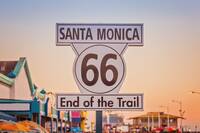 As one of the original highways of the US Highway System, it was established in 1926 and soon became a pop-cultural icon. It's been referenced in hit songs such as "Get Your Kicks on Route 66" and John Steinbeck's classic American novel The Grapes of Wrath.
The highway initially served as a primary westward route during the Great Migration. Now, this iconic road is home to unique roadside culture, vintage motels, fantastic food and thriving communities.

Drive Route 66
California Calling
California Calling offers a once in a lifetime opportunity to experience the highlights of America's west coast. From the moment you touch down in Los Angeles, there's a whole host of delights to discover, whether it's a trip to Santa Monica Pier or strolling along the Hollywood Walk of Fame.
Leaving the bright lights of LA, head inland to Joshua Tree National Park. Here, other-worldly desert landscapes and stunning geological features await.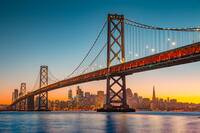 Continuing your journey, you'll pass through the historic town of Kingman (a key calling point on Route 66) before arriving at "Sin City" itself, Las Vegas.
Heading back towards California, you'll travel through Sequoia National Park (home to some of the world's oldest and tallest trees) before reaching the magnificent scenery and shimmering waterfalls of Yosemite National Park.
The drive then reaches the vibrant city of San Francisco before joining up with the legendary Pacific Coast Highway. From here, you'll journey along California's sublime coastline – all the way back to Los Angeles.
America's National Parks
America's National Parks drive offers a truly memorable trip through awe-inspiring scenery.
Encompassing the iconic Route 66, America's famed national parks (including the Grand Canyon, Monument Valley and Capitol Reef National Park) and the unparalleled excitement of Las Vegas – there are unique sights and experiences at every turn.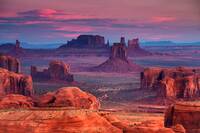 Start your trip exploring the iconic Las Vegas "strip" before marvelling at the magnificent Hoover Dam and strolling around nearby ghost towns. The beauty of the Grand Canyon National Park awaits, with opportunities for helicopter, jeep and walking tours of this true "Wonder of the World".
Continue onwards to the sparkling waters of Lake Powell before returning to the shimmering heat and red rocks of Monument Valley. The trip then progresses through the stunning Moab and Arches National Park, Capitol Reef and Bryce Canyon – culminating with the drama of Zion Canyon's steep crimson cliffs, forest trails and majestic waterfalls.
The America's National Parks drive finishes back at Las Vegas, marking the end of an epic trip.
The Big One
As the saying goes, everything's bigger in the USA – and this road trip offers the ultimate American adventure.
Starting in star-studded Los Angeles, you'll travel east through desert landscapes to Joshua Tree National Park and the natural marvel that is the Grand Canyon.
Continuing on your journey, highlights include the soaring geological formations of Monument Valley, opportunities for white water rafting along the Colorado River and the awe-inspiring grandeur of Zion National Park. This section of the trip culminates in "Sin City" Las Vegas, with time to explore the famous strip, casinos and iconic hotels.
The towering trees of Sequoia National Park (home to the world's largest tree, "General Sherman") and the magnificent waters of Yosemite Falls (North America's tallest waterfalls) mark your route back towards San Francisco and California's stunning coastline.
From this creative and cultural city, you'll join the Pacific Coast Highway back to Los Angeles. It really is a trip that's bigger, better and unlike any other drive in the world.
California 1 (Legget, Mendocino County to San Clemente, Orange County)
The legendary California 1 Highway (also known as the Pacific Coast Highway) is a true marvel of human endeavour. Hugging America's rugged and beautiful western shoreline, it allows drivers to experience the awe-inspiring scenery of the Californian coast.
Linking San Diego, Los Angeles and San Francisco, the Pacific Coast Highway allows visitors to enjoy California's unique character and culture – from pioneer outposts to surfing hot spots, Hollywood glamour, bohemian kitsch and the region's fantastic food and wine.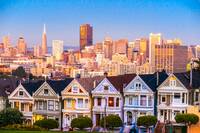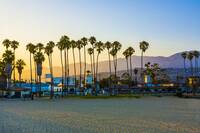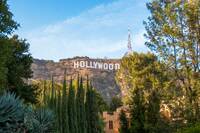 At over 900 kilometres long, it's one of the most breathtakingly beautiful roads in the world, a route designed to be enjoyed at a leisurely pace.
As well as expansive sandy beaches, you'll be greeted by towering mountains and forests, endless skies and cosmopolitan cities. Thanks to California's temperate weather, you can also take in the wonders of this "Sunshine State" all year round.
You drive this route on our California Calling and Big One tours.