Setting forth on a voyage to the very heart of Australia is an adventure that bids farewell to the familiar, enveloping you in a realm where breathtaking natural splendour commands the spotlight.
One such iconic landscape that stands out is the majestic Kings Canyon. Nestled in the Northern Territory's rugged outback, this natural wonder offers a unique blend of breathtaking views, rich history, and thrilling exploration opportunities.
Coupled with the flexibility of experiencing this from the comfort of your motorhome, setting your own pace, charting your own course with the help of our expert consultants, and having a front-row seat to the world's most spectacular landscapes is within reach, this tour allows you to discover the magic of Australia's Northern Territory, whether you're an experienced motorhome traveller or a first timer.
The Journey to Kings Canyon
The journey from the UK to Australia is long but filled with anticipation and excitement. As you touch down and collect your motorhome, you're not just picking up a vehicle; you're stepping into your home-away-from-home for the next part of your adventure.
Setting off towards Kings Canyon, the open road beckons. The beauty of a motorhome holiday is the freedom it offers. You can stop whenever a view catches your eye, take a detour to a hidden gem, or pull over to enjoy a cup of tea amidst the stunning landscape. The journey becomes as much a part of the holiday as the destination itself. When you are looking to create your motorhome holiday, our expert consultants will work with you to devise the best itinerary possible. We have a fantastic selection of Australian highlights and excursions around Australia that are available.
As you navigate the vast, rugged terrain of Australia's Northern Territory, each mile brings you closer to the awe-inspiring Kings Canyon. And with every passing landscape, you'll understand why our Northern Territory motorhome holiday is the perfect way to explore this incredible part of the world.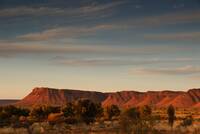 First Impressions
As you enter Watarrka National Park, your first glimpse of Kings Canyon is a moment you'll never forget. The sheer scale of the canyon, with its towering sandstone walls and deep chasms, is truly awe-inspiring. The landscape is a testament to the power of nature, carved out over millions of years.
The beauty of Kings Canyon is not just in its grandeur but also in its details. The rich red of the sandstone, the vibrant green of the vegetation clinging to the rock faces, and the clear blue of the Australian sky create a stunning contrast that's a feast for the eyes.
Kings Canyon is located in Watarrka National Park, at the western end of the George Gill Range. It's about 321 kilometres southwest of Alice Springs and about 1,316 kilometres south of Darwin. The journey to the canyon can be made along the Stuart Highway, Lasseter Highway, and the Red Centre Way, all of which are sealed roads.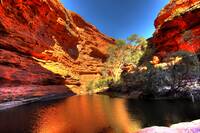 Exploring Kings Canyon
The Rim Walk is a must-do, taking you along the canyon's edge for breathtaking views. This 6km circuit walk is moderately difficult and takes about 3-4 hours to complete. It's best to start early in the morning to avoid the heat. The first part of the walk is a challenging climb, but once you reach the top, the views are more than worth it.
The climate varies significantly with the seasons. In the summer months (Dec to Feb), temperatures can reach up to 36°C, while in the winter months (Jun to Aug), temperatures can drop to around 7°C. When planning your visit, it's essential to be prepared for these temperature changes.
Along the Rim Walk, you'll discover the Garden of Eden, a hidden oasis with a permanent waterhole surrounded by lush vegetation - a stark contrast to the arid landscape outside. This tranquil spot is perfect for a rest and a picnic. Bring plenty of water, wear a hat and sunscreen, and take regular breaks to avoid heat exhaustion, especially in summer.
In addition to the Rim Walk, there are other activities to enjoy in and around Kings Canyon. You can take a quad bike tour, go camel riding, or visit the nearby Kathleen Springs, which is home to a variety of bird species and has a shorter, easier walking trail.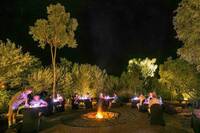 Eating
After a day of exploration and adventure, there's nothing quite like a hearty meal to refuel and relax. At Kings Canyon, you'll find a range of dining options catering to various tastes. The approach to food here is simple – it's local, fresh, and delicious.
The Outback BBQ and Grill at Discovery Resorts is a popular choice among travellers. Here, you can enjoy everything from quick bites to hearty steaks prepared with a distinctly Australian flair. The generous servings and excellent pub food atmosphere make it a must-visit.
For a more refined dining experience, Carmichael's Restaurant offers a menu that reflects the rich flavours of the Red Centre. Whether you're in the mood for a light lunch or a sumptuous dinner, Carmichael's has something to satisfy your palate.
If you're looking for a truly unique dining experience, Under a Desert Moon offers an unforgettable outdoor dining experience under the stars. This is a chance to enjoy a gourmet meal in the heart of the desert, a memory you'll cherish long after your motorhome adventure is over.
Finally, for a casual dining experience, the Desert Oaks Bistro offers a range of Australian dishes in a relaxed setting. The huge pub meal and great food make it a favourite among visitors.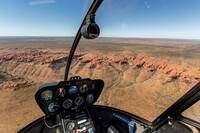 The Helicopter Experience
Why not take to the skies for a different perspective of Kings Canyon? A Kings Canyon helicopter flight offers an unparalleled view of the canyon and the surrounding landscape. From the air, you can truly appreciate the scale and beauty of this natural wonder. It's an experience that's sure to be a highlight of your motorhome holiday.
As your journey through Kings Canyon comes to an end, you'll be left with memories of an incredible adventure. A motorhome holiday offers a unique way to explore, giving you the freedom to immerse yourself in the landscape and experience Australia's natural beauty up close.
Whether you're planning your next adventure or dreaming of distant landscapes, consider a motorhome holiday in Australia. Check out our other blog articles on Australia for more information, or contact our team, who will help you build your once-in-a-lifetime motorhome holiday.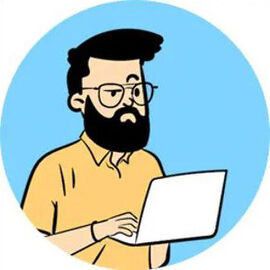 Peter Stannett
Content Writer
Peter is our content writer and SEO specialist, helping keep our content current and monitoring website traffic.
His content covers all four corners of the globe, across topics like activities, advice, food, culture and history.
More by Peter Stannett