As the jaw-dropping jewel of America's national parks, Yosemite is famed worldwide. Inspiring generations of artists, writers and travellers, it's a truly unforgettable experience offering access to some of the world's most diverse and beautiful landscapes, lakes, forests and waterfalls.
Yosemite National Park is also a UNESCO World Heritage site, listed for its unique beauty and geological significance. Whether it's giant sequoias, emerald-green valleys and pristine pathways or the unrivalled splendour of El Capitan and the mists of Yosemite Falls, it's not hard to see why it welcomes over 3 million visitors each year.

Yosemite is also a particular favourite amongst motorhome travellers, with plenty of fantastic campsites and accessible routes nearby. So if you're ready for adventure, we've created a visitor's guide to the top attractions and must-see spots in one of America's most beautiful national parks.

So here are our nine must-see attractions and activities...
Waterfalls and Lakes
1. Yosemite Falls
Yosemite Falls are the continent's highest waterfalls at over 730m (2,400ft) tall. They're a tourist favourite, with a popular path leading visitors straight to the bottom of the falls. If you're visiting during spring (when the falls are at their fullest), it's a thunderous and majestic experience of unparalleled beauty.
Try climbing the Yosemite Falls trail if you prefer a quieter experience (with some fantastic views). Be warned, however, it's a steep uphill climb of just over 4.8km (2.9mi).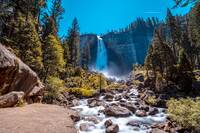 2. Tenaya Lake
The shining blue waters of Tenaya Lake are found just east of Olmsted point. Surrounded by pine trees, soaring granite cliffs and domes, it's a stunning spot. Polly Dome is on the lake's northern shore, with Tenaya Peak and Tresidder Peak to the south. With opportunities for cool dips on sizzling summer days, you can also make the most of several hiking trails nearby.
The name comes from Chief Tenaya of the Ahwahneechee. He protested this epithet, however, pointing out it already had a name, Pywiack, meaning "lake of shining rocks".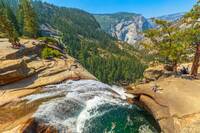 3. The Mist Trail
Don't miss this amazing "Mist Trail" that guides walkers through a narrow path between the iconic Vernal Fall and Nevada Falls. The trail runs so close to the waterfalls visitors often feel spray from the water whilst looking down on fleeting rainbows in the mist!
Whilst we're on the topic of waterfalls in Yosemite, there are almost too many to choose from. If you're keen to explore more, research the Horsetail and Bridalveil Falls (which often run all year round) alongside the Ribbon Falls, which are visible from the west side of El Capitan.
Hiking and viewpoints
4. Tuolumne Meadows
A high-altitude delight. During summer, the Tuolumne Meadows burst with rainbow-coloured wildflowers.
The area is surrounded by imposing granite domes that entice even the most experienced climbers and hikers. Known as the "main meadow", the largest area stretches nearly 5km (3.1mi) between Pothole Dome and Lembert Dome.
If the weather allows, you can book a horse-riding experience from the Wawona Stables, allowing you to take in the area's stunning peaks and alpine lakes on horseback. There's also fishing in the gently rolling Tuolumne River. Alternatively, sit back and take in golden sunsets rippling across the grass.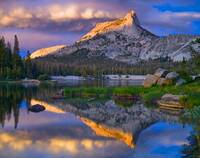 5. Glacier Point
There are several incredible viewpoints around Yosemite National Park, but Glacier Point is probably the most famous. At 2,198m (7,214ft) high, enjoy breathtaking views of the Yosemite Valley laid out before you – including the Yosemite, Nevada and Vernal Falls, Half Dome, Tenaya Canyon, and the jagged peaks circling Tuolumne Meadows.
If you're searching for other panoramic viewpoints, don't miss Taft Point and the Fissures (only if you're comfortable with heights, you have been warned!) Inspiration Point (accessible via a short yet steep 2km/1.3mi trail) and Olmsted Point (also offering beautiful views of the Half Dome and Tenaya Canyon).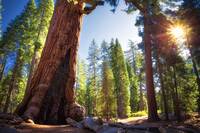 6. Mariposa Grove
No trip to Yosemite is complete without a stroll through the stunning Mariposa Grove. Home to giant sequoia trees, these organisms are the largest living things on earth. With over 500 mature trees spread throughout 100 hectares, you'll find plenty of accessible walking trails and boardwalks.
If you're searching for more peace and quiet, try lesser-known sequoia groves such as Merced Grove and Tuolumne Grove. Both groves are much smaller but still offer outstanding views of these towering giants. Visit later in the day during spring or autumn for a quieter visitor experience.
Geological Formations
7. El Capitan
The iconic granite formation of El Capitan is one of Yosemite National Park's most famous landmarks. Named "Tutokanula" by the native Miwok people, it's one of the world's biggest granite monoliths (rising over 910m/3,000ft).
Undefeated until 1958, it's also a legendary spot for experienced rock climbers. Relax in the meadow beneath El Capitan and watch these pro-climbers scaling its heights through a telescope set up by the Yosemite Climbing Association.
If watching those climbers inspires you, there's also the Yosemite Mountaineering School. They'll show you the ropes and organise excursions to beautiful, beginner-friendly climbing spots.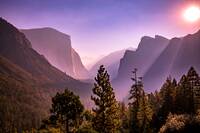 8. Half Dome
At over 87 million years old, the Half Dome is one of Yosemite's most recognisable natural monuments. It's also one of the sheerest cliffs in North America. With a 93% vertical grade, climbers flock to scale its heights.
Hikers can also reach its summit via a 17-mile trail from Yosemite Valley. The trail gains 1,495m (4,900ft) in elevation, with cable handrails for the last 180m – requiring a good level of fitness and a head for heights!
While in the area, take in the beauty of North Dome and Mirror Lake. The lake is said to be the tears of a Paiute woman (named Tesaiyac) turned to stone by the gods. Legend has it, she is now Half Dome whilst her husband is North Dome.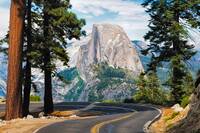 9. Sentinel Dome
Sentinel Dome is accessed by one of the shortest and easiest trails of Yosemite's great granite domes. Many visitors say the Sentinel view is as awe-inspiring as Half Dome's panorama, offering 360-degree sights of the park.
The 3.5km (2.2mi) hike can be done in an hour and combined with a circular walk to nearby Taft Point and the Fissures. If you visit around sunrise or sunset, it's a truly unforgettable experience.
Museums and Galleries
Several museums and heritage centres in Yosemite National Park offer family-friendly activities and learning opportunities. Visit the Yosemite Museum to discover the rich history of Yosemite National Park, including cultural demonstrations of Native American traditions such as basket weaving and Miwok and Paiute artefacts.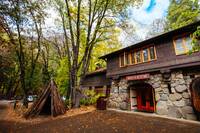 Alternatively, take a trip to the Yosemite Conservation Heritage Centre (built by the Sierra Club in 1903). As a rustic granite and wood lodge, it was designed by the Berkeley architect John White and exemplifies the First Bay Tradition, a style linked with the iconic twentieth-century Arts and Crafts movement. You'll find exhibits and information on the likes of John Muir and Ansel Adams, alongside activities and information on the park itself.
If you're an art-lover, don't miss the Ansel Adams Gallery – one of the few places where original Ansel Adams photographic prints (many of Yosemite National Park) are on display.
Planning your trip to Yosemite: When to go
If you're planning a trip to California and Yosemite National Park, think carefully about which season you'd prefer. Here's a rough guide to each:
Summer is the park's busiest season, meaning larger crowds and well-populated hiking trails. Whilst there are more people, all the roads around Yosemite are fully open during summer, with a broad range of outdoor pursuits and excursions on offer.
Spring is almost as busy as summer at Yosemite, and for good reason. The waterfalls are at their fullest during April and May, meaning spectacular sights and displays. The trees are fully in leaf, and most lower elevation hiking trails are accessible. Nonetheless, some park roads and trails may still be closed from winter snow – meaning planning is advisable.
Autumn means fewer crowds, as Yosemite's iconic waterfalls tend to dry up. Whilst temperatures do get chilly at night; it's a pleasant time to visit with riots of reds, oranges and golds dominating the forest trails. This is a key factor to bear in mind if you're set on seeing these magnificent natural formations.
Winter is the quietest time to visit Yosemite. This often makes it a cheaper time to visit, with visitors rewarded by a true winter wonderland. There's even cross-country skiing at Badger Pass, with snowshoe trails possible through the pristine landscape. However, the wintry weather will mean multiple road closures, so checking ahead is essential.
If you're planning your American adventure, explore our unique collection of motorhome holidays. Whether it's California Calling and the joys of Yosemite, touring America's other amazing National Parks or the ultimate 38-day Big One excursion, there is something for everyone.
Would you know what to do if you saw a bear? Read about how to deal with an encounter on the National Park Service website
Learn more about the history of Yosemite National Park on the NPS website
Read our guide to UNESCO World Heritage Sites in the USA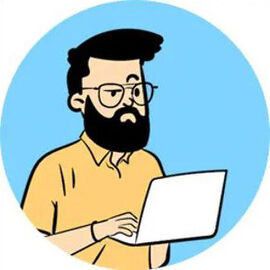 Peter Stannett
Content Writer
Peter is our content writer and SEO specialist, helping keep our content current and monitoring website traffic.
His content covers all four corners of the globe, across topics like activities, advice, food, culture and history.
More by Peter Stannett