Are you finding campervan laws, rules and regulations a little confusing? You are not the only one! It can be tricky to know what you can and can't do and what documentation you need to carry when driving a campervan. It gets even more problematic when you start driving in other countries because each has its own laws and rules surrounding driving a campervan or motorhome.
Parking is one of those issues you need to be aware of before travelling. Here are a few things to consider when driving and parking in some of the most popular driving destinations worldwide.
Australia
An Australian adventure of a lifetime is a popular holiday for obvious reasons. Australia has a laid-back atmosphere, fascinating culture, lots of beautiful wildlife, and some of the best sun, sea, and sand!
If you are considering an Australian campervan holiday, consider these parking laws.
You cannot just park your campervan anywhere for the night and sleep in it. If you don't have a campsite booked, you will need to find a campsite or a designated parking area that allows you to park and stay overnight.
Luckily, Australia is a camping-friendly country, so you should find many places to stay along busy driving routes and towns. Look out for an 'RV friendly sign' on your travels for a place to stay.
Even in an RV friendly designated area, there may be a small charge to pay. So, check any signs and information in your chosen spot before parking up.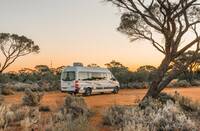 Wherever you go, check the signs. Some places may allow campervans but not allow them to stay overnight! The signage in these areas is usually reasonably good.

The more remote the area you are travelling to, the more likely you will find designated motorhome areas to stay.
In addition to parking your campervan, you should also consider these driving laws. For further information, check out Visit Australia.
In Australia, you need to drive on the left-hand side of the road.
You will need your driving licence, which must be written in English. The licence must cover the size of the vehicle you will be driving. In addition to this, you might need an international driving permit which you can obtain from the post office.
Everyone must be wearing a seatbelt, and speed limits signs should always be observed.
Different territories within Australia may have slightly different laws, so check the areas you are travelling through for further information.
Canada
Canada is a country where everything seems bigger! The lakes are larger, the mountains are enormous, and as a result, everything seems that little more beautiful and impressive. It is no wonder so many choose to road trip through Canada.
As with any country, choosing where to park for the night is essential. It is equally important to make sure you are staying within the local laws and regulations.
Parking your campervan in Canada has some pretty simple rules to follow.
When packing up for the night, you must book into a caravan park or campsite. Wild camping isn't allowed, so you can't just park up anywhere and spend the night.
Parking laws can change from province to province so if you aren't sure of the local laws, have a quick look at the territory guidelines for where you are.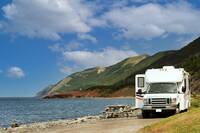 Not all places will be suitable for your campervan. You should pay the appropriate amount and read the signs before parking where parking charges are in place. Any violation of information on the signs could result in a fine to pay.
In general, the driving laws surrounding driving a motorhome in Canada are similar to those in the UK and Europe. However, remember to drive on the right-hand side of the road instead of the left.
One thing that the Canadian authorities are particular about is seatbelt safety. Every person in the motorhome must have a seatbelt. This includes those who are sleeping and children but not pets. Everybody needs a seat and seatbelt for their own safety and to keep within the law.
For more information, check out the driving information available on the Canadian government's website.
USA
Campervanning and road trips are a big part of American culture. Their wide and open roads are built for the perfect road trip! You will make some great memories as you drive through miles and miles of everchanging scenery as you stop to visit interesting places and towns along the way. It would be easy to assume the Americans have few regulations with such a motorhome culture, but this couldn't be further from the truth.
When parking your campervan, you need to take into account the following.
You need to be careful where you park. You can't park your campervan on a residential street. This applies both for overnight stays and at other times too. This is primarily to ensure that motorhomes are not blocking the roads and slowing traffic flow. There is one exception to this rule: if you have a permit that allows you to park in a street or a particular area, you may do so. This will cost a little, and the price varies depending on where you are looking for the permit.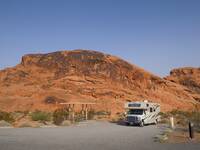 You might think that there is an easy fix, and that's to park in a rest stop. These stops are dotted around the country and are for you to park up and rest for a while. Some of these may allow overnight stays, but many will not. How long you are allowed to stop here will depend on the state in which you are in. So when stopping at a rest stop, make sure you check the signs and information to ensure you don't overstay your allotted time. The best solution is to ensure you are booked into a campsite for the night.
All driving laws change depending on the state you are in. So that means you should check the laws for every region you plan to drive through! Take a look at driving-tests.org for further information on driving in the USA.
New Zealand
New Zealand is another country built for road trips. There are so many places to see it can be difficult to choose.
If you are wondering about parking laws in New Zealand, here are a few things you need to remember.
You can't just park your campervan anywhere and stay the night. You will need to either book a campsite or find a designated spot to park up in. Because there are only a few of these in each parking area and the demand is high, these are not always easy to get. So, make sure you get to your chosen destination early and park up. Alternatively, make sure you are booked into a campsite.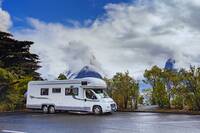 Parking restrictions also apply when parking in streets or car parks. You need to ensure you park in a designated oversized vehicle spot or risk a parking fine.
After you have worked out your parking regulations, you will also need to spend a little time familiarising yourself with the general driving laws in New Zealand. Luckily, these are not too dissimilar to many other countries laws, but just to be sure, check out these guidelines from newzealand.com.
Take some of the difficulties out of your trip by booking one of our fantastic holiday tours. You will still need to be aware of the rules of the road, but where you will stay, and your itinerary will already be planned out for you. Take a look at our motorhome and caravan holiday tours in Australia, New Zealand, Southern Africa, USA and Canada. Each one is tailor-made to ensure you have a holiday of a lifetime.
Other useful information

Read our frequently asked questions.

Follow us on Twitter, Facebook and Instagram for inspiration, news and tips.
Request a brochure using the form below or contact our team.