For the adventurous, it is difficult to beat life on the open road in Australia. From coast to coast, Australia is a vast island of long open roads and full of the potential for adventure and excitement.
When you think of Australia, the first thing to come to mind might be the beautiful coastlines, azure seas and long sunny days swimming in the sea or lazing on the beach. You might envision yourself sailing, hiking or sipping white wine while you watch beautiful sunsets. All of these make perfect additions to any Australian holiday, especially an Australian road trip. But, there is another side to Australia that calls to your sense of adventure and wonder: the inland areas of Australia.
If you head inland, you can see a different type of Australia. This is where you can experience all that the outback has to offer. As you adventure through diverse and often sparse landscapes, you will be able to appreciate the attractions and features dotted throughout the area that add a sublime drama to the landscape. These largely unpopulated areas of vast landscape can give you a true sense of getting back to nature.
One of the more popular and more adventurous routes you can take through Australia is right down the middle between the cities of Adelaide and Darwin. The route takes you between Southern Australia and through the Northern Territory, where you can experience over 3000 kilometres of pure Australia. This is not a route for the faint-hearted. Drive through vast areas of intriguing landscapes, journeying from place to place, seeing the sights and experiencing all the adventure that this epic country has to offer.
Kakadu National Park
In the heart of the Northern Territory, you can find the UNESCO-listed Kakadu National Park - spanning over 20,000km. Kakadu isn't just any national park; it is a centre for culture and has been lived in by native people for 65,000 years. The park is still maintained today with many traditional values and management techniques that aboriginal tribes have used for thousands of years.
With so much natural landscape to explore comes a vast variety of things to do, tours to take and sights to see. The choice is yours, and you could easily find yourself lost in the wonder of this magical place for days and still not run out of new things to do! All of these wonderful experiences are available if you book our Northern Territory motorhome holiday. So if you fancy a scenic flight, seeing a birds-eye view of this awe-inspiring landscape or want to explore the culture of the area with a heritage tour, then this is a great place to start.
Uluru
No trip through Australia would be complete without a visit to Uluru. Previously named Ayres Rock by settlers, this dramatic rocky outcrop, seemingly lifted out from the earth, is as iconic as it is intriguing. Before it was discovered by tourists, Uluru and the beautiful National Park in which it sits had been home to Aboriginal tribes for 30,000 years, and it continues to be an area of sacred importance to this day.
Make sure you include a trip to see the iconic rock. While you are there, make the most of the local heritage and cultural tours available. As part of our Northern Territory Tour, this area is included in the itinerary. We even have some excellent excursions, including a helicopter ride to the Field of Light, where you can watch the sunset over this captivating landscape. If you would like a taste of the adventurous and take a tour where you can learn about the importance of bush food in the area.
Adelaide
Even a trip through the outback of Australia needs a stop of two where you can experience the city life on offer in Australia. Adelaide is the final stop on our Southern Delights Tour, and it is well worth the few days you can spend in this city.
Adelaide is known for being a city of stories. Stories of those who live, work and visit the city and stories of Aboriginal people who have made the area their home for generations. At first glance, it may seem like your typical urban experience but delve beneath the surface, and you have a fascinating place with so much to see and learn.
One trip that is well worth making is Kangaroo Island. This is a short ferry trip from Adelaide, and once there, you can experience some of the wildlife that makes its home here. Start your trip with a walk on the beach where a colony of seal lions congregate, followed by lunch and a trip to Hanson Bay Wildlife sanctuary to see a collection of Australian wild animals, including koalas, kangaroos and wallabies.
Another inspiring trip to take in Adelaide is a tour of the Murray River. This historic river boasts a host of wildlife and nature to explore. Our cruise along the river takes you on a scenic route allowing you to take in your surroundings, followed by a river walk and a trip to Melba's Chocolate Factory for a charming afternoon tea.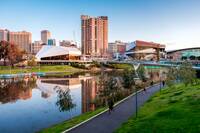 Alice Springs
Alice Springs is proof that small towns can have a BIG impact. During your trip through the Northern Territory, it is worth taking a day or two to relax and enjoy this ancient town. If you need to stop and recuperate before heading into the outback, then there is no doubt that this is the place to do it. The town itself is nestled among striking red mountain ranges, and the whole area embodies everything traditional in Australia.
The town provides a great base to explore Uluru, the outback and more. On top of that, you have ample opportunity to relax, eat, drink and discover local culture.
---
Want a taste of adventure?
Fancy a hot air balloon flight to see the outback from a whole new perspective? Perhaps a camel ride by sunset or a trip through the West MacDonnell Ranges? Please take a look at our Alice Springs excursions.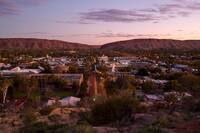 Kings Canyon
Not far from Alice Springs, you'll find Kings Canyon. This impressive rock formation towers above the local landscape, and it is humbling to behold. This is an area rich in culture and adventurous hiking opportunities. However, if you want to get the best view of the landscape, the best way is by air!
We have two helicopter ride excursions available. You can choose between two routes that are equally beautiful and outstanding. Both offer the perfect birds-eye view and plenty of photo opportunities too.
Take some of the difficulties out of your trip by booking one of our fantastic holiday tours. Take a look at our motorhome and caravan holiday tours in Australia, New Zealand, Southern Africa, USA and Canada. Each one is tailor-made to ensure you have a holiday of a lifetime.
Read our frequently asked questions.

Follow us on Twitter, Facebook and Instagram for inspiration, news and tips.
Request a brochure using the form below or contact our team.