Make sure you have up to date information on Swaziland visa and vaccination requirements, as well as travel tips and advice.

Visa and Passports

British passport holders will not require a visa when entering Swaziland. Visitors can usually stay for 30 days, though extensions are possible.

Make sure your passport is valid for at least 3 months from the date of arrival and have two blank pages.

If planning to visit South Africa before or after your Swaziland trip, make sure you have an extra two blank pages.
Yellow Fever
To see if you need a certificate check via the National Travel Health Network and Centre's website.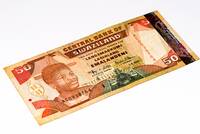 Money

The Swaziland currency is the Lilangeni, or Emalangeni when more than one. The currency's symbol is 'E' and it is comprised of 100 cents with notes coming in denominations of E200, E100, E50, E20 and E10. There are E5, E2 and E1 coins and a range of cents too.

The South African Rand is also accepted, which can be helpful when arriving from South Africa.

Banking

Banks tend to open on weekdays between 08:30 and 14:30, closing earlier on Saturdays at 11:00.

Only a few ATMs take foreign debit and credit cards, though cards are accepted at most hotels, shops and restaurants with an international clientele. Travellers cheques are widely accepted.
Driving in Swaziland

Driving is on the left hand side on roads which are generally of good quality. Street lighting can be limited and of course the further into the bush you travel, the more likely you are to encounter poorer roads.

Speed limits are 80 kph on main roads and 60 kph in built up districts. An International Driving Permit is advisable, though a domestic licence with photo ID should suffice.
Eating and Drinking

Water is generally safe to drink but most visitors tend to prefer bottled water. This is widely available, and it's always worth just checking the cap is sealed before drinking.

Other simple precautions are to avoid milk of uncertain origin, in case it has not been pasteurised properly and to eat well cooked meat and fish and fruit that is either peeled or washed in sterilised water.

There are decent restaurants in Mbabane and the Ezulwini Valley, with a pronounced Portuguese culinary influence from nearby Mozambique. Look out for succulent prawns and authentic staples like stew and pap, especially in more rural areas.

Tipping at around 10-15% is customary.

Weather

The weather can vary, with the altitude being often largely responsible. Generally the weather is mild, never getting too hot or too cold. That said, the Lowland can experience extremes and frosts occasionally occur in the Highveld. The Middleveld and Lubombo are subtropical and dry, with any rain falling mostly between October and March.
Clothing

This is a place for light, comfortable clothing. A warm jacket or fleece will be useful for the cooler evenings. As always, a sunhat should be considered essential, as well as a decent pair of walking shoes, sunscreen and insect repellent.
Electricity

Electrical sockets are the 'Type M' South African SABS1661, actually an old British standard. The Type M South African plug and socket can look like the 'Type D' Indian plug but is much larger. The best bet is to bring a good quality travel plug adaptor.

The current is 220/240 volts AC.