Find out about visa and vaccination requirements for Botswana as well as details about the currency, weather, electricity supply and more.
Visas
British nationals do not need a visa to enter Botswana provided they are staying for 90 days or less. Please be aware that overstaying can cause delays on departure. If you wish to extend your stay beyond 90 days, please seek an extension from the Botswana Department of Immigration.
Passport validity
Your passport should be valid for a minimum period of 6 months from the date of entry into Botswana.
The Botswana government has stated that dual nationals using two different passports can only enter the country on the same passport they used to exit the previous country.
Yellow fever certificate requirements
Check whether you need a yellow fever certificate by visiting the National Travel Health Network and Centre's TravelHealthPro website.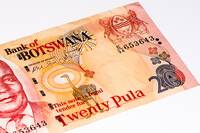 Currency

Botswana's currency is the Pula (which means 'rain' in Setswana). It is divided into 100 thebe (which means 'shield' in Setswana). You can change Travellers' cheques and foreign currency at banks, bureaux de change and authorised hotels.

The British Pound, South African Rand, US dollar and the Euro are the most easily convertible currencies. Some establishments may also accept these currencies but, generally, an inflated rate of exchange will be applied if they do.

Banking
Botswana has seven main commercial banks, as well as a number of foreign exchange bureaux. Opening hours are generally Monday to Friday 08h30 to 15h30 and Saturday 08h30 to 10h45.
Full banking services are available in major towns, although ATMs are becoming more common across the country. Most credit cards are accepted at hotels and restaurants. Please note that community art & craft shops and stalls plus cultural sites will normally only take cash.

Travel, Transport and Getting Around
Driving is on the left side of the road. The speed limits are in kilometres per hour and are 60km/h in towns and villages whilst tarred roads have a limit of 120km/h. Driving off the main roads in Botswana is only recommended for drivers of 4x4 vehicles, which have the correct equipment. When driving in Botswana your home driving licence will be accepted (with an official English translation if necessary).
Be sure to watch out for wild animals on the roads!

Public transport in Botswana is geared towards the needs of the local population and is largely limited to main roads between the major towns and cities. Although cheap and reliable, it is of little use to the traveller as most of Botswana's tourist attractions aren't served by public transport.

Maun, Kasane and Gaborone all have major airports, while smaller charter flights are used to get to the other main attractions and safari camps if you're not travelling by road.

Food, Drink and Cuisine Advice
Tap water in Botswana is generally safe for drinking, although visitors are recommended to check first when not in the main towns & cities and to sterilise water if in any doubt. You will be able to buy bottled water in most tourist areas plus filtered water is available at most camps. If you are travelling off main routes, it is advisable to have plenty of bottled water. Milk is pasteurised and food items such as dairy products, local meat, poultry, seafood, fruit and vegetables are generally safe to eat.
International-style cuisine is served in the Safari lodges and camps and is generally of a very high standard. Local beer and imported wine and spirits are also available at the lodges and camps. Good restaurants and bars can be found in main towns, often within hotels. Food is generally more basic for the local population, with millet and sorghum porridge being the staple diet.

Tipping in restaurants is discretionary, with a tip of 5%-10% tip being typical. Please note that in many places, a service charge is automatically added. It is also customary to tip your game guide and lodge staff while on safari.

Climate and Weather
The climate in Botswana is typical of southern Africa, although the amount of rainfall is less than in countries further east. The rains in Botswana mostly fall in the months of December, January, February and March, when the minimum temperature is averaging in the low 20°s. The days will vary between being bright and sunny, sometimes with thunderstorms arriving in the afternoon, whilst other days will be overcast.

April & May are generally nice months in Botswana, with clear skies and a green landscape. Temperatures in the night-time start to drop though, especially in the Kalahari desert. Please note that in and around the Okavango Delta, places tend to have more moderate temperatures than the extremes of the drier areas in the Kalahari desert.

From June to August drier parts of Botswana can have night-time temperatures close to freezing, but as the sun rises it warms up rapidly as the day goes on, under the blue skies. This time of year is very much the 'peak season' for most safari areas, as the land in most areas is dry, causing the animals to congregate around the few remaining water sources.

September and October provide a similar situation with temperatures climbing again, drying the landscapes and concentrating the wildlife even more. This is the best time for seeing the big game animals – although October can get very hot, as temperatures sometimes move above 40°C.

November is difficult to predict, as sometimes it can be a continuation of October's heat, or it can be cooled by the first rains which bring new life and colour to the vegetation; it's always an interesting month.
Clothing and Dress Recommendations
In warmer summer months, lightweight and light coloured cottons are preferable. We recommend avoiding synthetic materials and black clothing, as they increase perspiration and discomfort. In winter you will find that long-sleeved tops and jumpers and trousers are preferable. From May through to August, temperatures at night can fall below zero, so you'll find that warm jerseys and jackets are vital, especially on morning and evening game drives.
Neutral coloured clothing are advisable for game drives and walks to help you blend into the surroundings. Its recommended to have a lightweight jacket in case of unexpected rain or changes in temperature. Close-toed, comfortable walking shoes or gym shoes are a must in all seasons. You should take care to protect yourself from the sun. Be sure to bring a sunhat, polarised sunglasses and a high factor sunscreen. Sun hats with a wide brim are essential for providing shade.

Electricity and Plug Standards
Electrical sockets in Botswana use the South African "Type M " sockets, which have 3 round pins. The "Type M " South African plug and socket is not to be confused with the "Type D " Indian plug and socket. They can look very similar in pictures, but the South African type is much larger than the Indian type, and they are physically incompatible. Travel plug adapters for the South African style plug are widely available to purchase before you travel.
The electricity supply in Botswana is between 220 and 240 volts AC, so if your appliance works with these or multiple voltages, then an adapter is all you will require. If your appliance needs another voltage then you will need a voltage converter