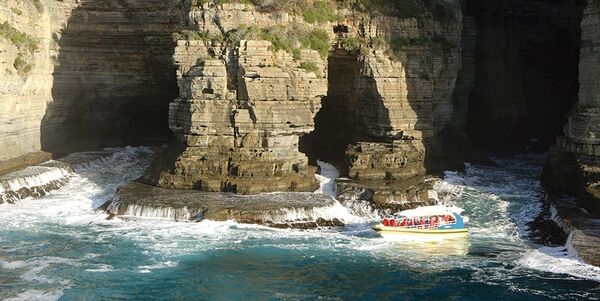 Wilderness Cruise (3 hours)
Robert Pennicott's award-winning three hour wilderness and wildlife cruise takes you along the spectacular coastline between Eaglehawk Neck and Port Arthur. Travel beneath the highest vertical sea cliffs in the Southern Hemisphere at Cape Pillar, and explore waterfalls, rock formations, archways and deep sea caves. The coastline is home to a variety of wildlife including seals, migrating whales, dolphins and abundant sea birds. The custom built boats are ideal for viewing the spectacular coastline and wildlife with covered open-aired seating providing an excellent all round view and connection with the environment.
Available on these holidays:
Two Capes and Tasman Helicopter Flight (30 minutes)
Think thirty minutes of epic icons Port Arthur Historic Site, rugged capes, Tasman Island and Shipstern Buff. Get your natural high over some of the world's tallest sea cliffs. What's more, with club seating, everyone is assured a window seat. Rise up through the gums at Osborne's heli pad as the grand Tasman Peninsula reveals. Track south over Port Arthur Historic Site and out to Cape Pillar, home to towering dolerite cliffs. Spot the coast-hugging Three Capes Track down below. Circling above Tasman Island, muse over long past lighthouse keepers of this remote outpost. Next, it's out to Cape Raoul, once used as target practice by the British Army. See why Crescent Bay turns heads with its refined white-sand curve. Down at Shipsterns, watch for surfers drawn by heaving southern swell to this famed break.

Available on these holidays: