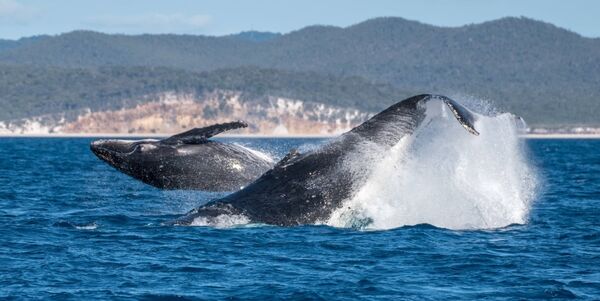 Half Day Whale Watching Tour (AM or PM - 4 hours)
A Tasman Venture vehicle will pick you up from your hotel to commence a Half Day Whale Watching Tour. Passengers enjoy a tranquil cruise through the Great Sandy Strait, along the remote pristine western side of World Heritage listed Fraser Island (K'Gari) to Australia's ultimate humpback whale playground. Stand on our specially designed platform which will take you to the water's edge. You'll be face-to-face when a giant whale spy hops for an up close and personal interaction, you may even get your feet wet! Now that's close encounters of a different kind! Learn about these majestic mammals and other marine creatures including dolphins, turtles, dugongs, sharks, and sea birds.
You will also gain knowledge on Fraser Island (K'gari) and surrounding areas. Research and conservation is another aspect of our tours with expert commentary from our passionate and dedicated crew. Our fast and luxurious catamaran enables you to travel to the whale watching grounds in the fastest possible time. This means more time with the whales for an unforgettable tour in the whale watch capital of the world.
Hervey Bay is where the whales come to stay and play. Our specifically designed vessel has large decks, including our famous water level viewing platform, offering unobstructed whale watching of these gentle giants of the sea. Watch the whales from our air-conditioned underwater viewing rooms. You'll be eye to eye when these inquisitive humpbacks come in close to the vessel for some people watching. Tour concludes approximately 4 hours after departure, at which time hotel drop offs will commence.
Available on these holidays:
Exclusive Whale Watch Experience (Full day)
With over 30 years' experience, Blue Dolphin Marine Tours offers one of the most comprehensive whale watching tours in Queensland. Travelling aboard a comfortable, multi award-winning sailing vessel allows guests to feel like they are in the heart in the humpback whales playground. Owner/ Skipper Peter Lynch brings his knowledge, experience, and passion on board each whale watch encounter providing expert commentary as he showcases the magnificent humpback whales in their natural environment.
Cruising the calm waters of Hervey Bay, guests may experience a variety of natural behaviours by the inquisitive and active humpback whales in their natural playground such as tail-slapping, breaching, pectoral slapping, or spy-hopping. If guests are fortunate enough and the conditions are right, Blue Dolphin Marine Tours may allow guests on their exclusive in-water platform for an immersive experience offering a truly once in a lifetime encounter with a humpback whale. Regardless of whether guests are in the water or on the boat, these magnificent marine creatures will take their breath away as they get up close and personal with them in their own environment, creating memories that will last forever.
Available on these holidays:
Great Barrier Reef Day Tour ex Hervey Bay
Your tour starts after check-in with a scenic coastal flight out to Lady Elliot Island, a true coral cay on the southern Great Barrier Reef, overflying Fraser Island on the way. Once your flight has landed on the island there is an opportunity to take a guided reef tour on one of the glass bottom boats, snorkel amongst the amazing coral formations and marine creatures, hand feed fish in the lagoon or take a guided reef walk with one of the knowledgeable guides. A chance to come face to face with turtles, colourful coral and schools of reef fish await you. The coral gardens surrounding the island are also a breeding and feeding area for the giant "kites of the reef" - manta rays.
After a busy morning learning about the island and its wildlife by trained guides, enjoy a buffet lunch at the resort. You will have approximately 6.5 hours to explore the island and your tour will conclude after a scenic flight back to the airport of origin.
Available on these holidays: