There's nothing like that unparalleled rush of excitement when spotting a vast, graceful marine body breaching the ocean's depths. Quite simply, whale watching is a once-in-a-lifetime experience for many holidaymakers. It's something once experienced, never forgotten.
If you're hoping to catch a glimpse of a whale (or few), New Zealand is one of the best places to spot these amazing creatures.
Today, we're focusing on whale-watching opportunities from New Zealand's stunning South Island – and three unmissable stops that must be part of your next New Zealand road trip.
What's New Zealand like for whale watching?
The nutrient-rich waters surrounding New Zealand are the fourth largest marine territory in the world. One of the main whale migration routes encircles New Zealand, with these majestic animals moving through the Tasman Sea to the West and the Pacific Ocean to the East.
Many fantastic whale-watching tours from New Zealand offer numerous opportunities to spot these marine mammals throughout the year. The country has a long history of sight-seeing tours, welcoming over 500,000 whale watchers every year.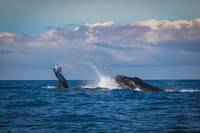 Sperm whales are a frequent sight off the coast of Kaikoura, whilst orcas regularly visit Auckland's Hauraki Gulf. Indeed, almost half of the world's whale species are spotted from locations around New Zealand's coast. Dolphins, porpoises and seals are also a common sight, an additional bonus for keen marine sightseers.
Of course, you could be lucky enough to spot a whale by chance. It's not uncommon to see whales swimming near the coast, especially if you happen to be on cliff-tops or exploring in small boats. It pays to always have your eyes peeled and scan the ocean for plumes of tell-tale spray as you never know when they might appear.
What are the best places for whale watching?
Whilst it's certainly possible to go whale watching from New Zealand's North Island (and some fantastic spots such as the Hauraki Gulf, the Bay of Plenty and even Auckland itself), South Island is the whale watching capital. Whilst touring the island's incredible coastal routes, you can spot whales and dolphins from many places around the shore.
Nevertheless, Kaikoura and Akaroa are the two most famous departure points.
If you're searching for some New Zealand whale watching, here are the best spots to begin.
1. Kaikoura
Kaikoura is the most reliable place for whale watching in New Zealand. The mighty sperm whales (which can grow to 16 metres in length) feed just a few miles away from this picturesque coastal town.
Situated on the South Island's East coast, you might also be lucky enough to encounter blue whales, dolphins, humpbacks and orcas. Sperm whales live here all year round; however, making it one of the few places in the world you can easily and dependably see these beautiful animals. Humpbacks pass between June and July, whilst orcas appear between December and March.
For anyone seeking an additional thrill, scenic flights (from helicopters or ultralights) are available, as well as traditional boat-based tours over the sparkling Pacific waters. There are also trips specifically geared towards dolphin watching and swimming.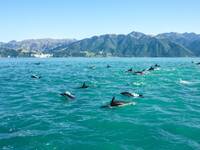 Our recommended trip: South Island Discovery
The South Island Discovery Tour would be the ideal choice for your New Zealand motorhome holiday if you're planning a stop at Kaikoura. Taking in all the delights of South Island, you'll arrive at Kaikoura as one of your last stops on the route – making it a fantastic climax to an unforgettable trip.

2. Akaroa
Whilst Akaroa is also associated with salmon fishing, this charming harbour town is fast becoming a whale-spotting hub. Located on the South Island's East coast, its beaches are also home to rare Hector's dolphins.
Whilst whales aren't as common at Akaroa as Kaikoura, they are occasionally spotted on nature cruises – so it's well worth a visit. Indeed, sightings have increased over the winter months as whales migrate north following the continental shelf (located just 12 nautical miles off the Banks Peninsula).
On these occasions, humpback whales are often sighted, but southern right and sperm whales also appear outside Akaroa heads. Will it be your lucky day?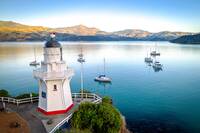 Our recommended trip: Ultimate New Zealand
On this 56-day trip of a lifetime, you'll cover all the highlights of New Zealand's North and South Islands. You'll pass Akaroa on days 19-20, travelling along the rugged coastal ranges, cliff formations and surf beaches of Amberley, Leithfield, Waikuku and Woodend.
At the mid-way point in your trip, an Akaroa Tour (including boat cruise and lunch) is an excellent way to experience this harbour town and its majestic wildlife.
3. Marlborough Sounds
Often operating from Picton, several dolphin and whale watching tours offer trips through Marlborough Sounds and the nearby coves and islands.
Aside from the wildlife opportunities (including sightings of orcas, southern right and humpback whales), Marlborough Sounds is where time stands still. Its endlessly green rainforests meet crystal clear waters. With many areas inaccessible by foot – the best (and only!) way to explore is by boat.
You're most likely to see orca (known as killer whales) between October and March. As one of the most sociable and playful species, they're known to sometimes show off for tourist boats!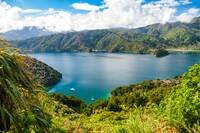 Our recommended trip: The Grand New Zealand Caravan Tour
An epic experience offering the best of both islands, this grand tour is the ultimate New Zealand itinerary. You'll come to Picton on days 16-17, having skirted around the coastal road from Nelson with its sublime seascapes and twisting mountain passes.

Exploring the bays of Anakiwa and Picton allows travellers to experience Marlborough Sounds at their leisure – before hopping on the Interisland Ferry (hopefully also interspersed with dolphin sightings!) on your way to Wellington and the North Island.
Internationally recognised for its whale watching opportunities, New Zealand is one of the best countries for catching a glimpse of whales. There simply isn't anything that matches the awe-inspiring experience of witnessing these beautiful sea creatures in their natural habitat.
For help planning your adventure, explore our New Zealand motorhome holidays. Whether you're seeking some unique wildlife spotting opportunities, mountain landscapes, cultural hotspots or sandy beaches – it's a country like no other.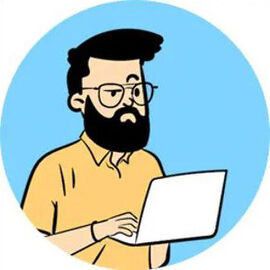 Peter Stannett
Content Writer
Peter is our content writer and SEO specialist, helping keep our content current and monitoring website traffic.
His content covers all four corners of the globe, across topics like activities, advice, food, culture and history.
More by Peter Stannett