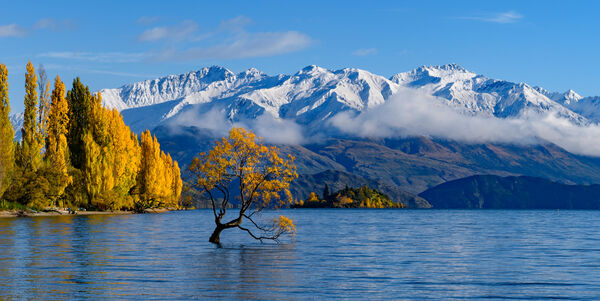 I will make no excuse. We are 'Triple C's': Covid Converts to Caravanning! There, it's out.
We survived the first lockdown very well, living in a sparsely populated area of North Yorkshire, well away from any large conurbations. Once lockdown was declared over, we were off, meeting up with a group of friends in a hotel for a long-awaited get-together. That was fine until all the hotel rules clicked into place - a maximum of four people per table at dinner (we were a group of 12), no breakfast service, breakfast was to be taken in your room, and so on. Plus, there were all these other people there.
It didn't take long for us to realise the best way to take holidays in future was to be self-sufficient. That meant getting a caravan. Two years later, we are on our third caravan, having started out with a pre-owned Swift 480. We then upgraded to a 580 with its separate bedroom before going the whole hog and ordering a new Swift 580 in April 2022.
We joined the Caravan and Motorhome Club early on, and my dear wife spotted that they organised group or individual trips to New Zealand. Having visited this wonderful country several times before, we decided it would be a great way to escape the UK winter.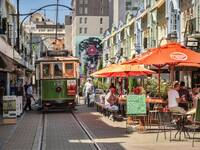 We had a wonderful time, and in case the idea appeals to others, we thought a rundown of our experiences might be useful to fellow caravanners. We booked everything through Chris Parker at Worldwide Holidays by Alan Rogers Travel, a specialist arm of The Caravan and Motorhome Club. Having given Chris a brief outline of where we wanted to go, he came back with a suggested itinerary which we then tweaked a little here and there. Once everything was agreed upon, Chris booked it all: flights, hotels, private transits from airports, a hire car in New Zealand, and a Bailey Phoenix 640 caravan for the NZ part of our trip. After NZ, we were to travel to Australia for another month without a caravan, and Chris arranged all the Aussie sections too.

Well, how did it go? The first surprise was to receive a link to Vamoos, an all-in-one travel app. This is simply brilliant. Everything was here: flights, tickets, hotel info and vouchers, transit info and vouchers, a detailed itinerary with campsites and their locations and a complete set of maps with all our overnight stops marked on the maps. It was so handy and easy to use, with no need to take any paperwork, even maps.
We flew from Manchester to Singapore on Singapore Airlines in Premium Economy: good enough for the 13-hour flight, and we were grateful for a little extra legroom. Business class would have added another £5k or so to the cost.
Chris put us into the Barracks Hotel on the island of Sentosa, just off the mainland and a holiday destination for Singaporeans. The hotel is in a former barracks, hence the name, but it was a revelation. One of the "Leading Small Hotels of the World", it was peaceful and offered a great pool and super attentive staff. An ideal place to take a break when making the long NZ trip.
Following another Singapore Airlines flight of circa 9 hours, we arrived in Christchurch to be greeted by our driver, who whisked us to the Chateau on the Park, one of the finest hotels in Christchurch. Another driver picked us up the next day to collect our Nissan X Trail car, with which we were to tow the caravan. This proved to do the job reasonably well, despite lacking in power.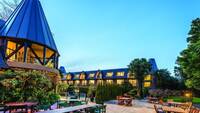 The next challenge was collecting the caravan. This turned out to be an impersonal experience, with everything being done by computer. Prior to arriving at the compound, we had to fill in a pre-collection form online, which was fairly straightforward; this gave us an access code. Once in the compound, there was an unmanned office equipped with iPads. My first job was to watch a 10-minute instruction video on how the caravan worked. Then we were required to take photos of all aspects of the van to record the condition and email those to the HQ. Then another form had to be completed online, which, when submitted, gave us the access code to leave the compound.
We found all this a little daunting and would have much preferred a personal hand over, however on reflection, it all worked very well.
The caravan was well equipped with a large Aqua Roll (about 50% larger than ours in the UK), a filling hose with a selection of attachments, a waste-water container which clipped onto the end of the exit waste pipe, one large gas cylinder plus one small one for the portable BBQ which we used a lot, plus two outdoor folding chairs. There was also a full-size awning, but we left that behind as we were not staying more than three nights anywhere. Inside, all the bed linen, towels, and tea towels were on board, and the bed was made up. Everything was spotless. We had a full set of cutlery, two good kitchen knives, glasses, plates etc. The van was equipped with a good size Dometic fridge/freezer, microwave and four burner gas hob.
What we didn't get was any additive for the toilet, either the cassette or the flushing liquid (they don't use it in NZ), levelling blocks or spirit level (run some water in the sink and see if it drains, it works!). The caravan was attached to the car with an NZ tow hitch which locked onto the car with a padlock arrangement.

The grey water waste had two valves, one on the exit pipe from the van's plumbing and one on the actual tank. It wasn't a good idea to turn these off when emptying the tank! If you don't turn them off, you can't forget to turn them back on!! If you do forget, the next time you empty the sink, the wastewater comes back up into the shower - not good for marital relations!
The campsites do not have designated grey and chemical waste disposal points. They have a 'Dump Station', catering mainly to motorhomes, which normally consists of a drain pipe sticking out of the ground in a drain area.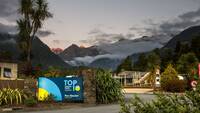 As for campsites, Chris had booked these and most were "Top 10 Holiday Parks" - a national franchise operation, all very well run with electric hookups on each pitch and frequently a water supply as well. However, be prepared; the distance between pitches can be tight. Sometimes we were lucky to get a double pitch, and sometimes we had 'close neighbours', but overall it wasn't a problem as we were only there for a couple of nights.

Most pitches were pretty level, but on more than one occasion, we could have done with some levelling blocks. Pitches varied between tarmac, gravel and grass (or what used to be grass!).
Toilet/shower facilities were excellent on every site, as were the kitchens. New Zealand has numerous small camper vans using these sites that rely on kitchen facilities, they were all well-equipped and always spotlessly clean.
One of the striking things about motoring in NZ is the total lack of traffic once you are out of the cities, as well as the wide roads, lack of potholes and sublime scenery. There are some local laws you need to be aware of. The speed limit for vehicles towing caravans is 90kph, and if you have seven or more vehicles behind you, then you MUST pull over at the first opportunity and let them pass. Invariably as soon as you get a couple of cars behind you, you let them pass at the first opportunity. As in the UK, it is prohibited to use mobile devices when driving.
New Zealand is an ideal place to take a caravan holiday, with empty roads, plenty of space and good sites which are run to a high standard. The only downside is the space between pitches which can be less than 6 ft rather than the usual UK spacing of 6 metres.
If you've been on one of our tours, we'd love to hear from you. Contact us using the form below or email us.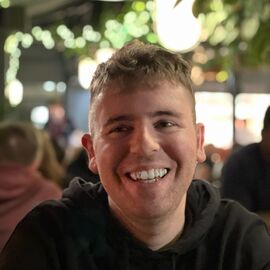 Ben Tully
Visual Design & Content Creation
Ben deals with all things design, working on the visual design of our annual guides, Destinations magazine, information leaflets, social media and email campaigns, and much more across the Alan Rogers, Rallies and Worldwide brands. He also produces written content for our blogs alongside our other contributors.
More by Ben Tully