Must- see places to visit in South Island, New Zealand.
South Island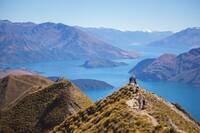 New Zealand's South Island is an outdoor paradise, with incredible, wild landscapes ranging from Alpine snow-capped mountains and glaciers to rainforest and sub-tropical beaches. Oh, and world-class whale watching.
There's so much to see! Explore the world heritage listed Mt Cook National Park, the training ground of Sir Edmund Hilary. Gaze at the brooding Fox and Franz Josef glaciers in the southern Alps. See albatross and penguin sanctuaries on the Otago peninsular. Wander among gold mining heritage in picturesque Arrowtown.
Cycle through world-famous Marlborough vineyards. Take a sea kayak to the 120 million-year-old Split Apple Rock in Abel Tasman National Park. Dine on top of a mountain overlooking Queenstown's majestic alpine surroundings and The Remarkables mountain range across Lake Wakatipu.
Take time to explore the Alpine Pacific Triangle through the foodie paradise of Waipara Valley, to the thermal pools and spas of Hanmer Springs and on to the marine paradise of Kaikoura.
Every day brings fresh memories that will be with you forever.
Kaikoura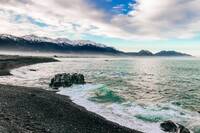 The picturesque coastal town of Kaikoura is the perfect place for marine life encounters, coastal walks, and tucking into a plate of crayfish. Kaikoura is a base for wildlife experiences of all kinds – it's also a great place to eat crayfish (in the Maori language, 'kai' means food, and 'koura' means crayfish). An easy two-hour drive north of Christchurch, Kaikoura makes for a great day trip or a fun stop on your way to Marlborough.
Kaikoura's environment is truly spectacular – the village is caught between the rugged Seaward Kaikoura Range and the Pacific Ocean. In winter, the mountains are covered with snow, adding to the drama of the landscape.

Kaikoura's special talent is marine mammal encounters – whales, fur seals, and dolphins live permanently in the coastal waters. Whale-watching trips leave the town several times a day, and the local seal colony is always entertaining. There are plenty of cafés, restaurants and shops to explore.
Must-do activities in Kaikoura:
Go whale-watching by boat or air at any time of the year.
Swim with or simply watch beautiful dusky dolphins on a dolphin encounter.
Experience seal swimming with the playful New Zealand fur seals in the shallow waters of the beautiful Kaikoura Peninsula.
Take a bird-watching tour to view seabirds, albatross, molly-mawks, petrels and many more.
Hike the Kaikoura Peninsula Walkway - three hours return to visit a seal colony, limestone formations and a seabird colony.
Visit Fyffe House, a colonial whaler's cottage.
Meet the local indigenous people and experience Māori culture with Māori Tours Kaikoura.
Christchurch and Canterbury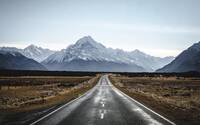 Often the point of arrival or departure for many visitors, Christchurch is a resilient city, ravaged by earthquakes but retaining a very English atmosphere with its lush Botanic Gardens, parks and the charming River Avon meandering through the city.
Take a punt along the river, a tram through the city or a gondola high above the Canterbury Plains for very different perspectives. And well worth visiting is the famous 'Cardboard Cathedral', a transitional structure, a testament to the tussle between heritage and modernity (and necessity).
Canterbury is a region of contrasts. Rugged alpine peaks overlook flat fertile plains, shimmering Pacific Ocean beaches sit next to the incredible Kaikoura Range, and fresh blue lakes are bordered by swaying golden grasslands.
Natural wonders abound in this region: tour the Alpine Pacific Triangle, the spa delights of Hanmer Springs and Kaikoura, a mecca for whale watching.

Linking the Canterbury Plains and the West Coast, in the heart of the Southern Alps, is Arthur's Pass National Park. This is one of New Zealand's great road trips (also rail – the TranzAlpine train journey does not disappoint).
Nelson and Abel Tasman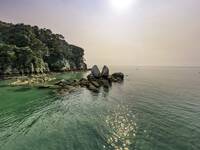 On the north coast of the south island, this is a stunning tropical paradise with turquoise waters, rain forest, palm trees and an abundance of marine life, including dolphins.
There's an almost French Riviera feel about the place, with more sunshine hours than anywhere else in New Zealand.
The region has three national parks, including the fascinating rock formations of the Abel Tasman Walk. Also, witness the spectacular mountain ranges in the Nelson Lakes National Park or some of the country's oldest rock formations in the Kahurangi National Park.
Te Anau and Fiordland
The gateway to the Fiordland National Park, Te Anau, is a great base to explore this spectacular region. Nestled on the edge of the second largest lake in the South Island with a stunning backdrop of Mount Luxmore and the Murchinson mountains.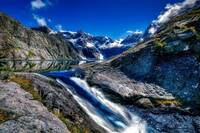 The most popular excursion here is a cruise on Milford Sound, Kipling's Eighth Wonder of the World. With soaring granite cliffs, rain forests, tumbling waterfalls and – hopefully – dolphins and all manner of marine life, this is a highlight of any visit to New Zealand.

The waters elsewhere are also attractive, though less of a headline attraction: Lake Te Anau or the smaller Lake Manapouri have their own appeal. Enjoy a guided walk on the Kepler, Milford or Routeburn Tracks, which are amongst New Zealand's Nine Great Walks. Always popular are the amazing 12,000-year-old glow worm caves, illuminated purely by these incredible creatures.
Don't Miss.. South Island
Marlborough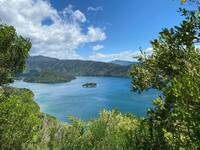 On the northeastern tip, Marlborough is well known for its world-class vineyards. It's possible to cycle between a number of household name wineries, sampling and enjoying an excellent lunch. A wonderful day out.
But there's more than just wine here! Marlborough offers soaring mountains, historic buildings, isolated beaches and, of course, the majestic Sounds. These are an extensive network of coastal waterways, peninsulas and islands, providing a unique landscape with sensational views.

Explore the Charlotte Sounds or Marlborough Sounds by kayak or sail around the spectacular beaches and coastal inlets. Hike through native forest along the 71-kilometre Queen Charlotte Track and discover magnificent secluded spots far from the crowds.
Invercargill

It's easy to navigate around the wide streets of Invercargill. New Zealand's southernmost city has plenty of character and a warm, friendly heart.
New Zealand's southernmost city was founded in the 1850s and with a population in excess of 53,000, Invercargill is the capital of Southland.
From a visitor's point of view, Invercargill is well-equipped with an excellent range of shops and a selection of lively bars and restaurants. Victorian, Edwardian, and Art Deco heritage buildings give the city a charming old-world character.
And just minutes from the city centre, there is a great array of coastal landscapes for visitors to explore, from the long coastal highway of Oreti Beach to the native wonders of Waituna Wetlands and Omaui or the boardwalk on the estuary and heritage wharf.
It may appear Invercargill is obsessed with anything that has wheels. You too can experience 'wheel-mania'. Watch cyclists, or take a ride at the SIT Zero Fees Velodrome or discover the world-class vintage truck collection at Bill Richardson Transport World. Alternatively, celebrate Invercargill's motorcycle history at Classic Motorcycle Mecca and learn about the legend of speed - Burt Munro at E Hayes Motorworks.
Take a guided tour through the Invercargill Brewery and discover that good beer is so much more than just bending your elbow. Visit Blue River Dairy, Southland's Sheep Milk Café, where you can enjoy cheese tasting and a chance to try the best cheese roll in Southland. Or try your hand at chocolate making at the Seriously Good Chocolate Company.
New Plymouth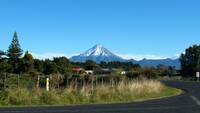 The city of New Plymouth is known for its sunny climate, art galleries and beautiful parks; during the rhododendron season, New Plymouth's parks and gardens are beautiful to behold. The conical shape of Mount Taranaki provides a dramatic backdrop to the city and is a constant reminder that the hiking trails of Egmont National Park are just a short drive away.
By the New Plymouth waterfront, you'll find Puke Ariki, a wonderful museum and heritage centre, and the Govett-Brewster Art Gallery/Len Lye Centre - New Zealand's first and only museum of contemporary art. It is also the nation's first institution dedicated to a single artist, the pioneering filmmaker and kinetic sculptor Len Lye.
Pukekura Park is the perfect place to relax and enjoy nature at any time of the year, the city offers good shopping and a great selection of restaurants, plus there's also the New Plymouth Coastal Walkway, a 13km promenade with stunning views.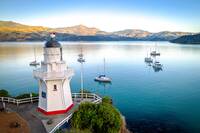 Akaroa
The unique French settlement of Akaroa is only a short drive from Christchurch, located on the shores of the sweeping Akaroa Harbour on the Banks Peninsula. This charming historic village is home to many boutique shops, galleries and gourmet waterfront cafés. Enjoy breathtaking views from one of the many spectacular walks on offer, or take a cruise to explore the volcanic cliffs and inlets of the harbour, keeping an eye out for the rare Hectors Dolphin, one of the smallest dolphin species in the world.
Picton
Picton is a picturesque port town located in the heart of the Marlborough Sounds and is home to some great cafés, restaurants, galleries and speciality shops, as well as being the South Island base for the ferry service that connects the main islands of New Zealand.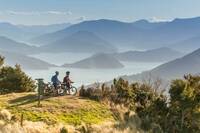 The town has been built around the very sheltered harbour and has an attractive seafront dotted with cafés, restaurants and various types of galleries. The more adventurous can explore The Queen Charlotte Track by mountain bike or by foot, and for those a little less adventurous, there are dolphin-watching cruises, fishing cruises, an aquarium and a floating maritime museum.