When it comes to a holiday of a lifetime, you would be hard-pressed to beat an Australian motorhome holiday. This is an impressive country with vast wide open spaces full of natural wonders to explore and not to mention the miles and miles of white sandy beaches that are simply perfect for lazing away a few hours in the sun.
There is no better way to see Australia than from the comfort of your motorhome as you explore this vast and beautiful country. The roads are wide and easy to drive making it perfect for a road trip and with a host of fantastic campsites pre-booked you can kick back and relax as you tour your way around Australia taking in the sights.
Why Choose An Australian Motorhome Holiday?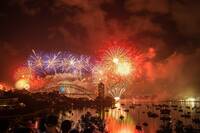 There is nothing quite like a holiday that is flexible and offers you the freedom to explore and stop at many of the hidden and exciting spots that tourists don't often get to see.
With a guided motorhome holiday, you get this freedom while having a knowledgeable guide and tour host who is always on hand to offer advice and help every step of the way.
This kind of holiday is the perfect way to explore this vast and beautiful country. You can meet our fantastic tour hosts for further information on the guided tours they offer.
Whether you choose a guided tour or choose to go it alone with one of our independent motorhome tours you are sure to have a holiday of a lifetime as you explore the best that Australia has to offer.
Australian Beaches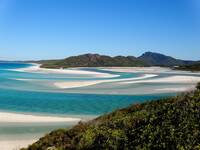 The beaches in Australia are world-renowned and for good reason. The sandy beaches and coastlines stretch on for miles and offer an excellent opportunity to soak up some rays and take a swim in the sparkling blue seas.
With a great beach comes the fantastic beach lifestyle that Australia is famed for. These include many outdoor pursuits and sports, including surfing. There is no better time to try something new and book yourself a lesson or two while you are there or even enjoy a helicopter ride over Airlie Beach and the Whitsunday Islands.
It isn't easy to narrow down Australian beaches to just the very best. In Australia, you are spoilt for choice with fantastic beaches wherever you travel on the coast. Luckily our tours and itineraries include some fab options.
Perth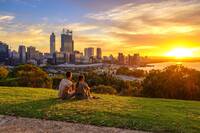 Perth has a fantastic coast that is great for swimmers and sun-seekers alike. With miles of sandy beach and beachside cafes to explore this is a great place to stop and relax and the great news is that with our Western Wanderers Itinerary you get a three-night stay right at the very start of your holiday. An excellent opportunity to relax after a long flight and spend some time on this beautiful beach.
Merimbula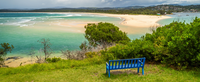 For a quiet and relaxing trip to the beach, then taking the opportunity to visit Merimbula is a must. With five main beaches, each as beautiful as each other, this is the perfect location for a leisurely walk or picnic. This is a quieter pace of life than some of the big city beaches and a fab addition to any motorhome holiday Itinerary.
Our Southern Delights Holiday includes this beautiful location in its schedule, and a trip here is an excellent way to spend a little time just relaxing as you soak up the sun and the natural atmosphere.
Cairns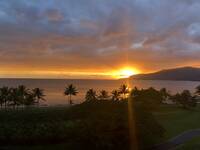 Cairns is the highlight of any holiday for many reasons. Not only is it a great city with plenty to see and do, it also boasts a beautiful beach, rain-forest and is also the best place to see the great barrier reef. This city has everything you could want all in one place.

Outdoor Activities And Pursuits
Australia is known to many as the home to some of the most exciting and exciting outdoor activities. The weather and environment make it a haven for surfers, snorkelers, white water rafting, hiking and exploring, and so much more.
You can visit the Great Barrier Reef and also take a trip to see the rain-forest on the same trip! Not to mention the countless opportunities for exploring throughout your holiday as you tour the many impressive destinations.
If the more extreme activities are not your idea of fun, then there is still plenty for you to consider doing on your Australian motorhome holiday. All of our holidays include the opportunity for excursions while on your holiday, and you can find out more about them on our Australian Excursions page.
All of our motorhome holidays In Australia offer some fantastic opportunities to explore the best that Australia has available when it comes to outdoor activities.
No matter your holiday there will be plenty to choose from. Tourism Australia have some fantastic advice and information for anyone considering travelling to Australia and you can always take a look at our information on planning a motorhome holiday before you choose your Australian adventure and itinerary here.
Beautiful Landscapes And The Australian Outback
When anyone mentions Australia, the images that come to mind are usually of the vast, sandy beaches and iconic cities, but Australia has so much more to offer. This is a country full of diverse landscapes and fascinating places to see. From the many impressive sacred sights to tours of the vast outback, you will be spoilt for choice when it comes to choosing your Australian adventures.
Uluru - Ayres Rock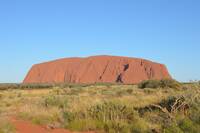 Ayres Rock, known by the locals as Uluru, is an iconic image in Australian culture and heritage, and it is undoubtedly worth a visit. With an excursion to Uluru, you can experience the majesty of this natural rock formation and hear about its importance as a sacred site. A great tour also includes a visit to some of the many sacred sights in the area too.
Cradle Mountain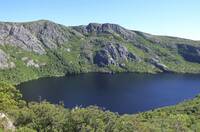 World-famous and majestic with its natural beauty, Cradle Mountain sits in the St Clair National Park. This stunning landscape is a wonderful place to explore, and with many hikes and trails to suit all abilities and ages you can enjoy a day or two exploring this area.
A visit to this iconic tourist destination is just one of the many highlights of a motorhome holiday, and this is why we include it in our Motorhome Holiday in Tasmania.
Mount Gambier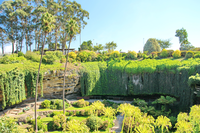 Built on the slopes of a long-extinct volcano, Mount Gambier is a city that is impressive for so many reasons. It is the perfect place to pack a picnic and explore either by yourself or by making the most of the guided tours available. Tour the caves and then take a trip to relax by the famous blue lake.
This makes for a great family excursion to take in the sights and relax. This fantastic city and natural landscapes are included in our Southern Delights Holiday.
Wave Rock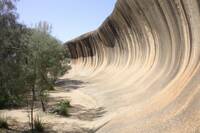 It's unusual to find a huge wave so far from the ocean, but Australia has managed it! This natural rock formation is 15 metres high and took around 2,700 million years to form. It is now an impressive tourist attraction that is a sight to behold.
Amazing Cities
Australian cities are full of iconic features, and bustling areas to explore the more urban side of this beautiful country and many of these cities are saturated perfectly next to beautiful scenery, sunny beaches or even rainforests! You can get the urban experience while still enjoying the natural beauty of Australia.
Brisbane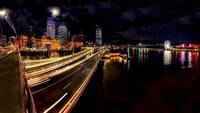 Brisbane is famous for its relaxed, outdoor lifestyle, yet it still manages to encapsulate the very best in an urban holiday experience. You have a choice of award-winning restaurants, al fresco dining and shopping.
Brizzy is the perfect place to stop and change the pace of a relaxing motorhome holiday for a couple of days. See the sights, dine out and take in a show as you explore this wonderful city.
Sydney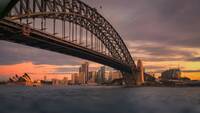 For an iconic holiday, a trip to Sydney is a must. This is the largest city Australia has to offer, and there are far more reasons to visit than to see the iconic Sydney Opera House. This Australian city has a host of world-class places to dine and shops to visit.
It is the perfect place to pick up a few souvenirs of your visit, and while you are there, you can take in some of the events and take a walk along its beautiful harbour. Include Sydney in your itinerary with our Southern Delights holiday.
Melbourne

For a city visit to remember, Melbourne has it all. This is a city bursting with the excitement, from fine dining experiences, art exhibitions and fascinating museums to attractions and enjoyable shopping experiences.
The city is built upon a historic lane-way made up of cobbled streets that is now a haven for those who love to find the best boutiques and cafes where they can soak up the atmosphere.