We all have a favourite genre of music or a beloved musical icon, and it is a dream to be able to walk in their footsteps, to see and hear the culture and places that influenced and inspired them. This holiday is a once in a lifetime experience that is a privilege to experience.
The Musical Influence Of The Southern States Of The US
So why is the Southern US a haven for music lovers? It's an area that's produced some of the most prominent artists and musical influencers over the last hundred years, and their musical roots go back even further than that. The birth of Jazz, Blues, Rock and Roll, Bluegrass and Soul are all attributed to the area.
With such big musical icons as Louis Armstrong, Dolly Parton and of course, the King - Elvis Presley it is no wonder that the Southern US is a haven for music lovers to visit and immerse themselves in the unique musical atmosphere this area provides.
One way to experience the musical talents of the US, along with the unique and diverse cultures of this area is with a tailor-made motorhome holiday. You can experience life on the open road as you follow the footsteps of some of the greatest musical icons. With your motorhome, you are free to travel from place to place, like your favourite icon on tour, but with the added security of a tailor-made itinerary created for you that ensures you don't miss any of the highlights the area has to offer.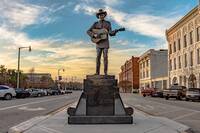 Why Choose A Tailor-Made Motorhome Holiday
A tailor-made or independent holiday is the perfect way to explore your chosen destination with all the freedom and flexibility that a motorhome holiday offers. We have suggested itineraries packed full of attractions, fascinating places to visit, campsite suggestions and road trip options and you can either stick to these or adjust them according to your preferences. If you want to lengthen your trip a few extra nights in an area, then you can! Or, if you're going to take a slightly different route, then that is your choice too. You can browse our full list of tailor-made motorhome holidays where we have options for holidays to the USA, Canada, Australia, New Zealand and South Africa.
All tailor-made motorhome holidays come with a fantastic choice of motorhome than you can book depending on your needs and the holiday you choose. The motorhomes available for our Rhythms Of The South Holiday comes with a choice of vehicle to hire such as the Cruise America Truck Camper that is brilliant for being easy to drive and of course all of the facilities it contains.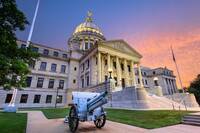 A Unique US Musical Tour - The Rhythms Of The South
The Rhythms Of The South motorhome tour is one of our flagship holidays in the US and offers you a fantastic opportunity to explore a beautiful area of the United States while soaking up the musical heritage and culture as you go.
The United States is particularly renown for three iconic music genres, Jazz, Blues and, of course, Rock and Roll, we have put together, what we think is the perfect itinerary that focuses on these. You can experience the best in Jazz culture and music, Explore the birthplace for music's most iconic influencer, Elvis Presley and the Blues and Rock genres he dominated in the 1950s and '60s. Finally, we can introduce you to Nashville, the home of bluegrass and country music.
This tour is a motorhome holiday, packed full of highlights, and here are some of the main features you can enjoy on your holiday of a lifetime to the United States of America.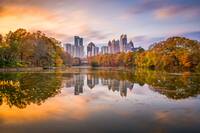 Atlanta - A Great Beginning
The American motorhome holiday starts in Atlanta. A city known for its heritage and culture and included in your trip is a two-night stay at the beginning of your holiday where you will stay in a centrally located hotel. This location gives you the perfect opportunity to adjust to the time difference and explore the city as you get ready to head off on your great American adventure.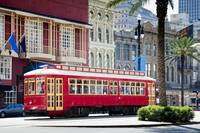 New Orleans - The Birthplace of Jazz
After collecting your motorhome in Alabama from the state's capital, you head towards New Orleans for A Jazz experience, but not before you stopover in Mobile for a night to break up the long journey. During this time you get ample opportunity to adjust and get used to your motorhome and all its facilities.
When you arrive in New Orleans in Louisiana, the history of Jazz and the extraordinary culture becomes immediately apparent, and there is so much to see, do and experience while here. The city itself is a melting pot of varying cultures and country influences, and this is what has made it the lively, bustling city it now is.
The musical culture in New Orleans is strong and matched only by its unique cuisine. You can experience both of these things in abundance as you explore the city. While you are here, you can take advantage of a paddleboat trip on the famous Mississippi river or take a trip to one of the plantations and explore the history of the area.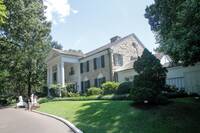 Mississippi and Tennessee - Elvis Country
After an exciting trip through Louisiana and a stay in New Orleans, you will be ready to move on, but your trip remains just as impressive as you head into Elvis Country.
Jackson is a great place to stop and recharge your batteries while taking in a few of the historical sites while you are there, which is why we have included this in the itinerary as the perfect place to stop and break up the long drive from New Orleans to Tupelo.
Tupelo is the birthplace of music icon, Elvis Presley, and it is here that you can start to follow in the footsteps of this musical great. Take the time to visit the museum dedicated to the King and explore the town that he called home for much of his early childhood. Our itinerary suggests a two-night stay to fully explore the area before moving on to Memphis, which is the city that is most connected to Elvis.
Your drive to Memphis takes you through the picturesque Holly Springs Natural Forest which is worth a quick stop and explore. You can walk through beautiful forest and explore the stunning lakes in the area before heading on to Memphis where you can stay close to Graceland for three nights - plenty of time to explore the city where Elvis lived and created his music. You can even take a trip to Sun records the iconic label that first signed Elvis!
While here it is well worth taking some time to visit the museums and the many restaurants and bars too. A city which is known for much more than music, and it also has a fascinating civil rights culture.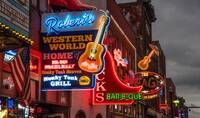 Nashville - The Home Of Country Music
When you think of American music, then it doesn't take too long for your thoughts to drift towards country music and bluegrass and this is where you will head next on your American Music Road Trip.
Nashville is home to a whole host of country music icons, but there is perhaps few quite as iconic as Dolly Parton who made her debut at the iconic Grand Ole Opry - a musical stage show founded in 1925, and it is still going now!
During your three-night stay, you can explore the city and visit some of the iconic places this city has to offer. A trip to Nashville wouldn't be complete without a trip to The Country Music Hall of Fame, which is not just a museum dedicated to the most iconic country stars America has to offer. The Hall of Fame is also a research centre that specialises in preserving the culture and music of the area.
Nashville has another famous icon - Jack Daniels the smooth bourbon that is loved worldwide and the famous distillery is still there, and while there you can take a trip to sample the renowned whiskey in its hometown!
How To Book Your Musical Motorhome Holiday
This tour is a tailor-made and independent motorhome holiday that you can adjust and revise to your heart's content. You can stick close to the itinerary and take advantage of the benefits that come with a tailor-made holiday while maintaining your freedom to explore and the flexibility to change your mind.
Our team will help you to create the holiday of your dreams, so get in touch with us today to start booking your musical icon motorhome road trip through the Southern States Of America.