With ever-changing landscapes, an astounding array of wildlife and evidence of human history from the very dawn of civilisation, it's no wonder Kruger National Park is one of Southern Africa's most-loved reserves. With over 130 mammal species, 500 bird species and abundant plant life, it's a dream come true for nature and wildlife enthusiasts.
Of course, for anyone travelling to Kruger National Park, one of the main draws is the "Big Five". It's got them all — elephants, lions, leopards, rhinos and buffalos — with plenty of safari tours and local guides to help you spot them.
Here are some unmissable highlights if you're planning a motorhome adventure around South Africa's Kruger National Park. From sunset game drives to cultural experiences and panoramic lookouts. What will you discover?
Discover Kruger National Park's prehistoric past
Kruger National Park boasts an intriguing prehistoric past, with many archaeological sites providing glimpses into early human presence in the region. Indeed, Stone Age artefacts occur on most hilltops in the Limpopo floodplains and along the Makhadzi Spruit (next to the Lebombo Mountains).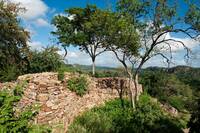 One notable site is the Thulamela archaeological site, located in the northern part of the park. Thulamela was a prosperous Iron Age settlement that thrived between the 13th and 17th centuries. Alongside trained guides, visitors can explore the remains of the stone-walled structures, gaining insights into the daily lives and activities of people who once inhabited the area.
In addition to places like Thulamela, numerous rock art sites are found within the park. Check out the astounding paintings adorning a sandstone rock near the Hippo pool. They're some of the only artistic remnants of the early San (Bushmen) people.
Make the most of panoramic lookout points
Kruger National Park isn't just about the wildlife, so take the time to appreciate some breathtaking vistas from the park's panoramic lookout points!
With its vast landscapes stretching as far as the eye can see, Kruger National Park offers stunning views. Locations like Bobbejaankrans, the Nkumbe Lookout and the Mathekenyane Lookout (to name just a few) are perfect spots to take a break from driving, stretch your legs and enjoy a picnic or sunset stroll.
Explore the majestic Marloth Park
Marloth Park is a wildlife sanctuary situated on the southern boundary of the Kruger National Park. Set on the banks of the Crocodile River, it provides a unique opportunity to witness abundant wildlife. Four of the Big Five — rhino, lion, and buffalo — are kept in Marloth Park's Lionspruit Game Reserve.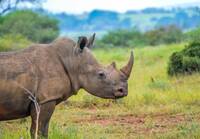 Kudu, zebra, giraffe, wildebeest, ostrich, impala and warthog also roam freely between holiday lodges and accessible roads. Prepare to be captivated as you watch elephants play in the river, catch glimpses of magnificent wildlife and witness the African bushveld's spectacular sunsets.
If the unique wildlife wasn't enough, Marloth Park offers an array of additional activities to enhance your experience. From guided game walks and drives to night safaris, mountain biking, fishing, quad biking, horse riding, bird watching, and even golfing, there's something for everyone to enjoy.
Visit Kruger Park's "botanical garden" of Punda Maria
Nestled in the northernmost part of the Kruger National Park, Punda Maria Rest Camp is a particular highlight of the Sandveld region. In fact, its plant life is so unique and diverse that it's often referred to as the "botanical garden" of the park.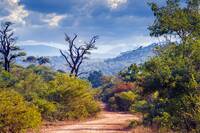 This low-lying northern Kruger area is fed by the Olifants and Letaba rivers and is characterized by shrub mopane. Numerous smaller water bodies serve as habitats for hippos and water birds. It all makes Punda Maria one of the best spots for birding in the park, with several species of eagles, vultures, parrots, falcons, hawks, and kites to be found.
Sightings of various big games are almost guaranteed here. You will likely encounter impala, zebra, buffalo, elephant, eland and sable as you explore the area. Punda Maria is also home to half of Kruger's elephant population, with plenty of tours available to show you the best spots.
Bush walks and birdwatching with experienced guides
Get up close and personal with Kruger National Park by joining a guided bush walk. Accompanied by knowledgeable guides, you'll have the opportunity to learn about the smaller wonders of the park, from fascinating insects to intricate plant life.
Vegetation differs massively from region to region, with trees like the mighty baobab found in the Northern Sandveld and archetypal savanna grasslands covering much of the eastern Sweetveld Plains. Wherever you end up, enjoy the thrill of untamed wilderness and gaining unparalleled local knowledge along the trails.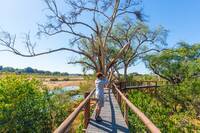 We've already mentioned the birds of Punda Maria, but over 500 bird species reside in Kruger National Park. There are some fabulous birding drives, and the best time to go birding is between October and March, when the native population swells with around 200 migrant species.
So whether you're a birding enthusiast or amateur, keep your binoculars handy while you're out on a bush walk or just strolling back to your motorhome. Can you tick the "Big Six" (the avian equivalent to the "Big Five!") off your list?
Enjoy cultural experiences with local communities
Enhance your journey through Kruger National Park by immersing yourself in vibrant local cultures. Many villages are scattered throughout the park, providing unique opportunities to interact with communities and gain a deeper appreciation of their customs, traditions and sustainable practices.
Take Matsamo Cultural Village (located near the southern boundary) as one example. Here, you can witness authentic Swazi culture and heritage through captivating traditional dances, storytelling and music performances. Guests can also participate in weaving, cooking, cow milking, maize grinding, beadwork, drum making and more.
Feeling inspired by Kruger National Park? Imagine embarking on a full motorhome adventure through South Africa, including Kruger National Park, Addo Elephant National Park, the famed "Garden Route", and more. With our Roads of the Rainbow Nation tour, you can explore this diverse country's cultural wonders, fantastic wildlife and landscapes. Ready? Let's get exploring.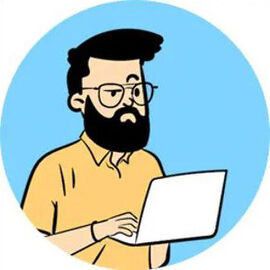 Peter Stannett
Content Writer
Peter is our content writer and SEO specialist, helping keep our content current and monitoring website traffic.
His content covers all four corners of the globe, across topics like activities, advice, food, culture and history.
More by Peter Stannett