Must-see places to visit in Eastern Cape Province, Southern Africa.
Storms River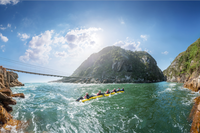 Backed by the Tsitsikamma Mountains' mighty Storms River Peak and surrounded by swathes of indigenous forest, Stormsriver Village, in South Africa's Eastern Cape, is an incredibly scenic destination known as an adventure sporter's paradise.
At the Tsitsikamma National Park and others nearby, adrenaline junkies delight in ample opportunities for canopying, ziplining, tubing, bungee jumping, kayaking, snorkelling, Segway riding, cycling, and hiking through the bright green, wildlife-rich jungles, rivers and sea. The renowned Otter Trail begins here, and the famous surf mecca Jeffrey's Bay is just 80 kilometres away.
Other highlights include the luxury spa at the Armagh Country Lodge; several charming craft stalls and boutiques; and a collection of interesting restaurants, such as Marilyn's 60's Diner, a retro eatery decorated with a jukebox, 1961 Dodge Lancer and various other vintage cars.
The Wild Coast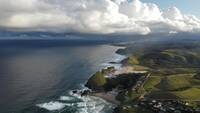 Stretching for over 200 kilometres along one of South Africa's most pristine, wild and beautiful sections of shoreline, the Wild Coast is renowned for its hidden coves, secluded beaches, and rolling emerald hills.
Those who love peace, quiet and the great outdoors would be hard-pressed to find a better holiday destination than this scenic wilderness, while it also provides plenty of activities to keep the active and adventurous amused, including fishing, diving, and swimming.
Visitors can also look forward to exploring the traditional Xhosa villages that dot the hills, lazing in a hammock, and hiking along the breathtakingly beautiful coastline, which boasts secret swimming holes, rocky headlands, sheer cliffs, footprint-free beaches, and lazy lagoons.
Morgan Bay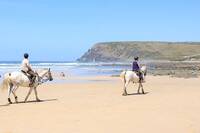 Located less than an hour from East London on South Africa's breathtaking Wild Coast in the Eastern Cape's Amatole District Municipality, Morgan Bay is an idyllic seaside town offering beautiful wildlife, stunning beaches, and a wide variety of outdoor sports.
Two safe and idyllic swimming spots are on offer: a mile-long beach of soft white sands patrolled by lifeguards over the summertime and the lovely lagoon where visitors may even spot fish eagles and crowned cranes. These birds are only two of 270 species in the area, making the town an excellent bird-watching destination, and an array of other animals can be spotted at the Endalweni Private Game Reserve.
Thrill seekers can indulge in hiking, mountain biking, fishing, surfing, canoeing, horse riding, rock climbing and abseiling. Make sure to visit the nearby Bead Beach to see a 16th-century Portuguese shipwreck.
Tsitsikamma National Park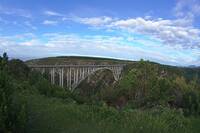 Situated along South Africa's beautiful coast, the Tsitsikamma National Park is known for its ancient forest, pristine coastline and magnificent rivers. The Tsitsikamma National Park falls within the Garden Route National Park and encompasses a marine conservation belt which stretches five kilometres out into the ocean. It is home to diverse fauna and flora, including over 9000 species of indigenous fynbos. Visitors can look forward to hiking to the Big Tree, an ancient yellowwood, and going on an exhilarating kayaking trip at Storms River Mouth, as well as a number of other activities, including cycling, swimming, zip lining, camping, snorkelling, diving, mountain biking, and sailing.
Camdeboo National Park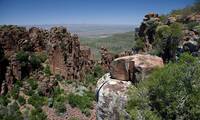 Located in the heart of the remote and mysterious Great Karoo, Graaff-Reinet is surrounded by the rolling plains and rising mountains of Camdeboo National Park. This is a wonderful place to escape from reality and revel in the solitude, silence and clear, star-studded nights that this secluded town provides.
Graaff-Reinet, as the fourth oldest town in the country, has a very rich history and features ancient fossils, wonderful examples of Cape Dutch architecture, and over 220 local heritage sites.
Visitors can look forward to an array of lovely activities, including soaking up the breath-taking views of the 'Valley of Desolation' in the Camdeboo National Park, enjoying a night under the African stars at a local guest farm, and sampling the area's renowned Karoo lamb.
Addo Elephant National Park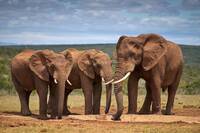 Set in the enchanting Eastern Cape Province of South Africa, the Addo Elephant National Park is the country's third-largest national park and offers a truly unforgettable safari experience.
This finely-tuned ecosystem provides a sanctuary to large numbers of elephant, lion, buffalo, black rhino, spotted hyena, leopard, antelope, zebra and over 400 bird species. This unique park is the world's only park with the 'Big 7' - the Big Five plus the southern right whale and great white shark off the coast of Algoa Bay.
Spend your days marvelling at the free-roaming wildlife, enjoy exhilarating 4x4 safari adventures, exciting horse riding excursions, and wonderful night drives where you are likely to spot some fascinating nocturnal wildlife. Famed for its large herds of elephants, Addo provides an ideal, tranquil retreat for those looking to escape the stresses of big-city living.