Around 100 miles south of San Francisco, mid-way along the stunning Monterey Bay – Moss Landing is a true undiscovered gem. It's found at the mouth of the Elkhorn Slough estuary and allows visitors to explore one of the most unique ecosystems on earth.
Its Mediterranean climate makes it a haven for wildlife and a hotspot for motorhome holidaymakers in California. If you're planning a trip to the area, here are our picks of the best activities and must-see sights of this small working town and its natural wonders.
Blog > Moss Landing California: A Nature Lover's Paradise | 4 MIN READ

---
Moss Landing: A Brief Introduction
First settled by the Ohlone Indians over 4,000 years ago, Moss Landing is now home to just over 240 people.
The unusual name stems from a Texas ship captain, Charles Moss. In the early 1860s, he set up a wharf and landing to process the growing grain trade from the Salinas Valley. The town became a busy whaling and fishing port in the late nineteenth and early twentieth centuries. Today, the harbour still plays a major role in the town's life and economy.
The region experiences warm but not hugely hot summers, with average temperatures hovering around 20 degrees Celsius.
Must-See Sights and Activity Ideas
The Elkhorn Slough Reserve
Moss Landing is the gateway to Elkhorn Slough, one of the most extensive wetlands in California. It's a famed precious natural resource, consistently ranked amongst the top birding spots in the country. Around 300 species of birds migrate through the area annually and walks through its meandering waterways frequently reveal hawks, herons, egrets and white-tailed kites (to name a few!).
With over 1,700 acres of tidal flats and salt marshes, Elkhorn Slough is also one of the best spots in the world to see sea otters. It's estimated over 100 otters call the slough home, alongside yet more harbour seals and sea lions, turning the slough into a raucous cacophony of spring-time marine life. If you're visiting at the weekend, don't miss the guided tours that begin from the visitor centre – usually at 10am and 1pm.
As well as strolls along Moss Landing's nearby sandy beaches, there are also some great hiking trails in Elkhorn Slough itself. There are over five miles of hiking trails in the reserve, with several lookout points dotted around the water's edge.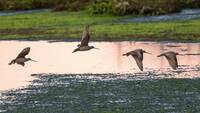 Moss Landing State Beach
Moss Landing State Beach is increasingly renowned as a surfing destination. With rolling waves and a long sandy coastline (protected by picturesque dunes), it's also a popular spot for picnicking.
Other activities from the beach include fishing, windsurfing and horseback riding. Visitors should be aware that there are strong rip currents at the beach, making swimming and wading dangerous.
If you're looking for more beach vibes, the Salinas River State Beach and Zmudowski State Beach are also well worth a visit.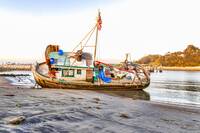 Moss Landing Harbour District
Today, Moss Landing Harbour berths just over 600 boats. Of these, around half are still working fishing boats, with 200 pleasure boats – and several tour and charter boats available for tourists.
With the harbour's commercial boats landing crab, halibut, salmon, rockfish, anchovies, sardines, squid, cod, red snapper, prawns and mackerel, it's also a plentiful location to set off for your own fishing trip. If you're not feeling the appeal of catching your dinner, there's also a thriving fish market.
Moss Landing also has some fantastic cafes and restaurants (found in Downtown Moss Landing), priding themselves on their fresh seafood and friendly welcomes. For somewhere slightly different, try the Haute Enchilada Art Café – part dining, part art gallery and famed for its elegant Mexican cuisine. You might be lucky enough to catch one of their live music nights.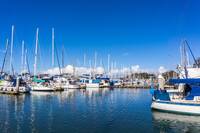 Moss Landing Wildlife Area
Moss Landing Wildlife Area (just behind Moss Landing State Beach on the edge of the slough) is home to several large ponds controlled by tidal gates. It protects over 700 acres of Land, forming part of the largest unaltered salt marsh along the California coast.
With access to the east of Highway 1, it's a prominent roosting spot for brown pelicans and many different types of shorebirds. Sea ducks, grebes, plovers, gulls and loons are regularly spotted, with occasional visits from long-tailed ducks and red-necked grebes.
Access is only allowed by foot on marked trails, so set aside at least a full morning or afternoon for exploring. To protect this unique site, all visitors must stay 100 feet away from wildlife. Don't forget your binoculars and long lens cameras!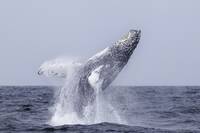 Whale Watching, Cruises and Kayak Tours
An inland cruise or kayak tour is one of the best ways to discover the exceptional ecosystem of Elkhorn Slough. Its sheltered calm waters are perfect for beginner kayakers (or even stand-up paddleboarding and hydro-bikes), letting you get up close and personal with sea lions, herons, rays, and sea otters.
There are also eco boat cruises led by knowledgeable guides, giving local insights into this fantastic spot. Generally lasting an hour and a half, it's a particularly popular choice for birdwatchers.
If the call of the open sea beckons, what about a whale-watching tour? Moss Landing is a departure point for several whale watching companies, with the odds of spotting a whale reportedly over 90%! Whilst orcas (killer whales) and dolphins are in the area all year round; blue whales are most frequently spotted between July and August. Humpback whales are found in the bay from March through to December, with grey whales passing through from December to May.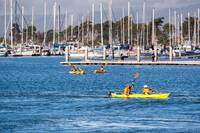 Explore the Moss Landing Chamber of Commerce website for links to local companies offering recreational activities and more tips on restaurants, galleries and shops in this charming small town.
If you're planning a Californian getaway, explore our collection of American motorhome holidays. Whether it's experiencing the Golden State and Pacific Coast Highway on our California Calling trip or the ultimate Big One holiday, you can explore undiscovered gems like Moss Landing and the country's most iconic landmarks.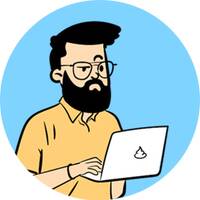 Peter Stannett
Content writer

Peter is a content writer and SEO specialist, helping keep our content current and monitoring website traffic. His content covers all four corners of the globe, across topics like activities, advice, food, culture and history.