Canada is a treasure house of natural beauty and cosmopolitan sophistication. This nation of vast proportions exudes the irresistible allure of a magnificent land with a deep cultural history and unsurpassed, primordial splendour. Dynamic urban centres contrast pristine landscapes and are home to diverse cultures of aboriginal, European and Asian decent, creating a welcoming nation of truly global citizens.
We've chosen some of our favourite drives and the holidays which feature them, so you can experience them yourself.
Sea to Sky Highway (Canada-USA border to Cache Creek)
Officially known as Highway 99, the "Sea to Sky Highway" is a drive with incredible sights at every turn. This spectacular route links bustling Vancouver (the sea) with the mountainous landscape of snowy Whistler (the sky).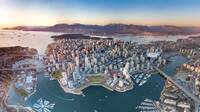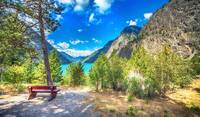 As the saying goes, "It's not the destination, it's the journey" – and the Sea to Sky Highway doesn't disappoint. This 120-kilometre drive is filled with fun stops, dramatic scenery, outdoor activities, cultural centres and historic sites.
As a snaking mountain route, the changing seasons can vastly impact driving conditions and available activities. It consequently pays to plan ahead so that you can make the most of this route's awe-inspiring mountain vistas and scenic coastal views, as well as opportunities for hikes and visits to dramatic waterfalls.
Drive the Sea to Sky Highway...
Although Canada is a vast country, some areas are just made for touring. The Rockies, the Maritimes and British Columbia's Sunshine Coast are perfect for roadtripping. Our holidays are tailor-made to take in the best of each destination from culture and cuisine to history, wildlife, scenery and everything in between! See our holiday offering below.
British Columbia's Sea to Sky
Starting and ending at the cosmopolitan city of Vancouver, this drive offers the ultimate combination of coastal views and spectacular mountain scenery.
From lively Vancouver, hop on a ferry to the beautiful harbour-city of Victoria before making your way towards Canada's "Sunshine Coast" via the Ucluelet Peninsula. Here, you may be lucky enough to watch black bears foraging on rocky shores, go whale watching, or spot eagles soaring overhead.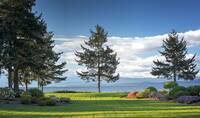 Continuing north, admire the stunning shoreline of Qualicum Beach and the natural beauty of Campbell River. Island-hop around Lund and onto the spectacular whirlpools of Earls Cove before progressing to the "Sea to Sky" highway and the rugged mountain landscape of Whistler.
From this point, dramatic waterfalls, zip lines and gondolas, glistening lakes and mountain vistas are just some of the once in a lifetime sights and experiences marking the route back to Vancouver.
The Canadian Rockies
Experience the best of Canada's diverse natural landscapes and vibrant cities with the Canadian Rockies drive. You'll witness some of the most sublime scenery on earth, and of course, the Canadian Rockies themselves.
Start at vibrant Calgary before heading to beautiful Banff and the heart of the Rockies. Travelling along the Icefield Parkway, keep an eye out for Canada's unique wildlife (black bears, deer and coyotes) as well as alpine glaciers, snowy peaks and crystal clear lakes.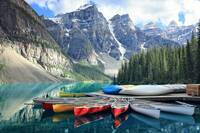 The drive heads South along the Yellowhead Highway to the wilderness of Wells Gray National Park and the ski capital of Sun Peaks. Continuing through spectacular mountain scenery, the "Sea to Sky" highway offers unforgettable views en route to cosmopolitan Vancouver.
Wind-down whilst travelling through the temperate Okanagan Valley (home to over 60 independent wineries) before ending your trip of a lifetime back at the "Stampede City" of Calgary.
The Rockies by Rail and Road
"The Rockies by Rail and Road" showcases Canada's spectacular landscapes and bustling cities – an opportunity to experience the world's best drives and most luxurious rail travel.
Starting at "Cow Town" Calgary, you'll transfer at Banff onto the Rocky Mountaineer Train. With its luxurious service and glass-clad carriages, this rail trip offers unparalleled sightseeing across mountain passes, canyons, crystal-clear lakes, and remarkable tunnels.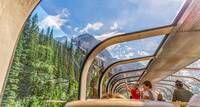 Arriving in Vancouver, explore this coastal, cosmopolitan city before commencing the driving segment of this trip. Passing through Victoria and Nanaimo, you'll then climb to the mountain peaks of Whistler and the stunning waters of Lac la Hache. Watch out for grizzlies, caribou and wolves at Wells Gray Provincial Park before testing your mettle with a bit of white-water rafting or a Sky Tram ride at Jasper.
This ultimate road trip ends with the pristine alpine meadows of Kananaskis before heading back to Calgary.
The Icefield Parkway (Banff National Park to Jasper National Park)
The Icefield Parkway is the scenic drive of a lifetime.
This 230-kilometre route along Highway 93 links Lake Louise near Banff and Jasper, Alberta. The route snakes through the sunning Banff Jasper National Parks – consistently rated one of the best drives in the world.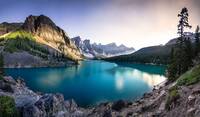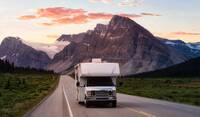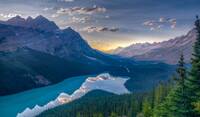 The route is dotted with over a hundred ancient glaciers and cascading waterfalls, dramatic rock formations and shimmering lakes. Visitors can look forward to soaring mountain peaks, awe-inspiring icefields and thick pine and larch forests. It's a drive you'll want to take your time over, enjoying the myriad activities and breathtaking viewpoints.
Canada's national parks are also home to a fantastic array of wildlife – so watch out for black bears, caribou, moose, eagles and even wolves along the way!
Drive The Icefield Parkway...
Experience the stunning Icefield Parkway yourself on the following holidays.
Great Parks and Lakes of Western Canada
This trip showcases the very best of Canada's wonderous waters and wildernesses.
Explore lively Vancouver before hopping on the ferry to Victoria and continuing along Canada's stunning coastline. At the Ucluelet Peninsula, foraging black bears and World War Two aircraft remains are particular highlights.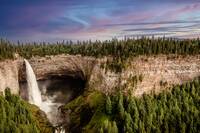 Head North to join the "Sea to Sky" highway on your way to the mountain resort of Whistler. In this wild wonderland, travellers enjoy stunning summer hikes and gondola trips, as well as the best winter skiing in the world.
Progressing to Wells Gray National Park, don't miss the area's many waterfalls – especially the Helmcken Falls plunging 140 metres deep into a mist-filled abyss. The Icefield Parkway (linking Banff and Jasper National Parks) offers more breathtaking mountain views.
To complete your trip, sample the victual delights of the Okanagan Wine Valley before making your way back to vibrant Vancouver.
The Road to the Rockies
The "Road to the Rockies" drive is a truly unforgettable experience.
Touching down in Vancouver, explore this stylish city before heading East to Manning Provincial Park. As well as forest hiking trails and alpine meadows, this nature reserve houses an astounding array of wildlife, including black bears, beavers, chipmunks and coyotes.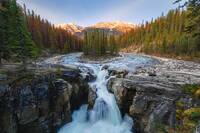 Continue through the dramatic Cascade Mountains before enjoying the milder climates of the Okanagan Valley wine region and the temperate waters of Christina Lake.
Travelling through characterful Nelson, the drive then progresses to the wilderness of Wells Gray National Park and the Rockies themselves. Here, you'll join the scenic Icefield Parkway with alpine glaciers, snowy peaks and turquoise lakes dotting the route.
On your way back to Calgary, don't miss the healing thermal waters of Radium Hot Springs – offering a tranquil end to this trip of a lifetime.
The Best of the Canadian and American Rockies
With dramatic scenery, snow-capped peaks, vast plains and cascading waterfalls, this is a circular drive like no other.
Begin at Canada's bustling Calgary (home to the annual "Calgary Stampede") before heading through rolling hills and true "cattle country" to the Waterton Lakes and Wetlands.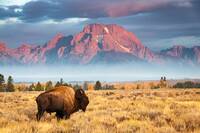 Cross the USA border and enjoy a climb towards the stunning scenery of Glacier National Park (complete with mountain peaks, lakes, meadows and forests). You'll then drive through epic "Big Sky Country" on your way to Yellowstone. Whilst here, don't miss a trip to "Old Faithful" – the world's most famous geyser.
Continuing your journey through America, you'll travel through Native American territories and historic towns such as Missoula and Newport. The Fort Steele Heritage site (offering a fascinating insight into the 1864 Gold Rush era) marks your return to Canada.
Making your way back north, the astounding alpine scenery of the Icefields Parkway (linking Jasper and Banff) offers unforgettable vistas and experiences at every turn.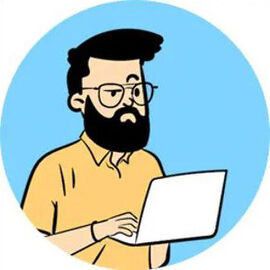 Peter Stannett
Content Writer
Peter is our content writer and SEO specialist, helping keep our content current and monitoring website traffic.
His content covers all four corners of the globe, across topics like activities, advice, food, culture and history.
More by Peter Stannett