Planning your road trip holiday of a lifetime is no mean feat! It can seem like there are endless lists of things to do, items to buy and people to organise. Luckily, there is a lot of help and advice available for most of this planning. With a few top tips and some friendly advice, you can make sure you are ready and excited to start on your caravan holiday.
Here at Worldwide Holidays, we have a whole range of fantastic holidays ready for you to start planning. Many of the more challenging aspects of planning a road trip have already been organised. This leaves you with peace of mind and the ability to start thinking about the more exciting parts of your trip.
Of course, with any trip, there are things you can do to make sure that your holiday is as memorable as possible. Planning and organising are essential to making your holiday a fantastic experience packed full of cherished memories. Here are our top tips to make your caravan holiday the ultimate trip of a lifetime.
Practice towing your caravan
When it comes to caravan holidays, one thing you are likely to need to do is tow your caravan somewhere! If you are a seasoned caravanner, you might have lots of experience in this. But, we all have to start somewhere, and it is not unusual to find towing a caravan for the first time a little daunting. Don't worry; once you get the hang of it, you will soon find it isn't as tricky as it seems.
If you can, it is worth practising a little before heading out. You could even take a few lessons if it helps you to gain some driving confidence. Start by taking your caravan out for short trips and then practice parking it, so you are ready for pitching it while on holiday.
While getting ready to tow your caravan, make sure you have checked all the documentation and accessories needed. If you passed your driving test after 1996, you might need to take additional tests and lessons to tow a trailer or vehicle. Whether or not you need extra documentation will depend on the combined weight of your caravan and your car. If your combined weight is over 3500kg, you will need to take tests to obtain a B+E classification on your licence.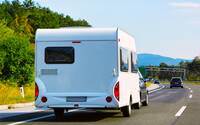 Make sure you have your travel essentials ready
When you consider your travel essentials, you might first think of sun cream and the appropriate clothing. These are important, but there are other things to consider to keep your road trip legal. This might seem a little less exciting than planning other aspects of your holiday, but it is a vital part of ensuring you have a great holiday.
We have already briefly talked about your driving licence, but there is more to consider, and it all depends on where you are travelling. Different countries will require you to have different levels and types of documentation. You can check the driving abroad advice page on gov.uk to check that you have everything you will need.
Insurance is another item you need to have, and make sure you have appropriate cover. Luckily, if you book one of our fabulous road trip itineraries, much of this hard work is done for you and, on most occasions, included in the package.
It's worth checking the rules of the road in the country you are travelling to and making sure you have all the accessories. This can be things like carrying first aid kits, mirror extenders, and even being aware of speed restrictions that apply to caravans. Check our FAQ pages for further help and information.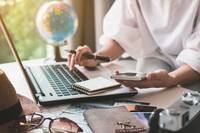 Plan your road trip and itinerary
Once you have decided where you are going and have all your documentation sorted, it's time to start the fun part of organising your trip - choosing your itinerary! We offer fantastic holiday caravan and motorhome holidays in Australia, New Zealand, the USA, Canada and Southern Africa. We have a great range of itineraries already planned out for you that offer you the best in quality, flexibility, and opportunity. If you want to travel the whole of New Zealand and see the best sights along the way, then take a look at our Ultimate New Zealand Tour. For the more adventurous, consider an African safari tour to spot the wildlife of South Africa.
Once you have booked your overall route, then you can start to narrow down all the stops and places you want to visit along the way. Our top tip is to make a list of all the things you and your family want to see. This can help you narrow down the most important places you want to go, and it will help you choose both your itinerary, your route and your stops.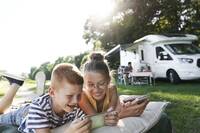 Book the perfect place to pitch
By this point, you have probably considered most of your holiday, from the initial documentation right through to the road trip and your itinerary of places to visit. One thing you mustn't forget is where you are going to stay!
When travelling in another country, it is always best to have a good idea of where you will be stopping along the way and make sure you have booked your pitches. You will be staying in some places for a night, and other times you will want to stay a few nights and explore the area.
The perfect campsite for you will depend on the length of your stay and the facilities you need. Some campsites cater to all types of holidays, so have a quick read about your chosen campsites before booking and ensure they provide the facilities you need.
If you have booked one of our holiday tours, this will be included in the trip, so there is no need to worry! Just familiarise yourself with the route and the stops and enjoy yourself.
Don't make the mistake of assuming you will be able to just park up anywhere and stay the night. This is illegal in many countries, and it isn't worth taking the risk. Find out more about parking regulations here.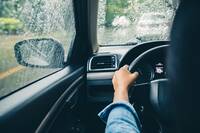 Pack for all weathers
Luckily not all countries suffer from the changeable weather conditions we enjoy in the United Kingdom! However, this doesn't mean you shouldn't head out on your trip prepared. You might be enjoying sub-tropical weather during one part of your trip and then be sightseeing along a frozen glacier a few days later! This is especially true if your road trip covers several different regions of the country.
When packing, take time to consider where you will be travelling and the type of clothing you will need. For most caravan and motorhome holidays, a good set of walking boots are a must-have. Along with these, you will want clothing that can keep you warm, dry and for warmer countries, take plenty of cooler clothing, sunscreen and hats too!
The key to packing is to consider where you will be going and what you plan to do while on holiday. It is also worth considering if any of your stops along the way have washing facilities. If so, this will help you to ensure you don't pack too much!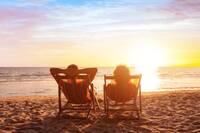 Relax and enjoy yourself
It might seem like an obvious tip, but it is easy to get caught up in the planning and organising of a holiday, especially a caravan holiday. Even once you are on holiday, it's easy to get caught up in itineraries and driving routes and forget to sit back and relax. Even if everything doesn't go to plan, then try not to worry. Every change in the plan due to the weather or unforeseen circumstances offers you a new chance to do or see something you hadn't even thought of!
A road trip through a new and exciting country gives you so much to see that many tourists never get the chance to see. If you see a beautiful view or interesting thing to do. Take the time to stop and take a picture or two. A caravan holiday is an ultimate opportunity to relax and appreciate the world around you truly, so make sure you are making the most of every opportunity along the way.
Take some of the difficulties out of your trip by booking one of our fantastic holiday tours. You will still need to be aware of the rules of the road, but where you will stay, and your itinerary will already be planned out for you. Take a look at our motorhome and caravan holiday tours in Australia, New Zealand, Southern Africa, USA and Canada. Each one is tailor-made to ensure you have a holiday of a lifetime.
Other useful information

Read our frequently asked questions.

Follow us on Twitter, Facebook and Instagram for inspiration, news and tips.
Request a brochure using the form below or contact our team.