Must-see places to visit in Otago, South Island, New Zealand.
Central Otago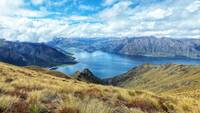 Central Otago is best known for its stunning landscapes with ancient mountains, alpine herb fields and fast-flowing rivers.
During the 1860s Central Otago was the place to find gold, and you can still pan for it today and see the miners' old stone cottages, see their trails, and see relics of the old mining machinery. Today the most valuable commodity in Central Otago is wine and, in particular, Pinot Noir, the most fickle of grape varieties which excels in these southern vineyards where most of the wineries offer tours and tastings.

A motorhome is a perfect way to explore Central Otago, and many visitors to the region also hire mountain bikes to explore at their own pace so they can see some of the area's more remote sites, taste the wines and absorb the incredible scenery that awaits.
For those not wishing to cycle, you might like to go wildflower walking in Alexandra or wander through the Cromwell Historic Precinct, take a cruise on Lakes Dunstan and Roxburgh or try curling in Naseby.
Dunedin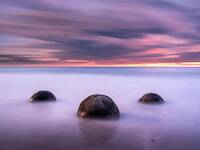 Dunedin has a rich Scottish heritage and is one of the southern hemisphere's best-preserved Edwardian and Victorian cities, full of Gothic-style architecture.
Of particular note is the elegant architecture and interior of the Dunedin Railway Station. The famous Taieri Gorge railway is a spectacular journey and a wonderful day out.
While in town, one of New Zealand's oldest and largest museums might appeal, the Otago Museum, or you may prefer to tour Speights Brewery, home of the South Island's favourite beer.
Chocoholics may prefer to visit the famous Cadbury World, and others might be drawn to Baldwin Street, the world's steepest street.
Out of town, bask in the splendour of Larnach Castle, New Zealand's only castle and head along the peninsula, where there are wonderful seascapes at every turn. This is a fabulous drive with evocative fishing shacks, little villages and an abundance of wildlife, including seals, Blue Penguins, cormorants and the Yellow-Eyed Penguin and, famously, the Royal Albatross Centre at Taiaroa Head, the only mainland breeding site of these majestic birds.
To the north lies Moeraki, on whose beach lie a collection of unearthly, perfectly spherical boulders. Formed 56 million years ago, they are spectacular and unsettling at the same time.
Arrowtown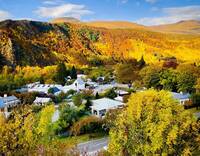 Although Arrowtown is just a 20-minute drive away from the better-known town of Queenstown, it offers a much quieter and more tranquil experience than its noisy neighbour!
It was born after gold was discovered in the Arrow River in the 1860s. Along the tree-lined streets, you can discover prosperous-looking buildings that remain beautifully preserved to this day, plus you will find an array of shops, cafes and attractions as well as a wealth of photo opportunities.
Perhaps take the Arrow River Walk or visit the Chinese Settlement, which is separate from the main town but gives a real insight into Arrowtown's gold mining history. For those that like their history, there's also the Lakes District Museum. If you enjoy a glass of wine, you can find the wine-growing region of Gibbston, which is close by and which produces some of New Zealand's finest Pinot Noir.
Queenstown
It's famed for its ski fields, but there's so much more to Queenstown. There's an opportunity for adventure around every corner, but also spoil yourself with highly acclaimed restaurants, amazing shopping and pamper spots.
Each season brings a new personality to Queenstown. Long summer days throw the hills open to mountain bike riders before the snow transforms the landscape into a skiing wonderland in winter. Springtime brings softer snow and fresh golfing greens, but the top-class restaurants and nighttime party lifestyle continues all year round.

The best views are from the top, so make your way to one of the city's many vantage points for some incredible sights. Climb Queenstown Hill or Ben Lomond for views across Queenstown and beyond. Have the Skyline Gondola whisk you into the clouds for the classic outlook across Lake Wakatipu and Queenstown to The Remarkables mountain range. Make the most of the mountains with a trail ride through the high country or go rock climbing for more incredible views.

Adventure takes on new meaning in Queenstown. Test your limits as you hurtle through the air on a skydive, hang glider or bungy. Feel the need for speed in a jet boat, white water raft or canyon swing. Or get back to nature and pan for gold, take a kayak around calm waterways or ride a horse through the mountains. After all your adventures, reward your efforts with a relaxing round of golf, some trout fishing, a spot of shopping or an afternoon of luxury at a day spa.
For a change of scene, why not take one of the 'world's best drives' and head north along the lake to Glenorchy? It's a dramatic setting, ringed by mountains, so enjoy a coffee and lakeside stroll before maybe driving on towards Kinloch, whose alpine peaks were the setting for Isengard in the 'Lord of the Rings'.
Lake Wanaka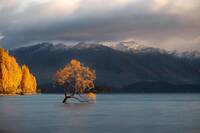 Wanaka (120 km from Queenstown) is delightful. Set on the southern lake shore, it's very laid back and offers great cycling and hiking.
Instagram buffs and keen photographers alike will be no strangers to 'that Wanaka Tree' – so be sure to get your 'capture' while you're there. (The iconic tree, standing proudly out of the waters, is easily found a short walk along the shore heading southwest from Wanaka lakefront).