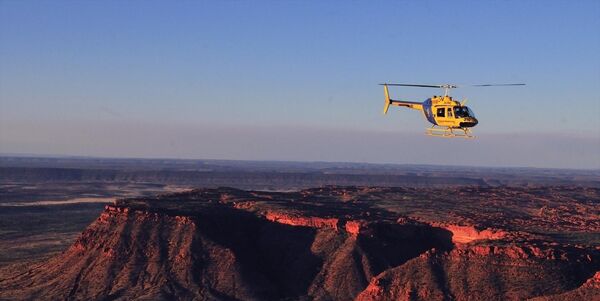 Kings Canyon Dash Helicopter Flight (25 minutes/8 minutes flying time)
This tour is aimed at the budget-conscious traveller or those whose time is limited. Clients have the chance to take in the area's aerial perspective at the most affordable price. Even as a condensed flight, clients will experience Kings Canyon's almighty presence from the air.
Available on these holidays:
Kings Canyon Helicopter Flight (35 minutes/15 minutes flying time)
This flight joins the regular scenic pattern from Kings Canyon Resort Helipad. You are provided with an opportunity to grab postcard shots of Kings Canyon, Carmichael Crag, Garden of Eden and the George Gill Range. Kings Canyon will be marvelled at as you take in the most memorable photographs of your trip. Turn towards Carmichael Crag so you gain a distant view of the neighbouring formation before returning to the Kings Canyon Resort Helipad gaining yet another aerial perspective of the resort.
Available on these holidays:
Range Safari Helicopter Flight (30 minutes flying time)
Taking flight to see Kings Canyon from above and provide you the chance to take photos with an unparalleled perspective from within the National park. From Kings Canyon you will see the majestic domes of the lost city before tracking towards Kathleen Springs, Peterman pound, Back Canyon following the George Gill range to Carmichael Crag, allowing you to gain access to an area otherwise off-limits from the ground. Fly back towards the resort Helipad where views of the resort indigenous flora, and the sedimentary layers keep you entertained.
Available on these holidays: