Setting off on a self-drive holiday around South Africa will surely be a holiday of a lifetime. Here at Alan Rogers, we've compiled the best places to go on our motorhome tours, and in this post, we explore the game and nature reserves you can expect to see depending on which South Africa tour you book.
Kruger National Park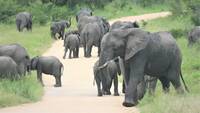 Arguably the finest game reserve in South Africa. With plenty of opportunities to spot the Big 5 (What are the Big 5? – Answer at the bottom of this article), it's understandable that this has become one of the most famous reserves, at least partly due to the ease of access from Johannesburg.
How Big Is Kruger National Park?
Kruger is vast. Spanning some 7,580 square miles wildlife and history are abundant, with evidence that prehistoric man lived in this area some 500,000 years ago.
What Wildlife Is There?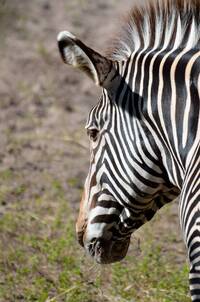 Your camera will be busy taking photographs as there are at least:
336 tree types
49 different fish
34 amphibians
114 reptiles
507 birds
147 mammals
Bushman rock paintings
2 million hectares of space
Your Ranger will escort you around the park in search of the Big 5 and more.
Kruger National Park Landscape
We don't think it's too much to say that the landscape here is utterly beguiling. Roaming around the vast space and you can see lush greens juxtaposed with raw rock making you think of prehistoric times when the animal kingdom truly ruled the world.
A visit to Kruger forms part of our Roads of the Rainbow Nation tour.
Next Steps
View our South Africa tours.
Contact us to discuss your ideal South Africa holiday.
Find out more about Kruger National Park.
Addo Elephant Park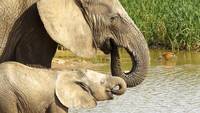 The 3rd largest park in South Africa, this park forms part of our Wildlife and Wilderness tour, Roads of the Rainbow Nation tour and our Cape Town & The Garden Route tour.
As the name implies, this park is famous for its large herds of elephants roaming across the plains. With over 600 elephants, you will be sure to see a fantastic sight.
Accompanying the elephants are many different creatures, including:
Warthogs
Zebras
Spotted hyenas
Leopard - although not often seen as they are shy animals by nature
Lions - most often seen early morning, dusk and night time
Buffalo - over 400 Cape Buffalo. One of the biggest herds in South Africa
Moving further to the outer areas of the park, you can see:
Mountain Reedbuck
Baboons
Blue Duiker
Aardwolf
Red rock rabbit
Hippos
Redfin minnow
Yellowfish
Gemsbok
Black Wildebeest
Springbok
Buffalo
Black Rhino
Bushbuck
Bushpig
Brown hyena
Rare Tree Dassie (Tree Hyrax)
Next Steps
View our South Africa tours.
Contact us to discuss your ideal South Africa holiday
Find out more about Addo Elephant Park.
Cape Columbine Nature Reserve

Situated in Paternoster in the Western Cape along a gravelly path and well known for the last staffed lighthouse in South Africa and submerged reefs, Cape Columbine is teeming with sea life.
The famous Cape Columbine lighthouse – named after the British wooden ship Columbine which was wrecked in 1829 – stands proud to warn wayward sailors of potential peril. Fitted with a 15-million candlepower light, it can be seen from 60 kilometres away and weighs more than a ton.
Visit Tieties Bay which is inside the Nature Reserve and enjoy some serenity. Pack some snorkelling gear or while away the hours catching some fish.
Camdeboo National Park and the Valley of Desolation

Lying in the Eastern Cape, the Valley of Desolation is a geological phenomenon. An incredible sheer cliff face of balancing towers of Dolerite created by erosive and volcanic forces over 200 million years, that rise 120 metres from the valley floor, it is a sight to behold.
The park itself, like most of South Africa, is an ensemble of wildlife. There are over:
336 plant varieties
43 mammal species
250 bird types
You can enjoy quiet picnics at the various sites dotted throughout the park or even go on a hike; some are also throughout the night. There are no charges for hiking in the park, except for the conservation fees. (R113 per adult per day, R57 for a child per day).
With 19km of gravel roadways, you can be sure of finding a spot to be able to indulge in some game viewing and bird watching.
This park forms part of our Cape Town & The Garden Route tour.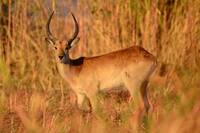 Chobe National Park
One of the most famous parks in South Africa, Chobe National Park is an utter paradise for wildlife lovers. The variety of vegetation supports an enormous number of creatures from elephants to lions, buffalo to giraffe and a considerable amount of other animals.
As part of your excursion included in our A Tale of Three Countries package, you get to enjoy a full game drive and a game cruise on the Chobe River.
Next Steps
View our South Africa tours.
Contact us to discuss your ideal South Africa holiday
Read more about Chobe National Park.
The Big Five
The 'Big 5' were initially named by big game hunters, who found the hardest game animals to catch on foot were the lion, leopard, rhinoceros, elephant, and Cape buffalo.