Welcome to the vibrant city of Melbourne, Australia's cultural capital. Nestled on the southeastern coast, Melbourne offers a perfect blend of stunning architecture, a thriving arts scene, delicious cuisine, and a buzzing nightlife. Whether you're a history buff, a nature lover, or a food enthusiast, Melbourne has something for everyone. So come with me as I take you on a journey through some of the best things to do in Melbourne, showcasing the city's unique charm and diverse attractions.
Explore the City's Laneways
Melbourne is renowned for its intricate network of laneways that exude an undeniable charm. Wander through the iconic Hosier Lane, where vibrant street art adorns every wall, or lose yourself in the labyrinthine Degraves Street, lined with cozy cafes and boutique shops. These laneways offer an immersive experience into Melbourne's creative heart.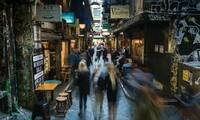 Visit the Royal Botanic Gardens
Escape the hustle and bustle of the city by immersing yourself in the tranquility of the Royal Botanic Gardens. Spanning 94 acres, these gardens are a haven of lush greenery, vibrant blooms, and serene lakes. Take a leisurely stroll, have a picnic, or join a guided tour to learn about the diverse flora and fauna that call this place home.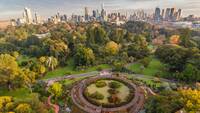 Indulge in the Culinary Delights
Melbourne is a food lover's paradise, boasting an incredible array of gastronomic experiences. From trendy cafes serving up artisanal coffee (for which the city is famous) to multicultural eateries offering flavours from around the world, there's no shortage of options. Don't miss a visit to Queen Victoria Market, where you can savour fresh produce, delectable street food, and local delicacies.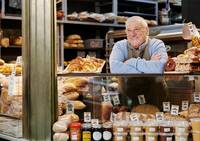 Immerse Yourself in Arts and Culture
Melbourne's thriving arts and culture scene is a testament to its creative spirit. Explore the National Gallery of Victoria, home to an extensive collection of Australian and international art. Experience the iconic Melbourne Theatre Company or catch a show at the Arts Centre Melbourne.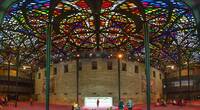 Discover Melbourne's Sporting Obsession
Melbourne's passion for sports is legendary, and attending a sporting event here is an experience like no other. Head to the Melbourne Cricket Ground (MCG) to witness the excitement of Aussie Rules Football or cricket. If horse racing is more your style, the prestigious Melbourne Cup at Flemington Racecourse is a must-see event.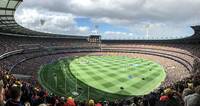 Explore the Charming Neighborhoods
Each neighborhood in Melbourne has its unique character and charm. Explore the trendy streets of Fitzroy, filled with eclectic shops, vibrant street art, and cosy cafes. Stroll through the bohemian suburb of St. Kilda, famous for its beach, amusement park, and vibrant waterfront. Don't forget to visit the chic Southbank precinct, home to the Crown Casino, stylish restaurants, and the lively Southbank Promenade.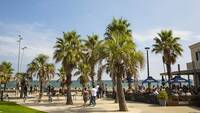 Escape to the Great Outdoors
Beyond the city limits, Melbourne offers a wealth of natural beauty to explore. Take a drive along the iconic Great Ocean Road and marvel at the breathtaking coastal views and the Twelve Apostles. Explore the Yarra Valley's picturesque vineyards and indulge in wine tasting sessions. For nature enthusiasts, a day trip to Phillip Island is a must, where you can witness the famous penguin parade.
Stepping foot into Sovereign Hill feels like entering a time warp, transporting visitors back to the thrilling era of the 1850s Australian gold rush. This living museum meticulously recreates a bustling gold mining town, complete with authentic buildings, costumed interpreters, and interactive exhibits. As you wander through the streets, you can immerse yourself in the vibrant atmosphere, try your hand at gold panning, witness thrilling demonstrations of blacksmithing and candle making, or even take a ride on an old-fashioned horse-drawn carriage.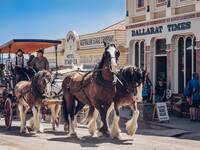 Hanging Rock is a captivating natural wonder that should be on every traveler's bucket list. Renowned for its breathtaking beauty and intriguing mystique, it offers a unique and unforgettable experience. The rock formation, with its towering cliffs and ancient rock formations, creates a mesmerising backdrop for exploration and adventure. The enigmatic history and Aboriginal significance of Hanging Rock add an extra layer of fascination, fuelling the imagination and inviting visitors to delve into the mysteries of the land.
Daylesford is a charming town nestled in the heart of rural Victoria, known for its mineral springs, which have long been revered for their healing properties. Visitors can indulge in relaxing spa treatments, soak in the soothing waters, and enjoy the tranquil surroundings.
Melbourne truly encapsulates the essence of a dynamic and multicultural city. From its vibrant laneways and thriving arts scene to its culinary delights and sporting extravaganzas, Melbourne offers an endless array of experiences. Whether you're a local or a visitor, this city will captivate you with its charm and leave you with memories to cherish. So pack your bags and embark on an adventure to Melbourne, where every corner unveils a new facet of this incredible city.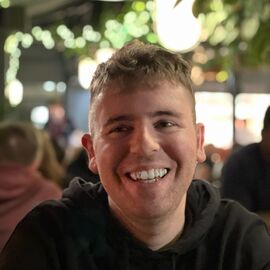 Ben Tully
Visual Design & Content Creation
Ben deals with all things design, working on the visual design of our annual guides, Destinations magazine, information leaflets, social media and email campaigns, and much more across the Alan Rogers, Rallies and Worldwide brands. He also produces written content for our blogs alongside our other contributors.
More by Ben Tully