Southern Africa is made up of extraordinary countries and extraordinary landscapes. With dense jungles, open plains, white sandy beaches and towering peaks, the wildlife is extraordinary too. The Big Five (lion, leopard, elephant, buffalo and rhino) are on everyone's bucket list. Venture on a South Africa motorhome holiday and explore the greatest nature show on Earth.
The Garden Route
South Africa's Garden Route is the perfect road trip experience. Offering an unparalleled combination of shimmering lagoons, verdant forests, sheltered coves, sandy beaches and welcoming towns – it is a once in a lifetime opportunity.
This 200-kilometre coastal route stretches from picturesque Mossel Bay in the West and ends at the rugged landscape of Storms River Mouth in the east. With the Indian Ocean on one side and the Tsitsikamma and Outeniqua mountain ranges on the other, there are stunning views wherever you look. Named after the Garden Route National Park that it covers, visitors will marvel at unique vegetation and wildlife.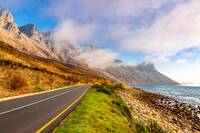 This stretch of coast is home to almost a dozen nature and marine reserves, offering further opportunities for hiking, eco and whale watching tours. So whether you prefer lush green forests, awe-inspiring cliff-tops, panoramic coastal vistas or a simple paddle in the waves, the Garden Route has it all.
Drive the Garden Route
Cape Town & The Garden Route
Experience a unique insight into the landscapes and cultures of South Africa on this three-week circular drive.

Starting at bustling Cape Town and taking in the majesty of Table Mountain, the drive progresses through vast nature reserves before returning via the coastal Garden Route.

South Africa's West Coast offers wide open spaces, charming fishing villages, unspoilt beaches and amazing wildflower spotting. Continue through the stunning valley landscape of Karoo before journeying onwards to Oudtshoorn, home to the 200 million-year-old Cango Caves.

Heading eastwards, you'll travel through the Camdeboo National Park (boasting a fantastic array of vegetation and wildlife, including Cape Buffalo) before visiting the Addo Elephant Park with its unique waterhole lookout points. Listening to the calls of lions, spotted hyenas and jackals, you'll feel transported to another world.

If this wasn't enough, the drive then joins the idyllic Garden Route and South Africa's "Whale Coast". An unforgettable sojourn through the Stellenbosch wine region is a final highlight before returning to cosmopolitan Cape Town.

The Panorama Route
South Africa's stunning Panorama Route is the ultimate drive. As the name suggests, expect panoramic views and awe-inspiring scenery.
Consisting of a 160-kilometre route through the Mpumalanga province surrounded by the Drakensberg mountains, it's one of the most epic drives in the world.
Some northernmost highlights include the Blyde River Canyon (the third largest canyon in the world) and the Bourkes Luck Potholes.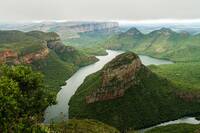 The astounding Three Rondavels is the most iconic and well-known landmark along the drive. Consisting of three rock formations thrusting towards the clouds, it's a vista almost on a par with God's Window (also on the route!). Named after a rectangular hole in a nearby rock, God's Window allows tourists to soak-up panoramic views towards Kruger National Park or even climb the thrilling Drakensberg escarpment.
The twin Mac-Mac Waterfalls complete the southern end of this extraordinary route, with crystal-clear waters and a verdant braai area for kicking back and relaxing after a quick dip.
Drive the Panorama Route
Roads of the Rainbow Nation
This trip allows visitors to appreciate the astounding variety of flora, fauna, sandy beaches, wineries, cosmopolitan cities and vast national parks this incredible country offers.

Starting at Johannesburg, you'll commence along the Panorama route – one of the country's most thrilling drives. From craggy mountain tops, unparalleled vistas over African grasslands, gorges and river canyons are presented at every turn.

Continuing South, the Kruger National Park is a particular highlight (a reserve almost the size of Belgium!), where you might spot the Big Five of elephants, lions, leopards, rhinos and buffalo.

The drive resumes through Swaziland and the Kwazulu Natal Battlefields before taking in the beauty of South Africa's Wild Coast; a stunningly unspoilt stretch of secret coves, soaring cliffs and swimming beaches. From here, enjoy a guided tour of the Addo Elephant Park before continuing along the idyllic coastal Garden Route.

This trip of a lifetime ends with time to relax and explore cultural Cape Town and its world-famous Table Mountain.
Take some of the difficulties out of your trip by booking one of our fantastic holiday tours. You will still need to be aware of the rules of the road, but where you will stay, and your itinerary will already be planned out for you. Take a look at our motorhome and caravan holiday tours in Australia, New Zealand, Southern Africa, USA and Canada. Each one is tailor-made to ensure you have a holiday of a lifetime.
Other useful information

Read our frequently asked questions.

Follow us on Twitter, Facebook and Instagram for inspiration, news and tips.
Request a brochure using the form below or contact our team.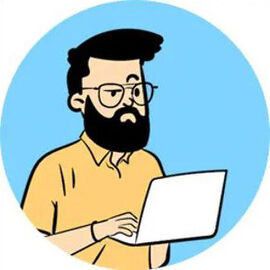 Peter Stannett
Content Writer
Peter is our content writer and SEO specialist, helping keep our content current and monitoring website traffic.
His content covers all four corners of the globe, across topics like activities, advice, food, culture and history.
More by Peter Stannett