Read about the Namibian visa and vaccination requirements. Find out about the currency, weather, electricity supply and more.
Visas
Although British nationals can enter Namibia for a holiday or private visit of up to 90 days without a visa, there have been cases where visitors have only been given permission to stay for periods much shorter than 90 days, sometimes as short as only 7 or 10 days. Before leaving the immigration desk in the airport arrivals hall, check that you have been given permission to stay in Namibia for the duration of your intended visit up to the maximum allowable of 90 days and that you have been given a correctly dated entry stamp by Namibian Immigration officials, as this will be checked on departure.
Overstaying the time granted or an incorrect or missing entry stamp could lead to detention, arrest and a fine.
If you intend to work (which includes volunteering) or stay in Namibia for a period of more than 90 days, you must get a visa from the Namibian High Commission in London before you travel.
Passport validity
Your passport should be valid for a minimum period of 6 months from the date of entry into Namibia and have at least 1 completely blank page for Namibian immigration to use. If you are also going to travel in South Africa, you should be aware that although South African authorities state they require 1 blank passport page for entry, some officials insist on 2 blank pages. If you plan to take this route, make sure you have a total of 3 blank pages.
Yellow fever certificate requirements
Check whether you need a yellow fever certificate by visiting the National Travel Health Network and Centre's TravelHealthPro website.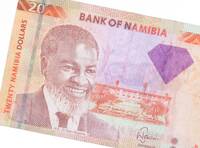 Currency

Namibia uses the Namibian Dollar (N$) this is linked on a one to one exchange with the South African Rand. The Rand is legal tender in Namibia, but the N$ cannot be used in South Africa.
If you are wishing to purchase currency before arriving in Namibia, it is easiest to buy Rand as the Namibian Dollar is seldom available in banks outside of Namibia.
Banking
Banks are found in most towns, and are generally open from 09h00 to 15h30 on weekdays and 08h30 to 11h00 on Saturdays. Closed on Sundays and public holidays. Most of them offer foreign exchange services - with cash, bank and credit cards as well as travellers cheques.
You can also obtain cash from many of the ATMs. Several international banks have branches in main city centres. Always advise your bank that you are travelling outside of the country as they might block your purchases if they have not been informed.
Travel, Transport and Getting Around
Public transport in Namibia is geared towards the needs of the local populace, and is confined to main roads between major population centres. Although cheap and reliable, it is of little use to the traveller as most of Namibia's tourist attractions lie off the beaten track.
It is easy to travel around Namibia by car, and a 2WD vehicle is perfectly adequate for most journeys. However, long distances, poor mobile phone coverage outside of main towns and infrequent petrol stations that only accept cash mean that planning ahead is vital.
There are major airlines that fly into Windhoek and Swakopmund. Other destinations are reachable by car or charter flight.
Namibians drive on the left and all signposts are in English. Seat belts must be worn at all times and talking in a mobile phone while driving is prohibited. The general speed limit is 120km/h on tarred roads outside of towns and 100km/h on gravel roads. In built up areas, the speed limit is 60km/h.
Food, Drink and Cuisine Advice
Traditional Namibian cuisine is rarely served and so the food at restaurants tends to be European in style and is, generally, of a very high standard.
Namibia is very meat-orientated, and many menu options will feature steaks from various animals. However, there is usually a vegetarian and seafood section offered by most camps and restaurants.

In the supermarkets you'll find pre-wrapped fresh fruit and vegetables (though the more remote the areas you visit, the smaller your choice), and plenty of canned foods, pasta, rice, bread, etc. Most of this is imported from South Africa.
The water in Namibia's main towns is generally safe to drink, though it may taste a little metallic if it has been piped for miles. Natural sources should usually be purified, though water from underground springs and dry riverbeds seldom causes any problems. However, filtered and bottled water are readily available in most towns and all camps, lodges and hotels.
Climate and Weather
Partially covered by the Namib Desert, one of the world's driest deserts, Namibia's climate is generally very dry and pleasant – it's fine to visit all year round. Namibia only receives a fraction of the rain experienced by countries further east. Between about December to March some days will be humid and rain may follow, often in localised, afternoon thunderstorms. These are more common in the centre and east of the country, and more unusual in the desert.

April and especially May are often lovely months in Namibia. Increasingly dry, with a real freshness in the air, and much greenery in the landscape; at this time the air is clear and largely free from dust.

From June to August Namibia cools down and dries out more; nights can become cold, dropping below freezing in some desert areas. As the landscape dries so the game in the north of the country gravitates more to waterholes, and is more easily seen by visitors. By September and October it warms up again; game-viewing in most areas is at its best, although there's often a lot of dust around and the vegetation has lost its vibrancy.

November is a highly variable month. Sometimes the hot, dry weather will continue, at other times the sky will fill with clouds and threaten to rain – but if you're lucky enough to witness the first rains of the season, you'll never forget the drama.
Clothing and Dress Recommendations
Namibians have a somewhat relaxes attitude to dress codes. A jacket and tie is very unusual. In fact, long trousers and a shirt with buttons are often quite adequate for a formal occasion or work wear. A pair of sensible shoes, jeans and a t-shirt is recommended.
During the day it is generally hot, so pack light weight loose fitting clothes in natural fabrics, such linen or cotton that will keep you cool and are easy to wash and dry.
Avoid blue clothing - the tsetse flies are drawn to the colour blue, and their bite can give you African sleeping sickness.
Long sleeved shirts and long trousers will protect your against mosquitoes at night.
Electricity and Plug Standards
Current is 220/240 volts at 50 cycles per second. A three-point round-pin adaptor plug should be brought for your electrical appliances. Such adaptors are also available at major airports.