The compact semi-integrated motorhome is particularly suitable for city trips with two beds and four seats.
Floorplans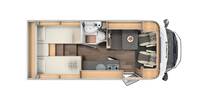 Bed configurations are available in a double or twin. Please request your preference at the time of booking.

Floor plans and specifications are intended as a guide, we cannot guarantee exact specifications and layouts.

What's Included
• Linen and bedding
• Towels
• Kitchen Kit
• Toilet and shower
• Additional driver fees
• Bike Rack
Vehicle Specifications
Vehicle: Sunlight Van V66
Automatic
Power steering
Air-con: Drivers Cab
Fuel tank capacity: 90L
Fresh water tank: 116L
Waste water tank: 92L
2 seatbelts in the driver's cab
Power supply: 230v
Fridge/freezer: 89L/11L
Features
Front Swivel Seats
Sink
Gas stove
Cutlery & cooking utensils
Crockery and glasses
Pots and pans
Pressurised water
Bike Rack
Television
Radio/CD Player
Toilet
Awning
Shower
Sleeping For 2
Rear - Double Bed 1.95m x 1.94m
Vehicle Dimensions
Length – 6.65m
Width – 2.14m
Height – 2.71m
Interior Height – 1.95m
Gallery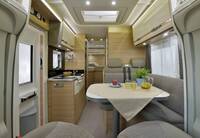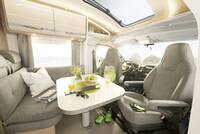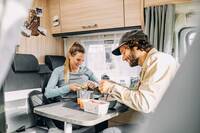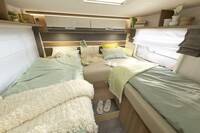 Available for the following destinations: