Swaziland's rural roads will take you to unforgetable places. Follow our guide to Swaziland's rules and regulations to make your driving holiday safer and more enjoyable.
Driving in Swaziland
Do I need an international driver's licence to drive in Swaziland?
Yes, if your driving license is not issued by South Africa. Remember to keep all parts of your driving license (including card, paper part and the international permit) with you at all times.
What side of the road do Swazi drivers drive on?
Swaziland drives on the left side of two-way roads. Ask passengers to remind you of this every time you set off and when you are turning at an intersection. You should always use pedestrian crossings where possible and remember to look right, then left and then right again when you are walking across the street.
Is it illegal not to wear a seatbelt?
Yes, by law, everyone in a moving vehicle must be wearing a seatbelt.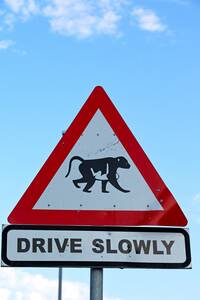 Are there speed limits in Swaziland?
Yes, however as the roads are often in poor condition, reaching the speed limit frequently is unlikely. The speed limits, like your speedometer, are in km/h: on open roads it is 80km/h, in towns 60km/h and on highways its 120km/h. Always be observant of signs however, and always adjust your speed to your situation.
If you do happen to be caught speeding, and a police officer suggests you pay cash instead of a fine (if it is safe to do so) politely decline and request a ticket instead. This way you are able to pay the fine in the correct manner, alternatively ask the officer if he or she is able to provide you with a receipt for your payment.
Can I use my mobile phone while driving?
No, you are not permitted to use a handheld mobile phone when driving. If you want to make a call, make sure you attach the phone to the vehicle's facilities, or use a hands-free kit.
Are there rest areas on Swaziland's roads?
On street parking in Swaziland can be quite haphazard, especially outside of the towns. If you want to stop for a rest, there are pay for car parks and parking garages in the main towns. The garages are often attended by a security guard.
Is it safe to drive in rural and remote areas?
Much of Swaziland is rural and it would be wise to exercise caution and common sense. Ensure that you drive with the doors locked and keep your mobile phone charged. Don't stop to help people on the side of the road (if you are truly concerned call the police) and make sure you have contact details for emergency services and (if you have them) tour hosts in case you lose them.
What are the road conditions in Swaziland?
Roads are generally in poor condition, especially outside of the main towns. Keep in mind that a reaching speed limit is rarely safe and in most cases are improbable. Adjust your speed to the conditions and remain vigilant at all times.
What should I do if my vehicle breaks down?
If your vehicle breaks down, do not leave it. Ensure before you set off on your journey that you have the numbers most needed on your trip; emergency numbers through your vehicle supplier, the number of a reputable supplier mechanic with breakdown services and any, if applicable, any hosts or members of your tour.
What is the emergency services number in Swaziland?
The number for emergency services in Swaziland is the same as the UK: 999. They can connect you to police, ambulance and the fire brigade. You should only contact 999 in an emergency, and you only need to inform the police of an accident if someone is injured or a vehicle becomes undriveable. If the police do attend an accident, make sure you ask for a copy of their report for the insurers/hire company.