Follow our guide to Botswana's road rules and regulations to make your driving holiday in Botswana safer and more enjoyable.
Do I need an international driver's licence to drive in Botswana?
Yes. If you wish to drive in Botswana you will need a valid international driver's license, along with vehicle registration documents. You must carry these on you at all times. If your licence is not written in English, a certified written translation is required.
What side of the road do Batswana drive on?
Batswana drive on the left-hand side of a two way road. Ask passengers to remind you over this every time you set off, and when you are turning at an intersection. You should always use pedestrian crossings where possible and remember to look right, then left, and then right again when you are walking across a street.
Are there speed limits in Botswana?
Yes, the national speed limit on tarred roads is 120 km/h, and 60 km/h in towns and villages. It's very important to stick to these speed limits, especially in the national parks. Watch out for wildlife and domestic animals in the road, and always stick to established tracks and roads.
What are the road conditions in Botswana?
Major roads in Botswana are tarred and driving conditions are generally good. The main roads to establish areas are regularly graded however roads are not often sign-posted, so a map is a definite necessity.
What are the road conditions like in the national parks?
Four-wheel drive is required when travelling in the national parks and reserves, as well as in remote areas. It's important to stay on established tracks in the parks in order to avoid ugly scaring on the landscape so often left by off road driving. There is also a speed limit of 40 km/h, though it is wise to stay well under it, not just for your safety and that of the wildlife around you but so you are able to see many more animals that you may have just whizzed past.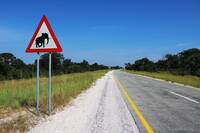 Is there wildlife on the roads?
Absolutely! Many of the roads are unfenced, allowing animals to roam freely. Often animals such as donkeys wander into the roads, but in national parks it could easily be elephants in your way! Night time driving can also be hazardous for you and the wildlife – animals such as kudu often jump across the road at night so you need to be very cautious. It is best to try not to travel after dark, hazards such as animals are much harder to see and many accidents happen due to collisions.
What should I bring?
As a general rule, make sure you bring all food requirements to last your stay. Take at least 20 litres of water per person, preferably more; if you're travelling to more rural and desert destinations, try to carry between 50 and 100 litres.
It's also important to pack a medical aid kit. In the heat and humidity of Botswana, even the smallest cuts can get infected quickly, so even a basic medical aid kit is invaluable.
As a more general note, as campsites within game reserves and national parks are not normally fenced, it is important for all campers to take necessary precautionary measures to ensure their safety, and it goes without saying that everyone must abide by the information provided by the wildlife officers.