Australia is vast and the best way to experience its natural beauty is to hire a motorhome. Self contained and independent, you'll be able to travel where you want in total freedom.
Your mobile home from home will come fully equipped with creature comforts (models will vary of course), allowing you the freedom of the open road. Park up overnight on campgrounds where you can meet fellow travellers, pick up tips and advice and enjoy the facilities on offer, maybe even a refreshing dip in the pool.
Planning Your Route
Careful planning will pay dividends. Yes, enjoying the flexibility is important so be sure to build in time for spontaneous, unexpected detours or visits. But arrive with an idea of the planed route, allowing plenty of time each day to arrive at the next stop and not being too ambitious with the daily mileage.
Remember you can collect your motorhome in one place and return it at another. This allows greater flexibility and the chance to see far more than if restricted to a circular tour.
Driving in Australia
Follow our guide to Australia's road rules and regulations to make your driving holiday in Australia safer and more enjoyable.
International Driver's Licence
You will need a valid international driving permit, along with your usual driving licence from back home.
Driving on the Left
As in the UK, Australians drive on the left. Some people like to keep a simple 'Keep left' sign which they leave on the steering wheel when stopping.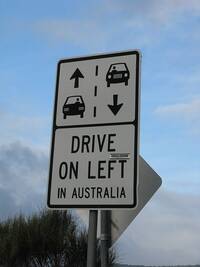 Seatbelts
Drivers and all passengers must wear seatbelts, with children under 7 must have an appropriate seat for their size.
Speed Limits
These vary according to the type of road and its neighbourhood, but all are enforced throughout Australia. So be aware of the limit applicable at all times, especially around schools and residential districts.
Drinking and Driving
Driving under the influence of alcohol is a serious offence with serious consequences. The legal limit is 0.5% blood alcohol (zero for provisional licence holders).
Mobile Phones and Driving
This is also taken seriously, so don't make calls or use your phone when driving.
Rest Areas
This is a big country and rest areas are provided so you can pull over for a break. Typically, these are located every 100 km or so on main highways. On holiday we would advise you plan your itinerary to be relaxed and enjoyable, without too many long stretches of arduous driving.
Safety
Driving through remote areas can be slightly more challenging than the main highway. Road surfaces could be variable, signage less frequent. If driving in especially remote areas ensure you have plenty of water and fuel on board, try to minimise distances between towns and keep an eye on the map.
Road Conditions
While generally very good tarmacked roads, some roads in remote areas will be unsealed. In the vast majority of cases, when hiring a motorhome on holiday you are unlikely to experience poor roads.

Extreme weather can affect roads so be aware of this. In exceptional cases, floods, bush fires and strong winds or cyclones can cause problems. Never attempt to traverse a flooded road.

In any emergency on the road call 000 or contact the State Emergency Service.
Wildlife
Australia has exceptional wildlife with plenty of indigenous species: emu, kangaroos, wombats and koalas live in the wild and cattle can stray on to the road in some areas. Keep your eyes open, especially if driving at dusk.
Overtaking
Only overtake another vehicle when the central line is a broken line. This indicates it is safe. When there are two lines in the middle of the road, you cannot overtake if the line nearest you is unbroken.
Road Trains
These are an iconic feature of Australia's major highways. Huge lorries which can be as along as ten cars, they can take a long time to overtake so allow plenty of time and room before attempting to do so. When overtaking be aware of potential slight swerving caused by wind pressure between the vehicles.
Breakdowns
Should your motorhome break down, or you have a mechanical failure of some kind, do not leave the vehicle. This is important in rural areas where the motorhome provides shade. When collecting your vehicle you will be given advice and procedures in the event of this unlikely occurrence.
Emergency Services
The number for emergency services in Australia is 000. They can connect you to police, ambulance and the fire brigade. You should only contact 000 in an emergency.
Tolls
Many motorways are toll roads, especially around larger cities. Some are completely electronic so you will need to buy a visitor's pass in advance or simply pay digitally up to three days after using the toll (failure to do so will risk a fine). E-tags are commonly used on motorways across the country, with variations from state to state. You will be given advice when collecting your vehicle.