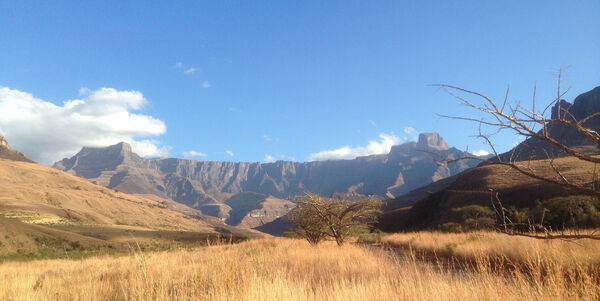 Underberg
Shaded by the majestic mountains of southern Drakensberg, the quaint little town of Underberg offers stunning natural beauty and fun activities. Forming part of the Sani Saunter, Underberg has access to a multitude of hikes.
Available on these holidays:
Sani Pass Day Tour
The Sani Pass was once a bridal path which allowed Basotho folk to transport their wool and goods to and from the Eastern Highlands of Lesotho and Kwazulu Natal and today offer visitors the opportunity to experience the adventure of climbing to a height of 2874 metres above sea level in a 4X4 vehicle
The Tour departs at 09h30 and takes approx. 2.5 hours to reach the summit, climbing a grand 2874 metres above sea level, stopping at breath taking view sites along the Sani Pass and the two border posts i.e. The South African Border Control and Lesotho Border Control.
Once at the Top of the Sani Pass,we enjoy lunch at the highest Pub in Africa
After lunch the Tour continues into a living Basotho village, where our experienced mountain guide will interest you on Lesotho and its people. We wind down the Sani Pass after this cultural experience and arrive back in Underberg, depending on the wildlife spotted along the way.
The company focuses on all size groups of people, and likes to give individual attention to the many different highlights of the tour; the history of the pass is but one facet, with birding, plants, animals, and sometimes reptiles also making an appearance.
Available on these holidays: